Do you have a little princess in your life? Here is a fantastic tutorial by Iuliana, from the Creative Team, on how to make a Bed Canopy. These canopies are cute for baby showers and parties too. Enjoy! -Linda
Hello lovelies! This is Iuliana and today I am excited to share a project that I did for my daughter, as she transitioned from a baby room to a 'I'm a big girl princess' room. This bed canopy is probably the easiest project you'll ever do. Yet one that can have a huge impact in a little girl's room. Bed canopies work with any size bed you have. Here's how I made a bed canopy for my big girl!
DIY Bed Canopy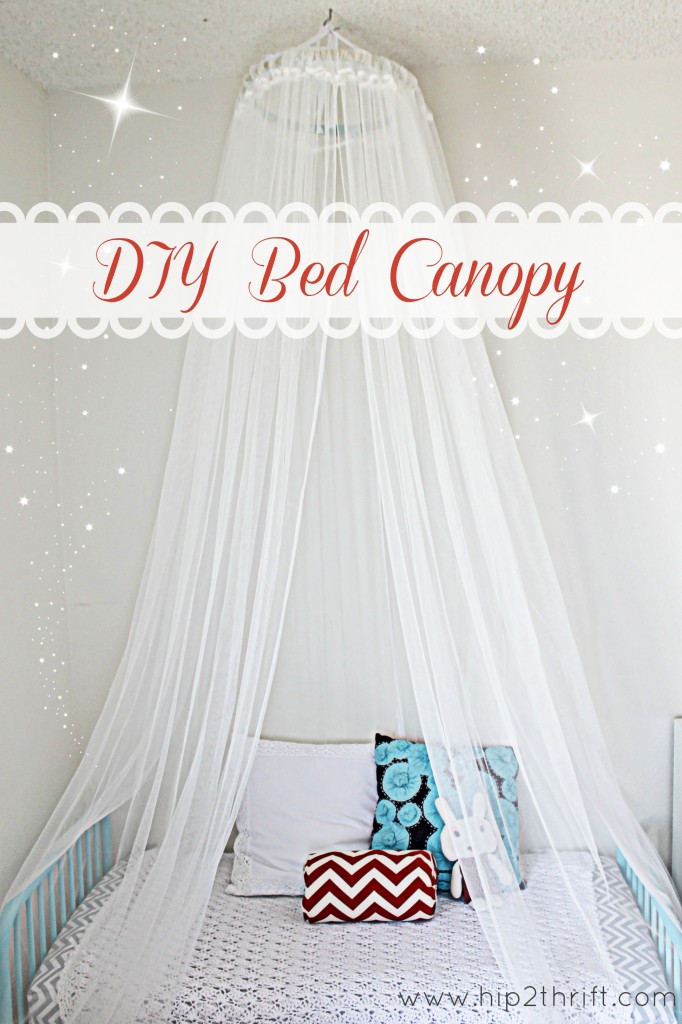 Isn't it adorable? It was the perfect addition to her room.
How to Make a Bed Canopy
Supplies:
1 large embroidery hoop (I found mine at the thrift store for $1).
sheer curtains, or any fabric or tulle that strikes your fancy (mine were from the As-is section at Ikea for just .99 cents).
1 ceiling screw hook (I got it at my local hardware store for less then a $1, as well).
coordinating ribbon.
Step 1: Take your embroidery hoop (mine is painted from a previous project. You don't need to paint yours as it will be covered by the fabric); unscrew and remove the inside circle. To the inside circle, tie ribbon at 3 equal intervals. This will be used to hang your canopy to the ceiling.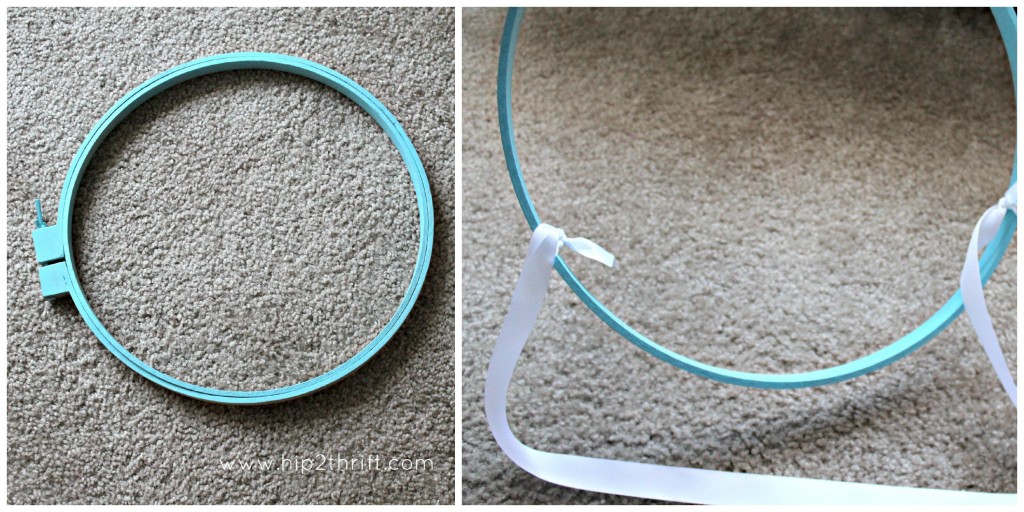 Step 2: Take your outer circle of the embroidery hoop and simply start threading your curtain through the casing designed for the curtain rod. Depending on how bunched up you want the curtains to be, you will need 2 to 4 sheers. I used 2 and it looked just right to me.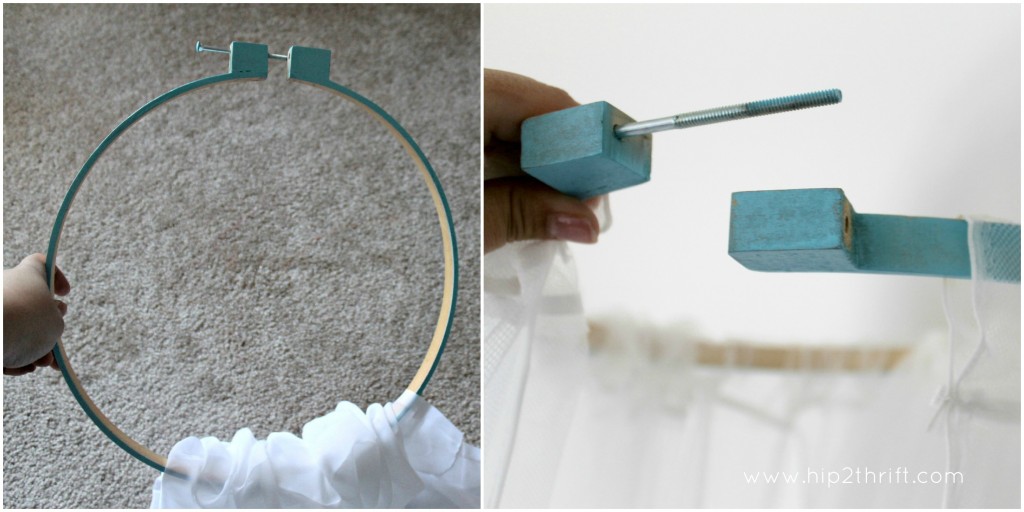 Step 3: Insert the inner circle inside the outer circle and screw the hook. Before it's tight all the way, make sure to adjust your curtain so it is evenly dispersed around the hoop.  Tie the ribbons into one knot at the desired height, making sure the ribbons are equally long.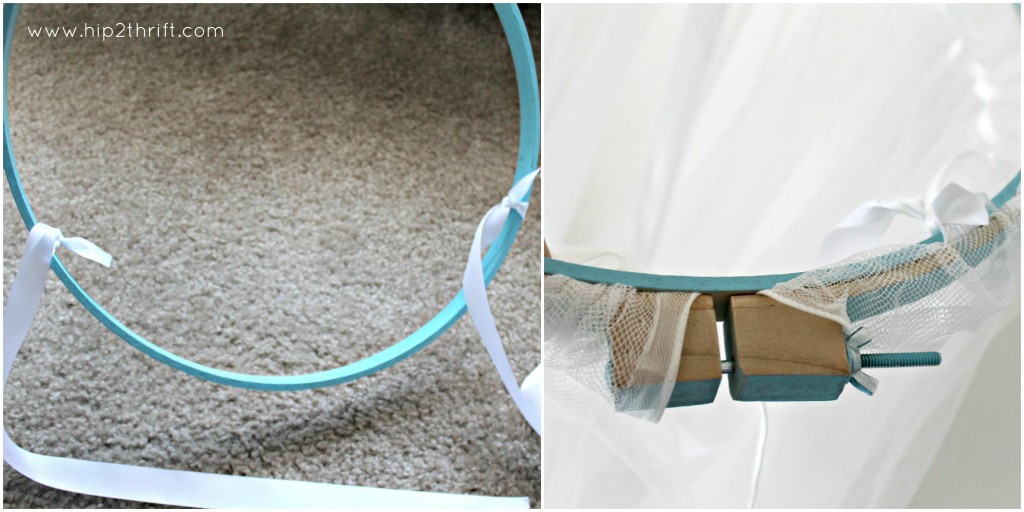 Step 4: Drill a hole in the ceiling; screw in  your ceiling screw hook and hang your canopy with the ribbon. That's it!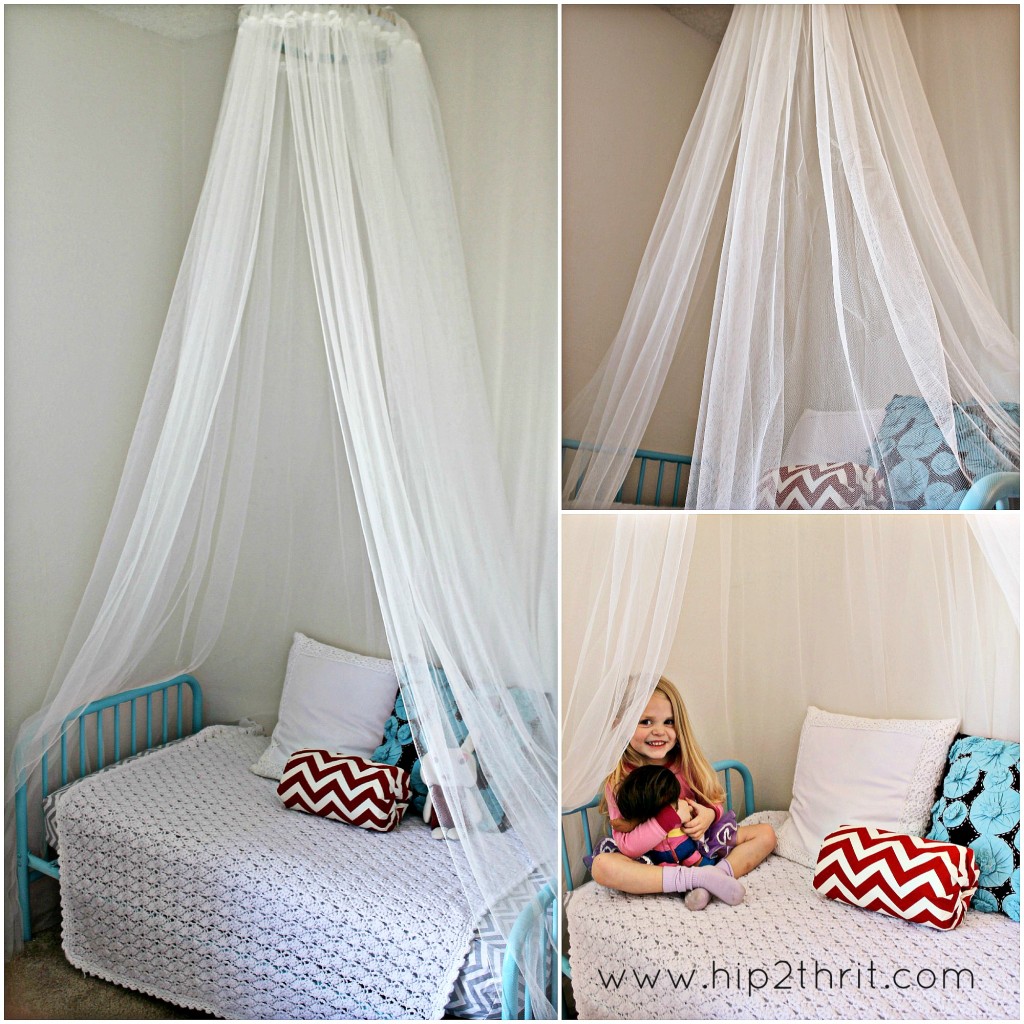 Your little princess will love her canopy!  And what can be better than making something at a fraction of the cost of buying one?
More Uses for a Canopy: a reading nook, play room decor, as a centerpiece at a baby or bridal shower, or princess birthday party. You could also decorate it with pennant  banners, felt flower, or since I'm all about crochet, why not make some crochet garlands to hang down on top of the canopy?! Stop by Hip2Thrift to see other projects for the big girl room!
Lots of hugs,
Iuliana
Don't forget to follow Craftaholics Anonymous® on Pinterest for more craft ideas and inspiration!
Latest posts by Craftaholics Anonymous (see all)