Woohoo!!!!
I'm so excited to be here today as a guest on Craftaholics Anonymous!!
I'm Kyla from
Funky PolkaDot Giraffe
.
I've lived all over the country.
Born in Las Vegas, jr. high and high school in Iowa,
a summer in Kentucky, college years in Utah and now I'm settled
in fabulous Orange County, California.
I'm married to my college sweetheart and we have two crazy munchkins.
I have an
Etsy shop
, do day care full time, and love blogging on my
crafty blog
.
If you're a Funky PolkaDot Giraffe fan,
or if you peruse the linky parties,
you might have seen this.
It's a button rainbow printable!!!!
I wanted to make a real one,
but didn't have enough red buttons,
so I made a printable one that I could share with everyone.
I put mine in a frame and added a little ribbon shamrock,
and made it the centerpiece of my March decorations.
Well, I thought to myself,
if I could make a button rainbow,
then why not a button egg for Spring and Easter??
And share it with everyone!
Now you can put it in a frame,
add a cute little bunny, chick, flower or other embellishment,
and be all festive for April.
You can download yours HERE!
They are 8×10 and there is a black background, white background,
or a kraft paper background, depending on your preference.
Please feel free to use this printable for your personal use.
Honor bloggy karma and it will honor you.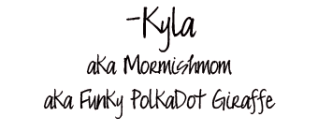 Hi! I'm Linda, the craft addict behind Craftaholics Anonymous®, a craft blog. Crafting is cheaper than therapy, right? When I'm not DIYing something, I can be found taxiing around our 4 crazy kids or working out. Or shoe shopping... because you can never have too many shoes! Happy crafting! ♥