Free SVG Cut File – Nautical Cone and Confetti
by: Diane
I'm trying to keep warm as February turns into March by planning for warmer weather and a June birthday party, which we always have along the Scioto river. This beach themed confetti cone project, which I designed for this years party, takes only a few pieces of paper and one Silhouette SVG cut file. Use the cone and confetti for many celebrations including a birthday, wedding, anniversary or baby shower.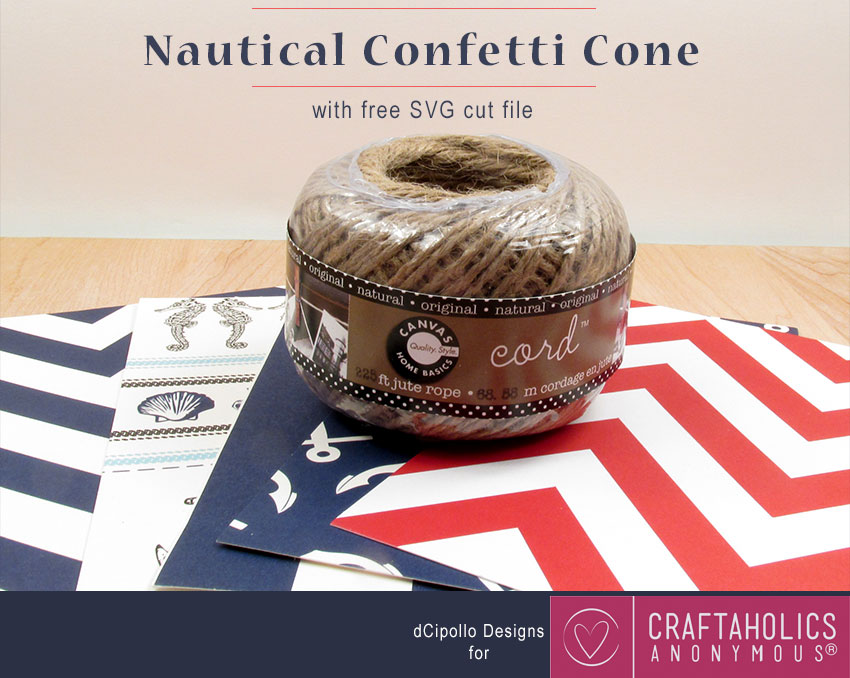 Free Downloads:
Nautical Confetti SVG cut file
Supplies for One Cone and Confetti:
Canvas Corp Brands Nautical Stripe card stock
Canvas Corp Brands Nautical Sayings card stock
Canvas Corp Brands Red & White Chevron card stock
Canvas Corp Brands Navy & Ivory Anchor card stock
Canvas Corp Brands Royal Blue & White Big Stripe card stock
Canvas Corp Brands Jute Cord Ball Natural
hole punch
cotton ball
glue
Each confetti cone requires only one piece of paper and has a tag with a nautical message attached with Jute Cord. The size of the tag will determine the size of the confetti cone. A large cone takes a 6 x 6 inch piece of paper and the smaller cone a 4 x 4 inch. The confetti pieces are about 1 inch diameter and one 12 x 12 paper will make 70 confetti pieces.
In the example, I used some of my favorite Canvas Corp Brands papers and jute cord. I made the three cones from the red Chevron, blue Anchor and Big Stripe papers and the tags were fussy cut from the Nautical Sayings paper. The confetti was cut from the Nautical Stripe paper. All these are staples in the CCB Nautical Collection.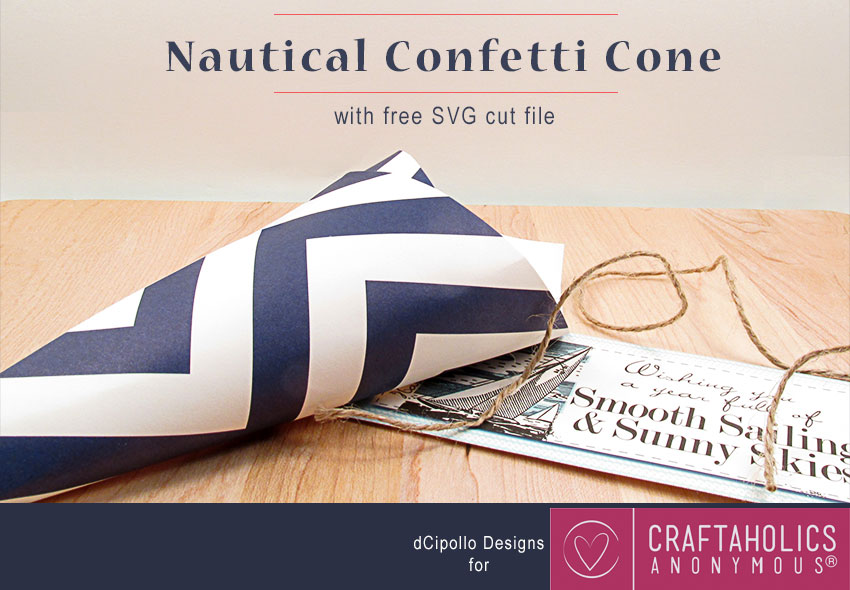 Assemble the Cone
Cut one square from one of the nautical patterned papers. Shape into a cone and glue. Punch a hole about .25 inch from the edge of the rim of the cone.
Fussy cut one tag from the Nautical Sayings paper and punch a hole at the top corner. Add a guest's name to the back of the tag. Of course, if your friends are DIY crafters, leave it blank for their next craft project.
Tie the tag to the cone by threading jute cord through both holes.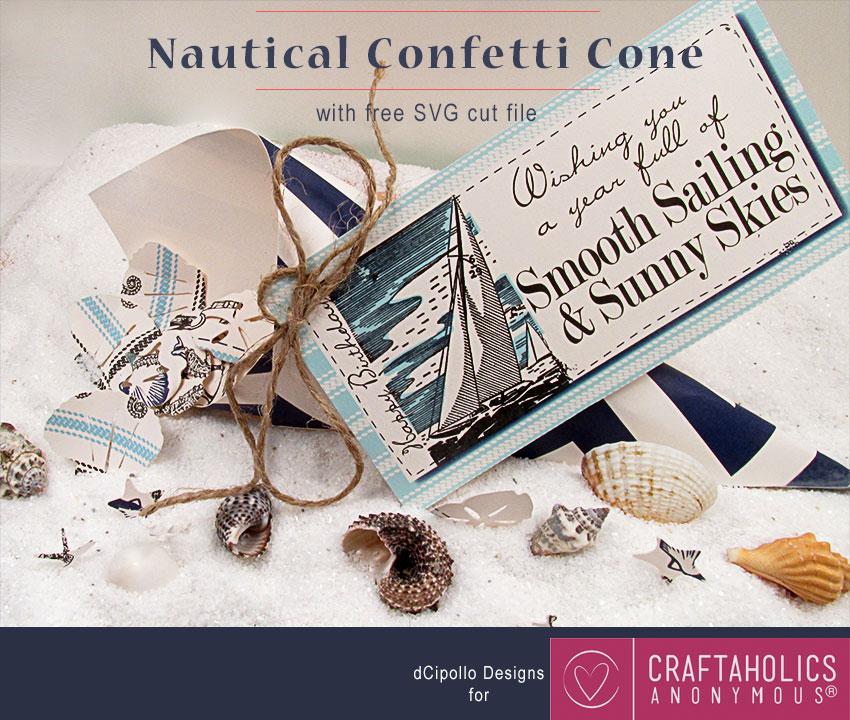 Silhouette Cut
Open the Nautical Confetti SVG cut file into your Silhouette. Select all the cut lines and drag them to the upper left corner.
Click Object – Replicate – Fill Page to fill the 12 x 12 area with confetti pieces.
Cut with your Silhouette.
Glue a cotton ball inside the tip of the cone to keep the confetti from falling out the bottom of the cone. Then fill the cone with both the large pieces and the smaller cut outs for your party confetti.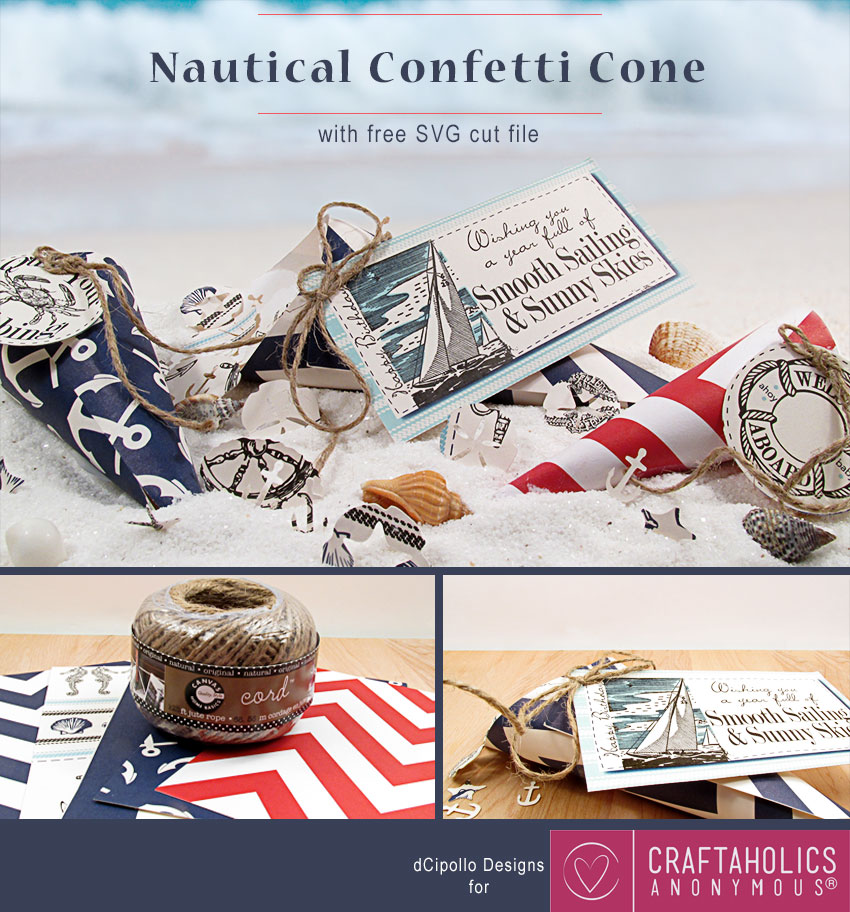 Hope that you enjoyed the project. Come back soon!
~Diane
Save