This free Halloween chalk art print is the perfect touch to your spooky gallery wall this Halloween! Be sure to download the free file below and add it to your ghoulish collection!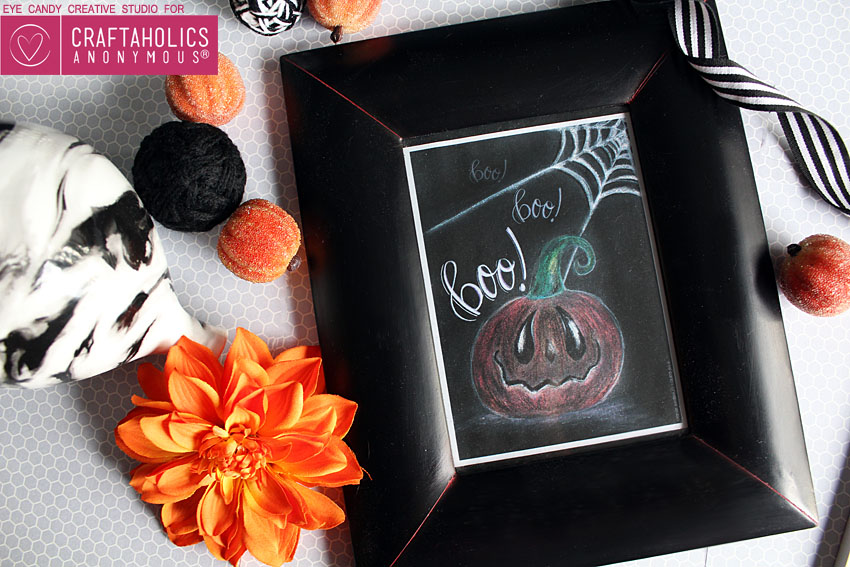 Free HALLOWEEN chalk art print
Hey there friends and happy FALL! It's Laura from Eye Candy Creative Studio and I'm super excited to be here with you all today to share my latest freebie with you. This is my absolute favorite time of year so designing items for this season is so easy for me, as I always have way more ideas than I do time every year so I hope you will love what I have for you today! I mean I am trying anything to get in the "fall" spirit but it is soooooo hard. It may have something to do with the fact that where I live it's still H-O-T out and we all just want to start wearing our jackets and boots already but can't! ;)
C'mon fall I can see you in the distance . . .please hurry. Mmmkay.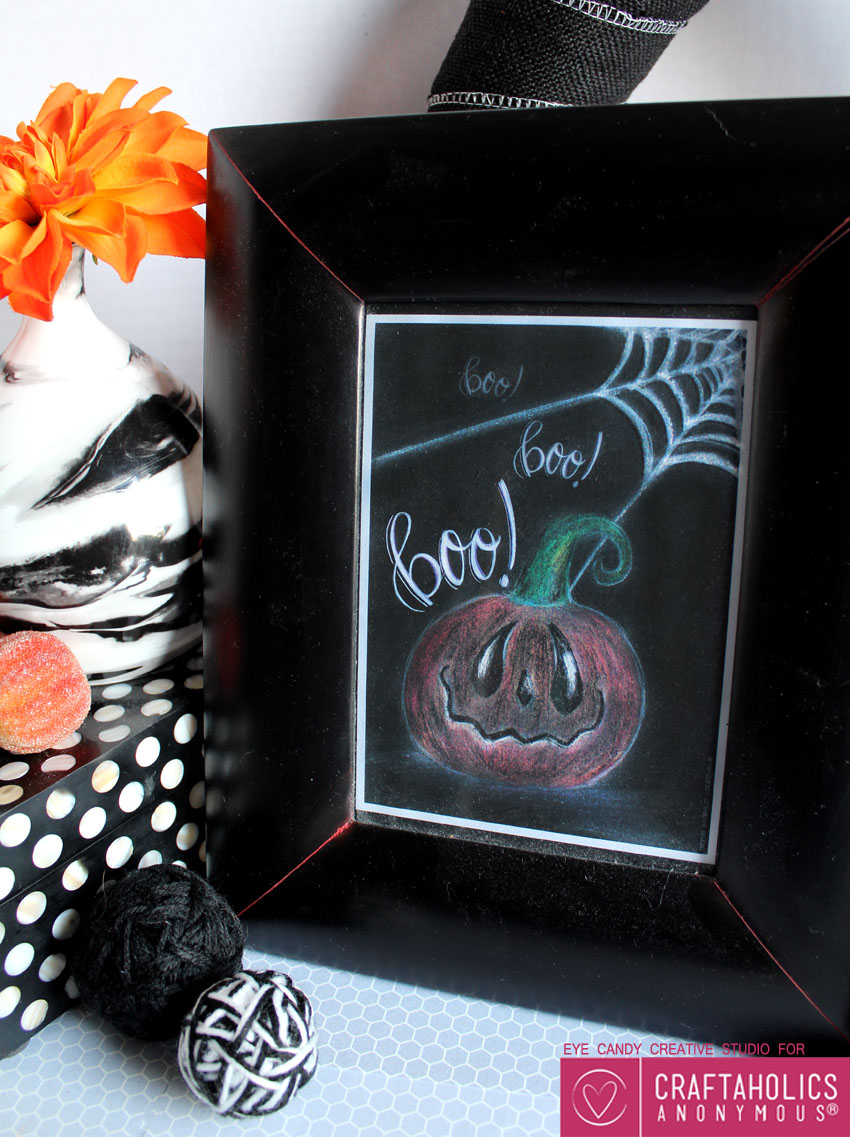 So what do you do? Start decorating, that's what! =)
If you are like me then you have already started decorating for fall and maybe even Halloween. Personally, I have some fall decor out already but I really am wanting to wait until the last weekend of September before totally decking out in all things Halloween around the house! I "try" to enjoy each holiday separately the best that I can, ;)
Having said that, I am always looking ahead trying to come up with something pretty cool for each holiday that I hope people will love and really enjoy. I love being here and being able to offer you guys FREEBIES from time to time and wanted this month to be a little different than anything else I have offered and designed for you yet. Sooooooo I decided since Halloween is a holiday done mostly in black, why not illustrate something on my black sketchbook AND use some chalk lettering and art to give this art print that Halloween-ish feeling. I like how it came out and honestly the pics don't do it justice until you print it out. That is one thing about using chalk . . . some of the brights and whites don't always translate well on screen but no worries, you will get a nice print out for this and you will see for yourself. ;)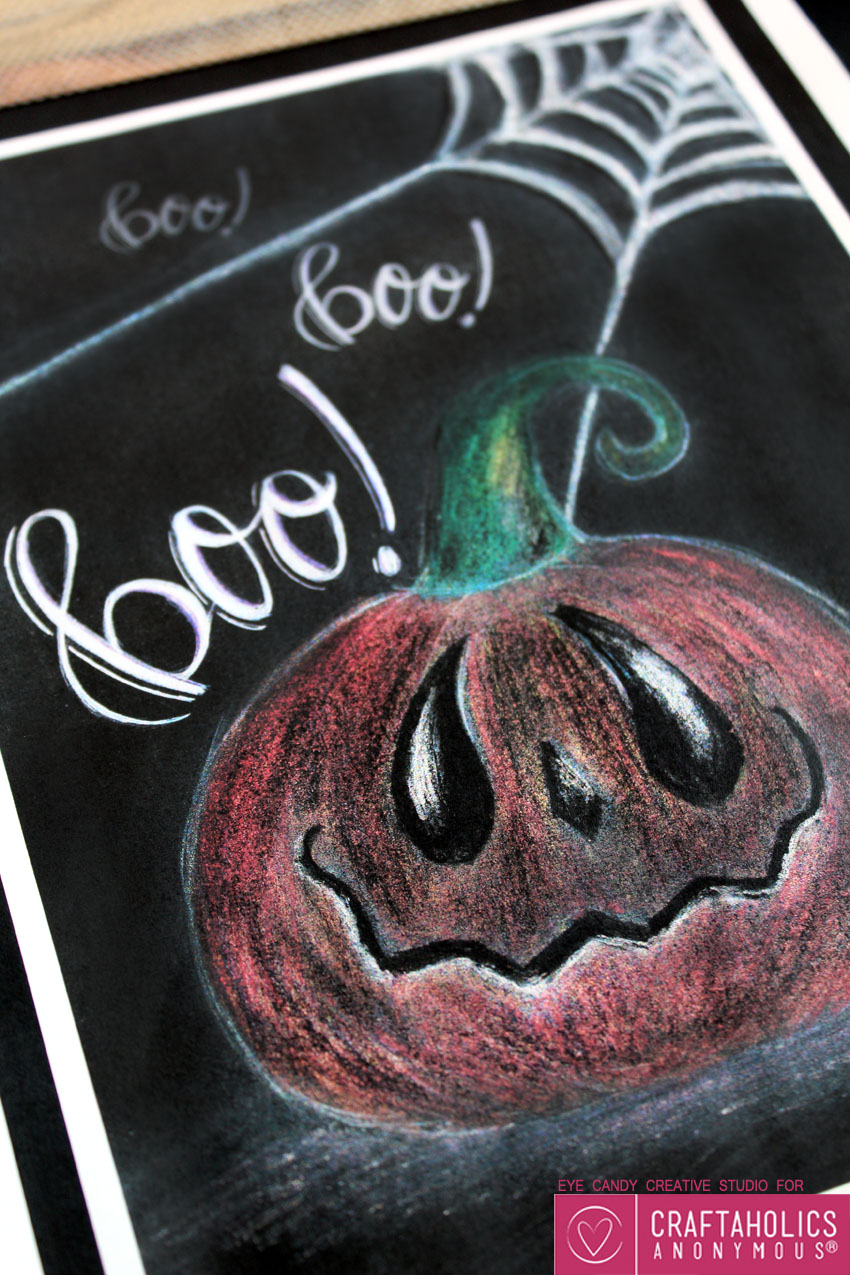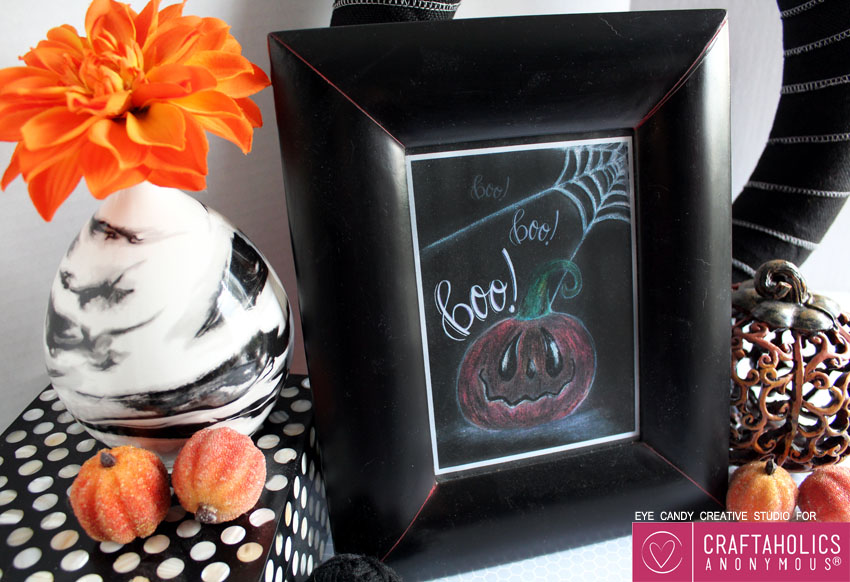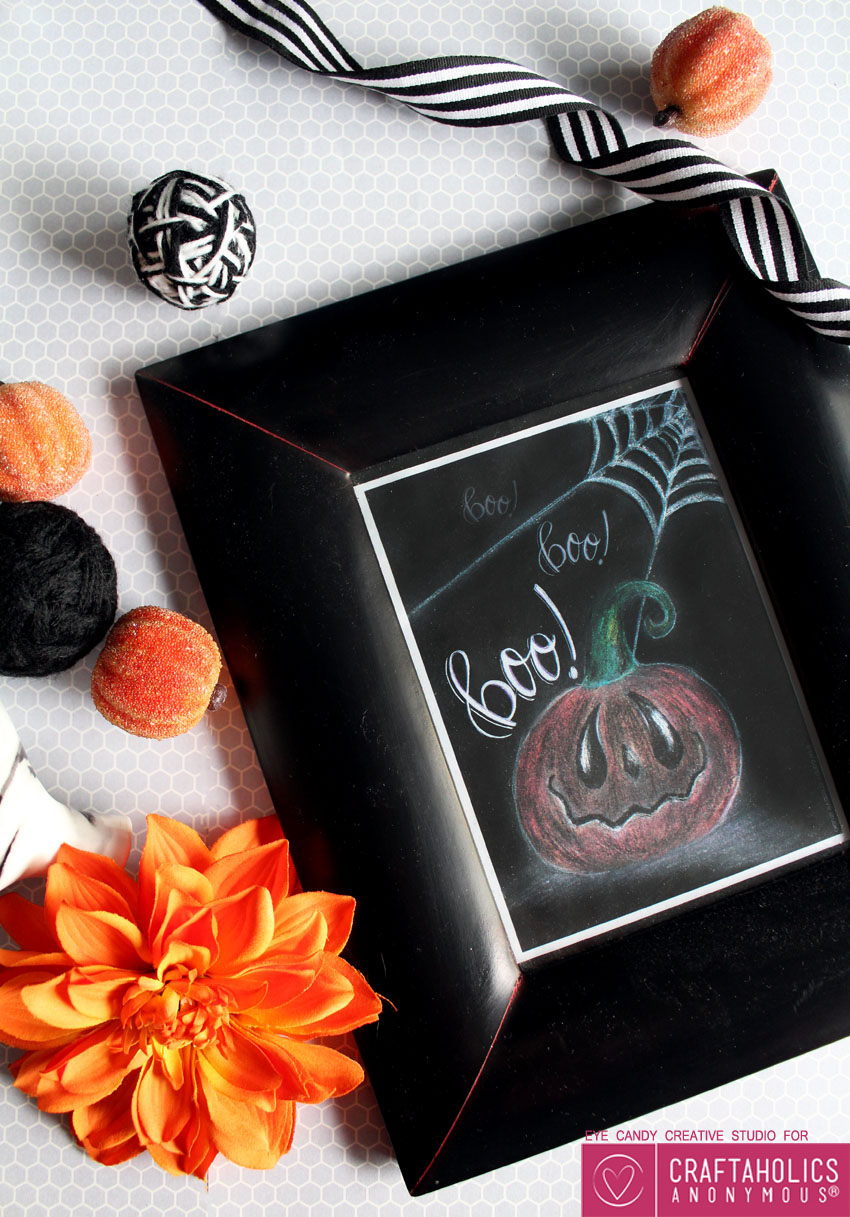 As you can imagine, I love about having art prints in my home and am always changing them up to match my existing decor. I love displaying them in frames or attaching a print to a clipboard as they are both good options for integrating them into your home decor. The point is to play around with them . . . try placing this print in a white frame, a black one or even a natural wood frame as each will give you a different look, depending on what you want it to match.
When you print out your Free Halloween chalk art print, you will see that I designed it as a 5×7 print this time. BUT . . . listen up, I have a trick for you – IF you want it larger, say an 8×10, simply click on "fit to page" in your printer options and you will get one like you see below (on left). The 5×7 print is in the chunky black frame (in the photos) and I am really liking the smaller size as it makes a good focal point but just not so 'in your face' big. Sometimes you want things a smaller scale in print, so here ya go!  Feel free to choose which you prefer and print accordingly. Hope that helps.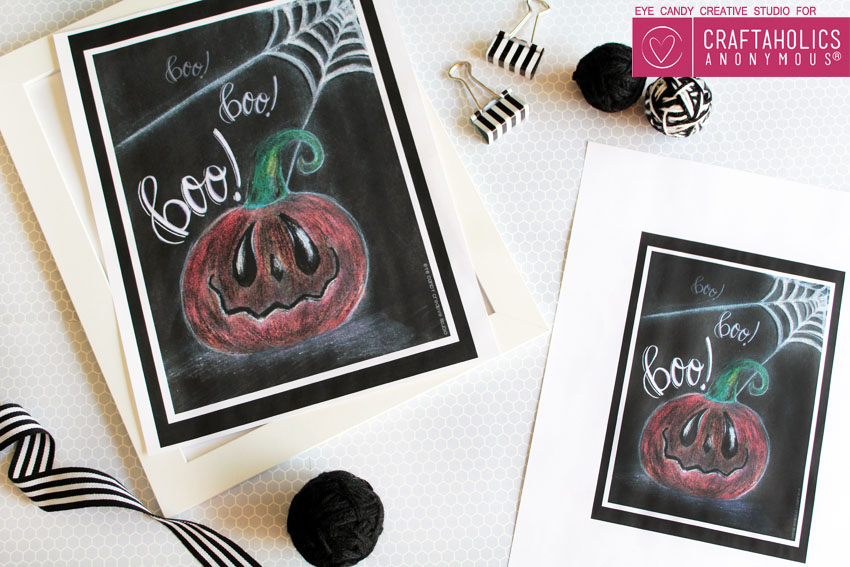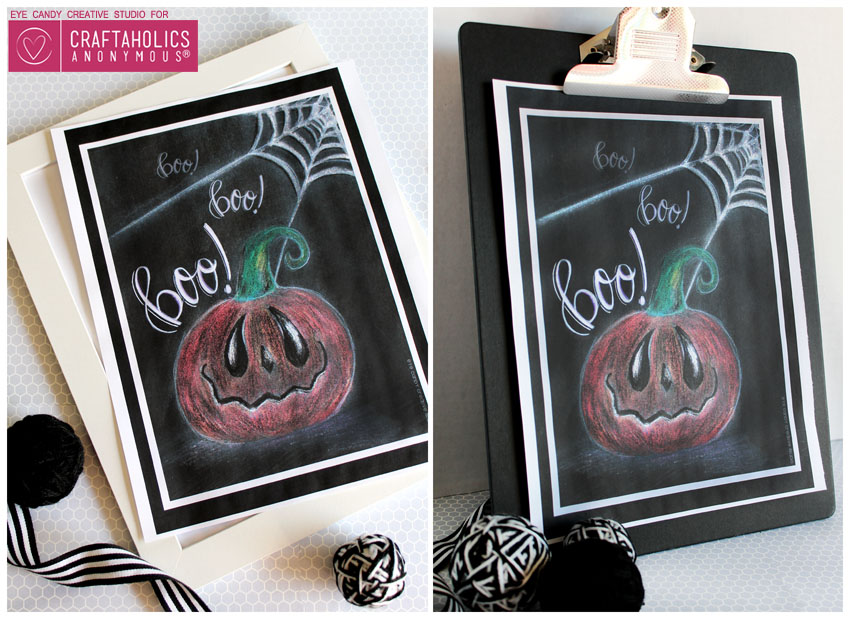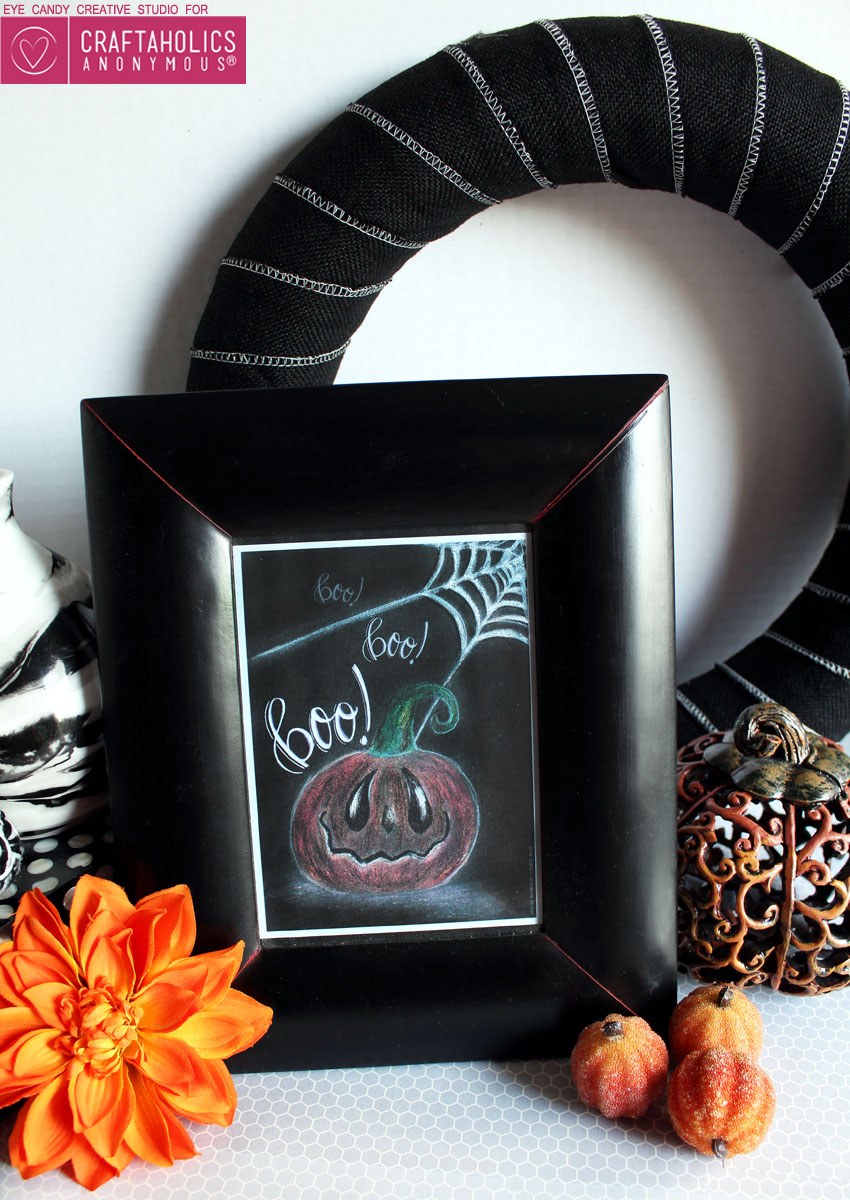 Please do me a favor, I would love to hear and see all of the great ideas on how you use this FREE print, so please tag Eye Candy Creative Studio and Craftaholics Anonymous in your photos, and you never know, I may just share it with my readers!
Have a fabulous fall and an even better HALLOWEEN!!! Have fun with this print and feel free to download your own FREE Halloween Chalk Art print and enjoy it in your home!
This FREE printable is for personal use ONLY and may not be sold or claimed to be your design. By printing you are agreeing to these terms.
For more of my custom hand lettering be sure to visit me at Eye Candy Creative Studio!
So what do you think of these FREE art print? Let me know below or an idea for one that you would like to see me offer to y'all here! ;) Thanks.

Save
Save
Save
Share and Enjoy