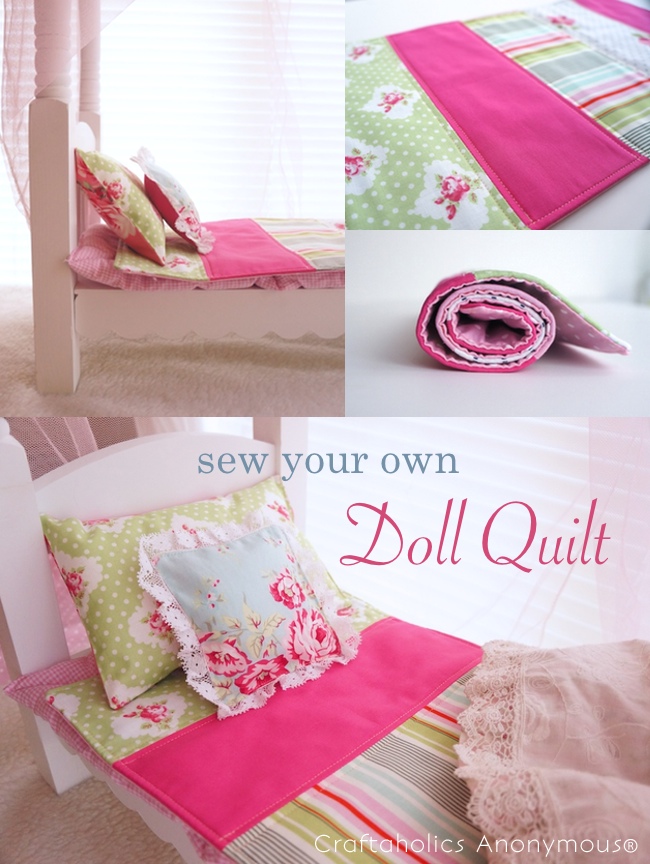 Hello everyone, I'm Caila from CailaMade, and I'm excited to share a sewing project with you today! I especially love quick projects with bright fabrics that can be used as gifts. I have 3 young children who usually serve as my sewing inspiration, and that's certainly true of today's Doll Quilt project.
Doll Quilt Tutorial
My daughter recently turned four, and like all little girls she L-O-V-E-S dolls. For Christmas we bought her a beautiful four poster doll bed and the only thing it was missing was mamma's touch.
How to Sew a Doll Quilt
Making your own doll quilt is very simple. For this tutorial I'm using strips of fabric cut 4.25 inches wide by 11 inches long. You can either go to the fabric store and buy four different fabrics (a fat quarter, or 1/4 yard is all you need of each), or you can use some scraps you already have on hand. Vintage sheets and pillow cases are perfect for this project! If you would rather make a doll quilt with a solid top, cut the top piece 21.25 inches long by 11 inches wide and skip the first step.
The first step is to sew your strips of fabric together to create the quilt top. One at a time, sew the pieces together along their long sides until you've created one long top piece. TIP: Place two sections together with the "right" sides facing (the pretty sides) and sew at your machine with a 1/4 inch seam allowance. Your needle should be sewing 1/4 inch away from the fabric's edge. Make sure you sew in a straight line, and go slow if necessary. Repeat this step until all the strips are sewn together. Once you have sewn all the pieces together, iron the seams open and press the whole quilt top so it's nice and crisp.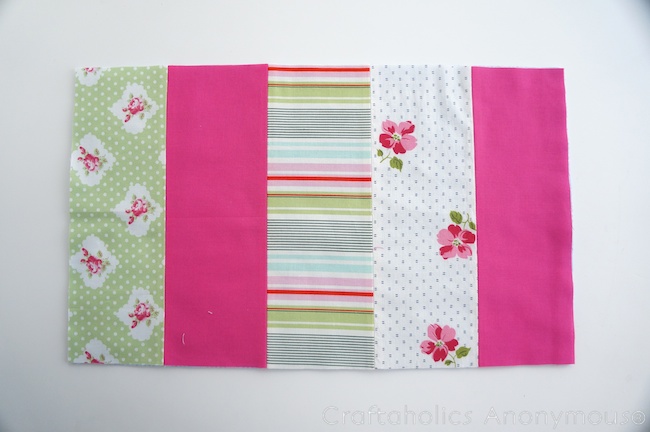 Use the quilt top to cut a bottom piece the exact same size. (Note: this should be approximately 21.25 inches long by 11 inches wide.) This is your quilt bottom.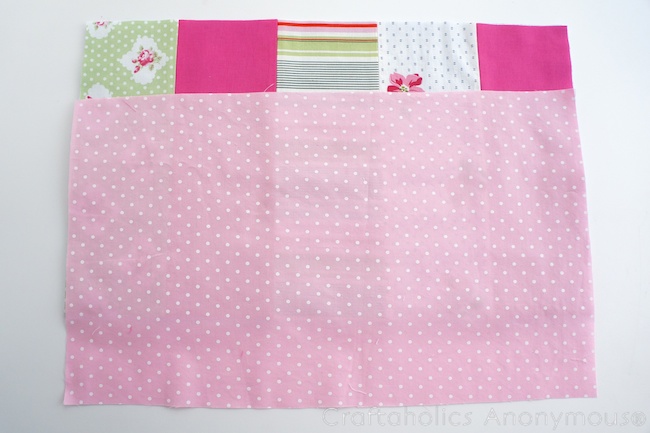 Using the same measurements, cut two pieces of flannel or any other soft fabric you have lying around. This fabric does not need to be pretty, as it will be hidden inside your top and bottom layers. I like to use flannel because it gives the quilt structure while keeping it soft and not too thick.
Layer your four pieces like you see in the photo below: flannel, flannel, quilt top facing up, quilt bottom facing down. It is important that the "right" sides of the quilt top and quilt bottom are facing each other.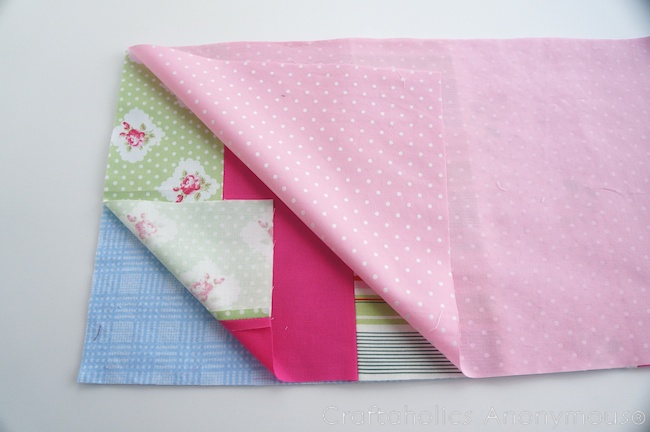 Pin all four layers together around the outer edge of the quilt. I like to space the pins about an inch apart to keep the layers from shifting while I sew.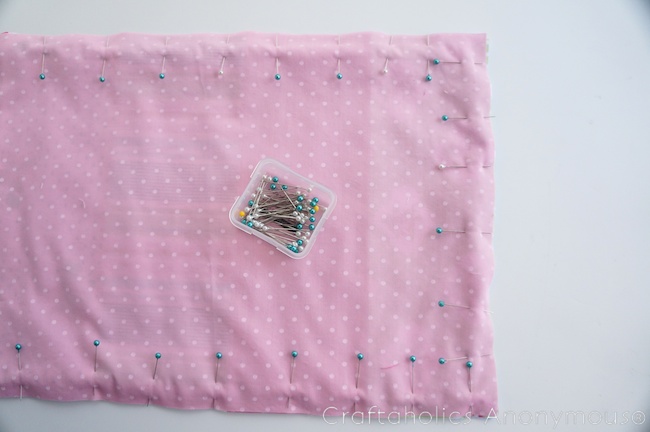 You may now begin sewing around the outside of your quilt. Use a 1/4 inch seam allowance again, and leave an opening of 3 inches on one short side to allow you to turn the quilt right side out. TIP for sewing corners: When you come to a corner stop 1/4 inch from the edge, leave your needle in the fabric, lift your presser foot, and rotate the fabric so you can sew down the next side. Lower the presser foot again and continue sewing.
Always make sure to back stitch at the beginning and end of your seam.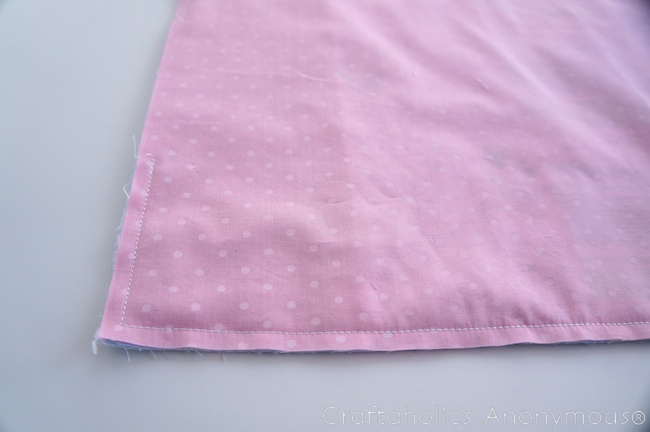 When you have finished sewing around the quilt, use a pair of sharp scissors to clip the corners. Simply cut off the corner, making sure not to clip any of the stitches.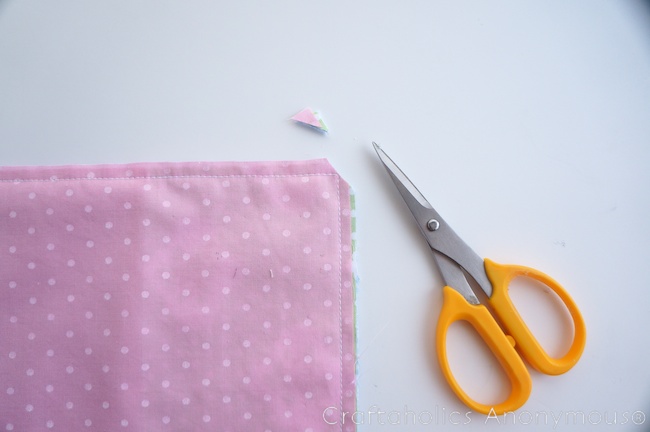 This is the fun part! Slip your hand inside the opening and grab the far side of the quilt.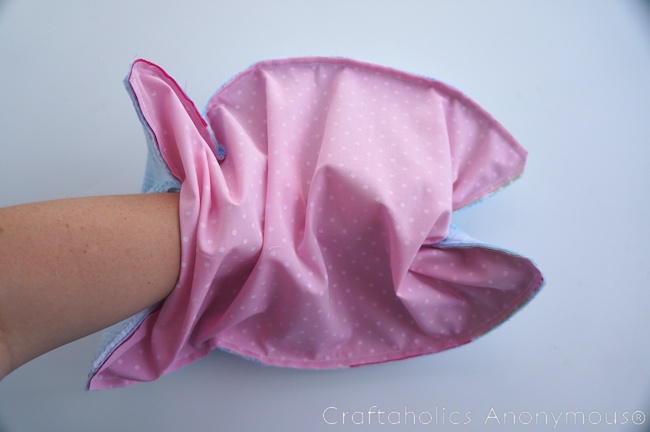 Pull the quilt through the opening and push out the corners until it looks like a nice, flat rectangle.
Isn't it cute? I just love this part!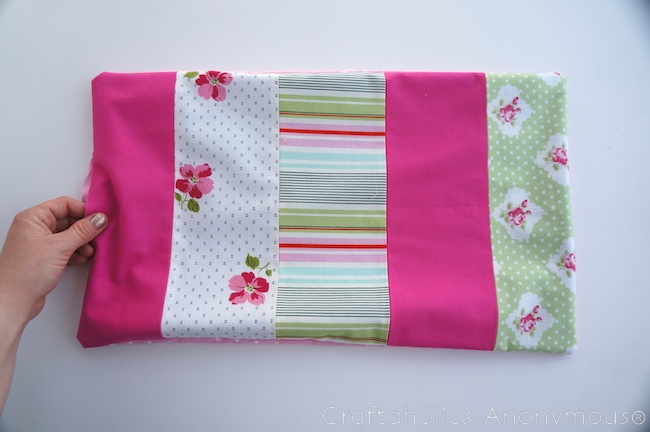 Now use your trusty iron to press the quilt until the corners and edges are nice and smooth. Fold the raw edges of the opening inside 1/4 inch and press them well. Pin the opening closed.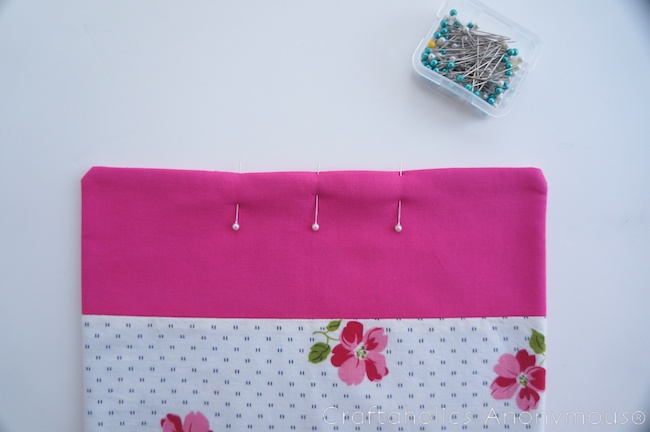 As this point you should also add some pins down the center of the quilt to hold the layers in place as you sew around the edge and over the top.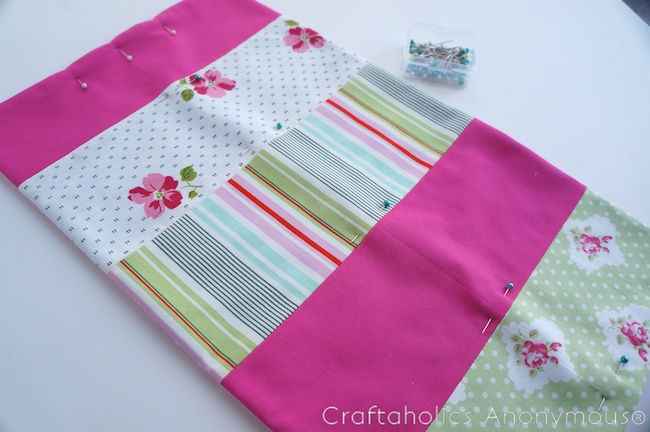 Your next step is to sew around the entire quilt, just 1/8 of an inch from the edge. This is a small seam allowance, but it looks so dainty on a small quilt. Believe me, it's worth it!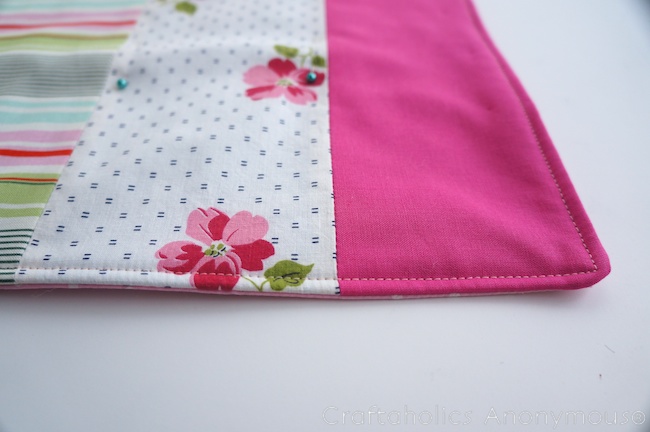 After you've sewn around the edge of the quilt, it's time to stitch over the top. This is the part that makes your doll blanket into an actual quilt. Using the straight seams along the top of the quilt as a guide, stitch over the top of the quilt. I used a 1/8 inch seam allowance on both sides of each seam.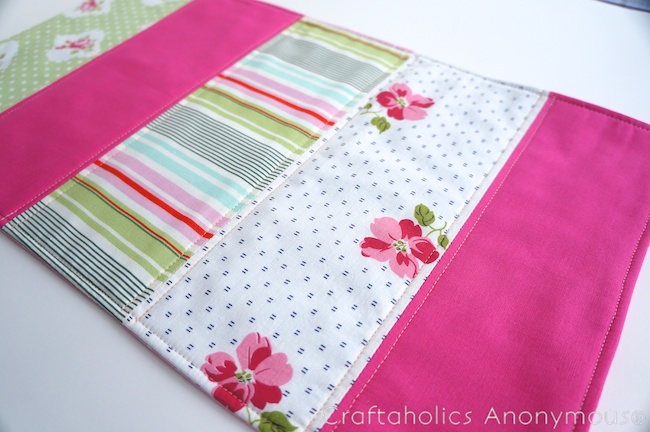 When you're finished with this step, turn the quilt over and admire your handiwork. I love the way those straight lines look on this pink polka dot fabric.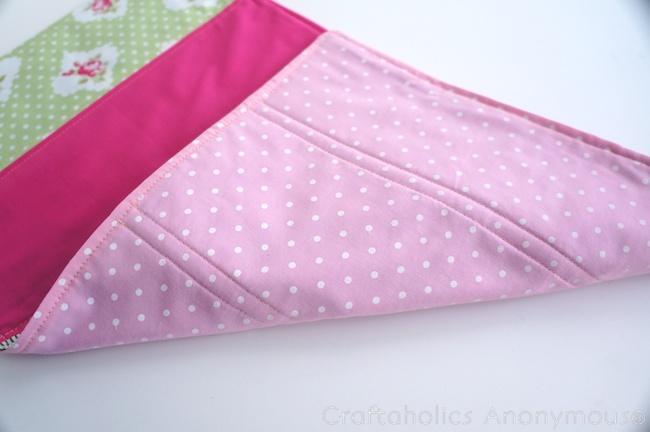 Place it on a doll bed and you're good to go!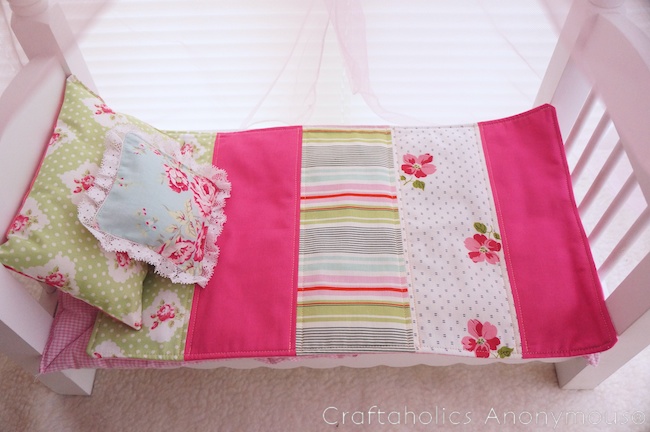 I'm preparing a tutorial for these little pillows, so stay tuned for next month. Thank you so much for reading, and Happy Sewing! Please feel free to leave any questions in the comments below. I'd love to help if you have a question!