Show your mom how much you care by making her a simple, DIY placemat clutch for Mother's Day! It's Kara from A Kailo Chic Life, and I'm going to show you how to create a cute tassel clutch with just a few simple stitches. Using a store-bought placemat eliminates a lot of complicated steps and makes this a project even a novice sewer can accomplish. This DIY placemat clutch is an amazing way to say 'I love you' and show your mom you're totally winning this 'being an adult' thing.
DIY Placemat Clutch
The Supplies:
Fabric placemat in print and color of your choice (this one is from Target)
Basic sewing machine and supplies (pins, thread, scissors, etc)
2.5″ piece of 1/4″ elastic
Button
needle and thread
Once you have everything, you'll begin by folding in the sides of the placemat length wise about 1″ and pin them down.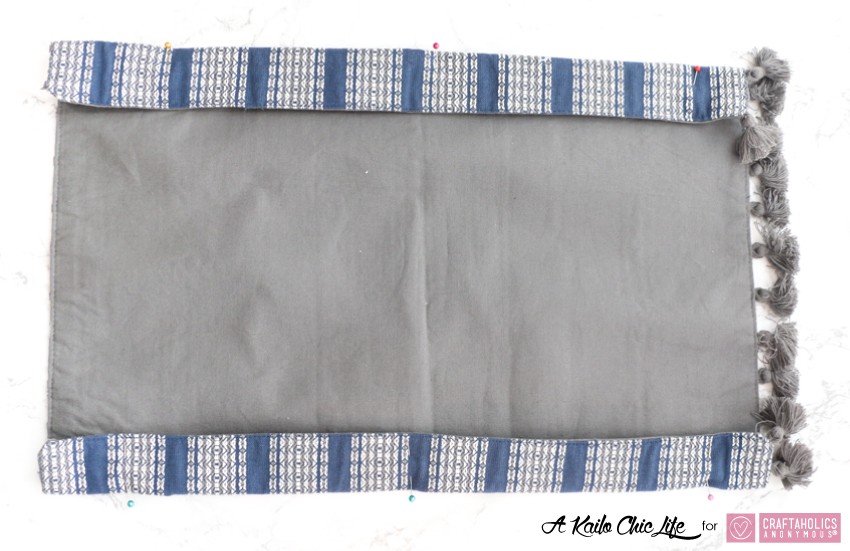 Next, fold the bottom section (the side where I cut off the extra tassels) up 2/3 of the way leaving about 1/3 of the placemat on the top for the flap.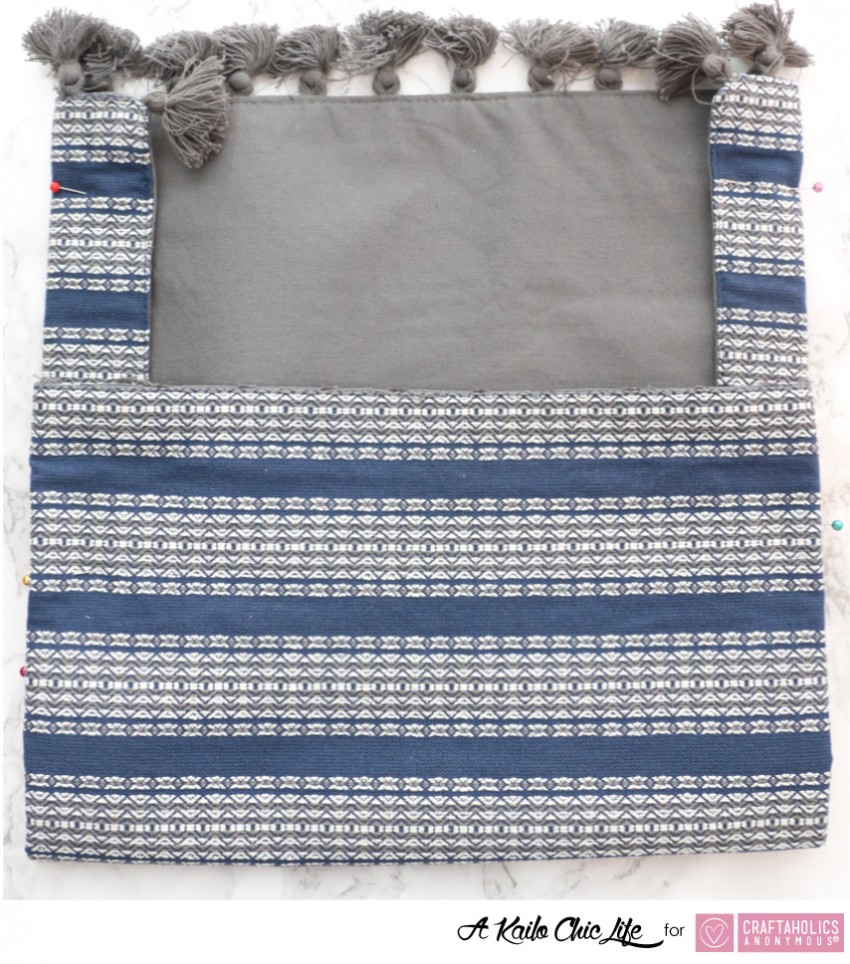 Next, sew side seams from the bottom side all the way to the top and over 1″ on the top to give the clutch its shape and secure the folded over piece of fabric. Repeat on the other side.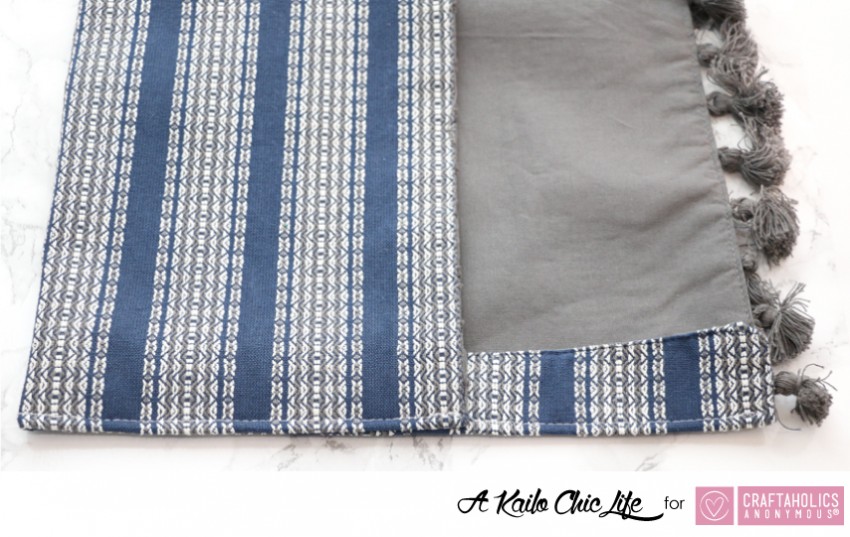 You should now have the base of your clutch body. It's time to add your clutch closure, which is the button and elastic. Begin by seam-ripping the factory seam at the center of the top flap. You want to create an opening wide enough to slip the ends of your elastic pieces in.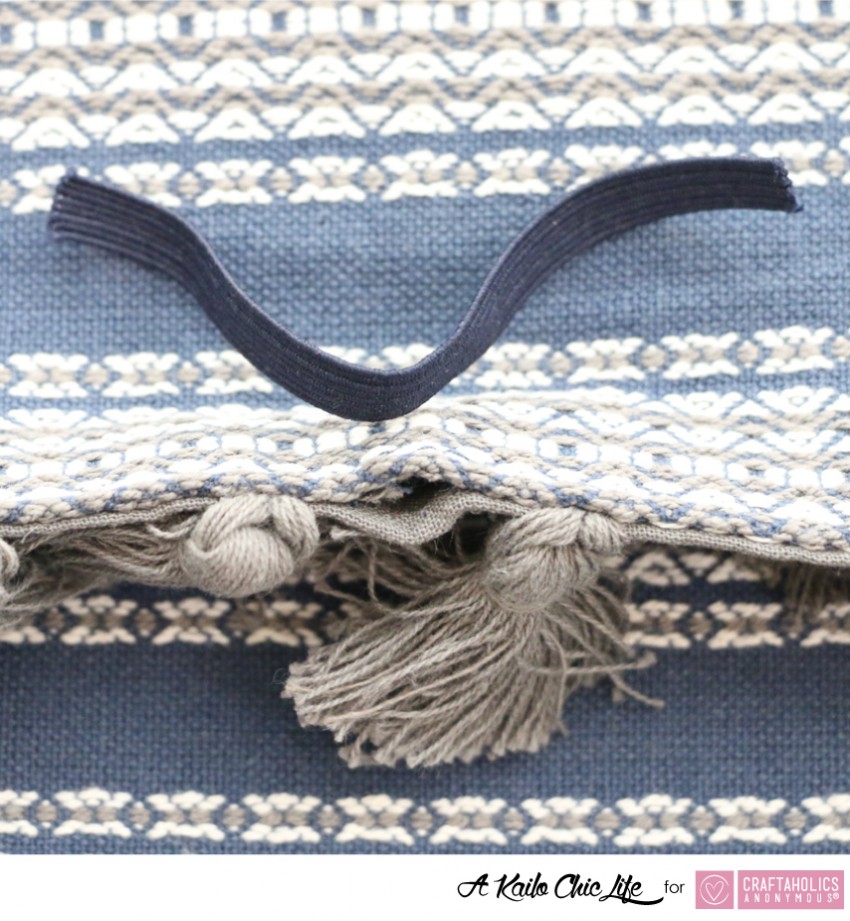 Now that you have your opening, insert the ends of the elastic to create a loop and top stitch across the seam to seal the hole back up with the elastic ends inside.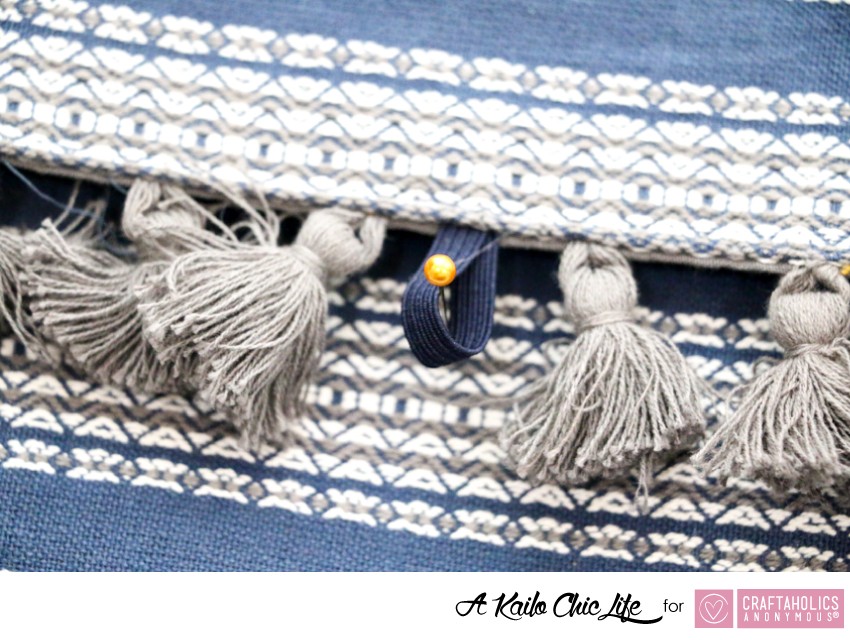 Once your loop is in place, fold over the top flap and insert a pin where the button should go through the elastic loop. Open the flap back up and hand stitch your button in place and you are done! High five!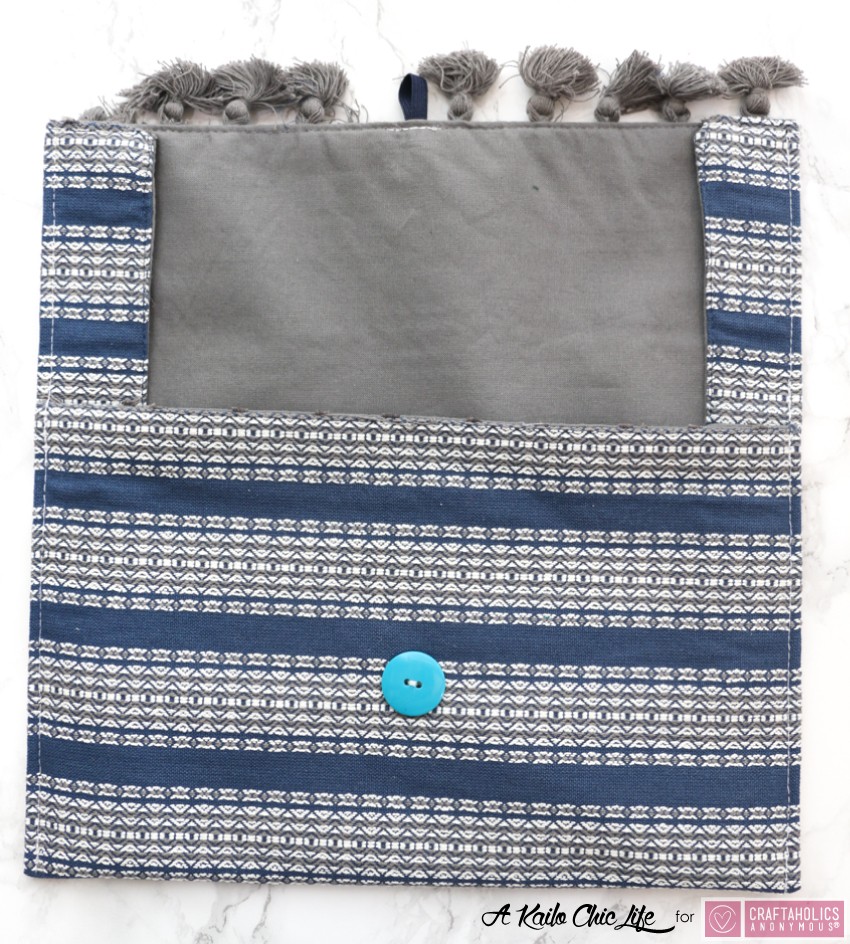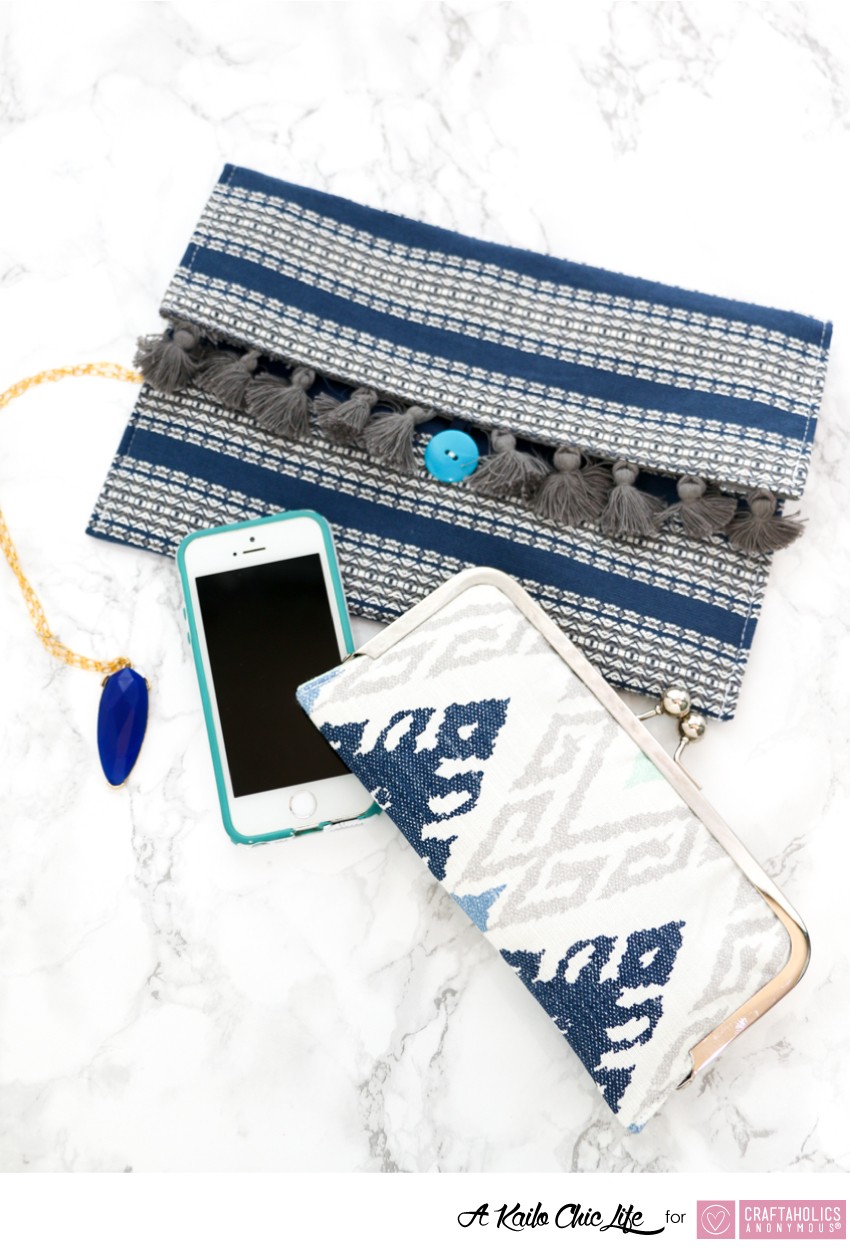 Now you have a fun clutch to give your mom (or keep for yourself if you love it too much to part with!). To really send it over-the-top, fill it with little gifts; because let's be honest, your mom deserves the world!
Hope you enjoyed this DIY placemat clutch tutorial and are inspired to try your hand and creating an original clutch for yourself or your mom. You can find other crafty posts over at my blog, A Kailo Chic Life. If sewing isn't your thing and you'd prefer to buy something handmade (no shame there), feel free to check out my etsy shop where you can find my line of gift-ready handbags and accessories.
More Mother's Day Gift Ideas: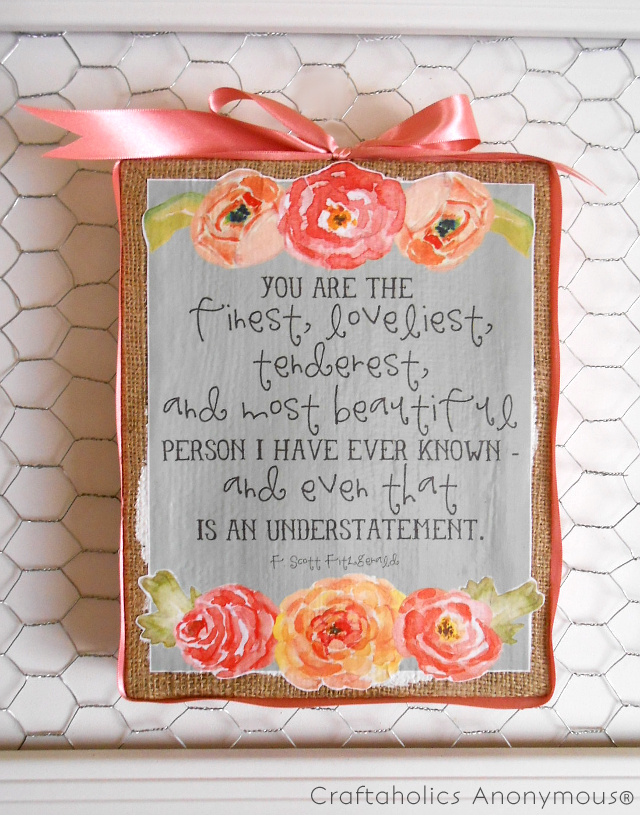 Mother's Day Canvas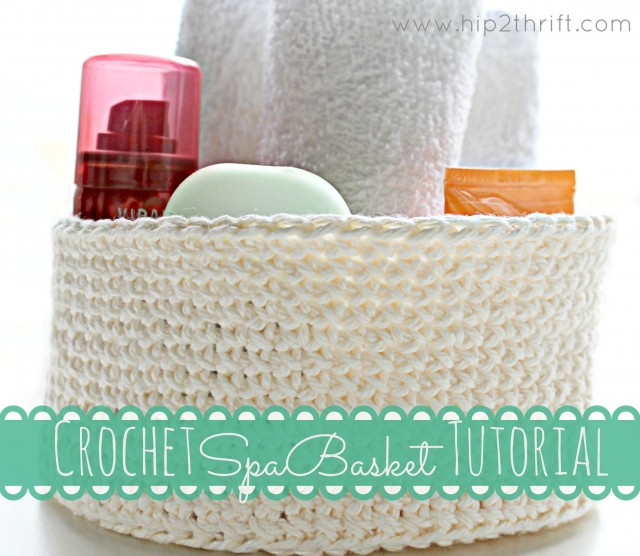 Crochet Spa Basket Tutorial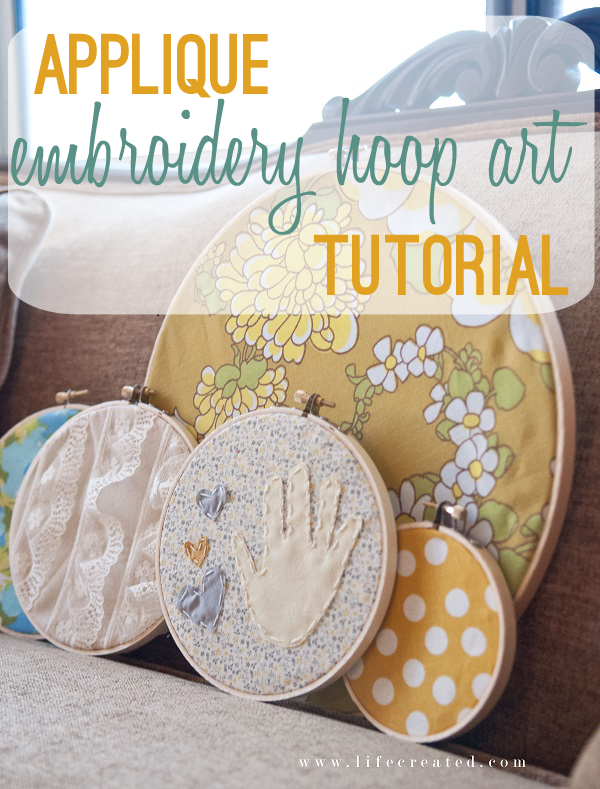 17 Handmade Mother's Day Gifts
Kara is the creative force behind A Kailo Chic Life where she blogs about all sorts of colorful crafts and home décor projects as well as a few fun recipes. She is a mom of two that resides in Austin, Texas with her family.
Latest posts by Kara Whitten (see all)