This diy no-sew pencil case is the perfect DIY for back-to-school! Customize it with your favorite colors!
DIY No-Sew Pencil Case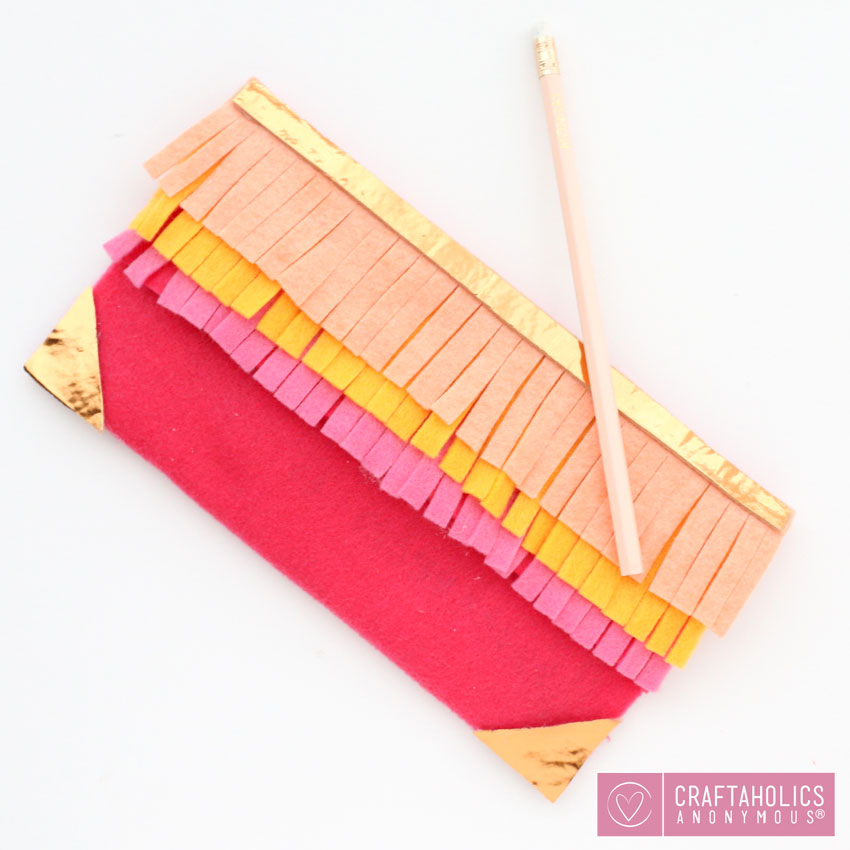 Is anyone else as obsessed with school supplies as me? I've loved back to school shopping since I was a kid and now that my daughter is in school, I get to relive the joy of purchasing new markers, notebooks, and pencils. It also means that I have a reason to create the cutest fringe DIY no-sew pencil case for my daughter to use to keep all her supplies organized. Hey everyone! It's Kara from A Kailo Chic Life and I am going to share how to make this adorable felt fringe pencil case with you today.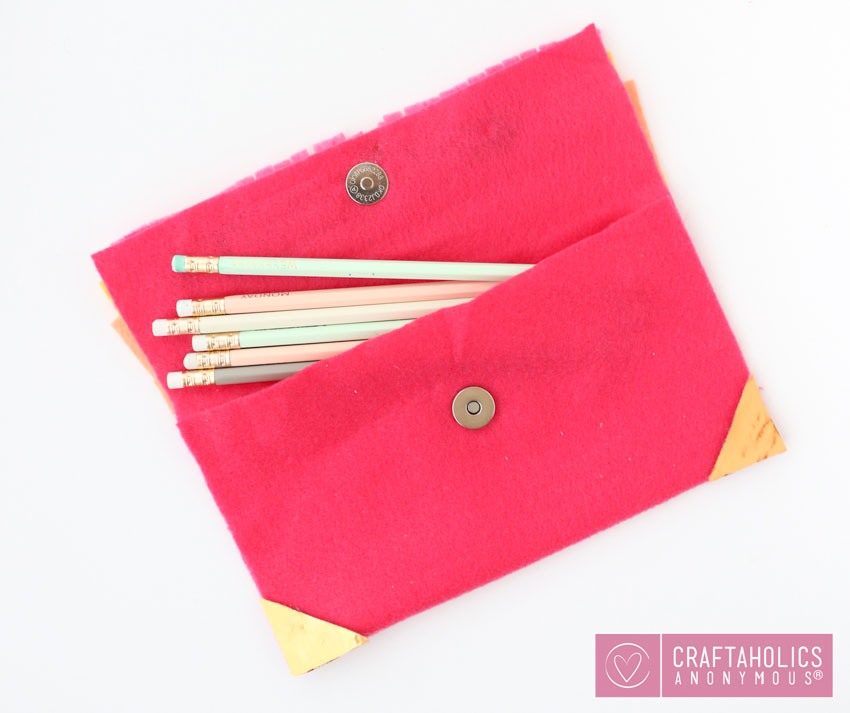 I mean, is this fringe case with copper accents not just the cutest?!
The Supplies:
Felt in several colors plus two full sized sheets
Hot Glue
Magnetic Snap
Scissors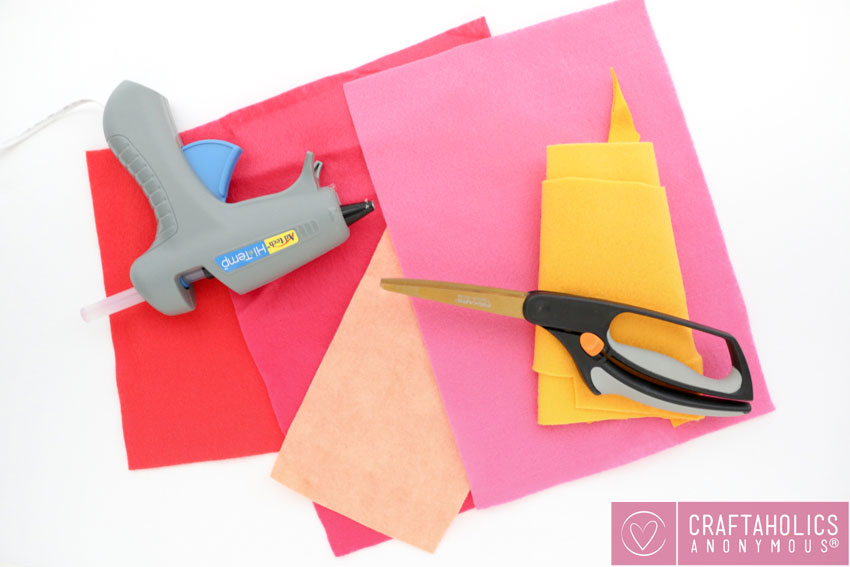 Begin by cutting a few strips of your colored felt and fringe cutting them.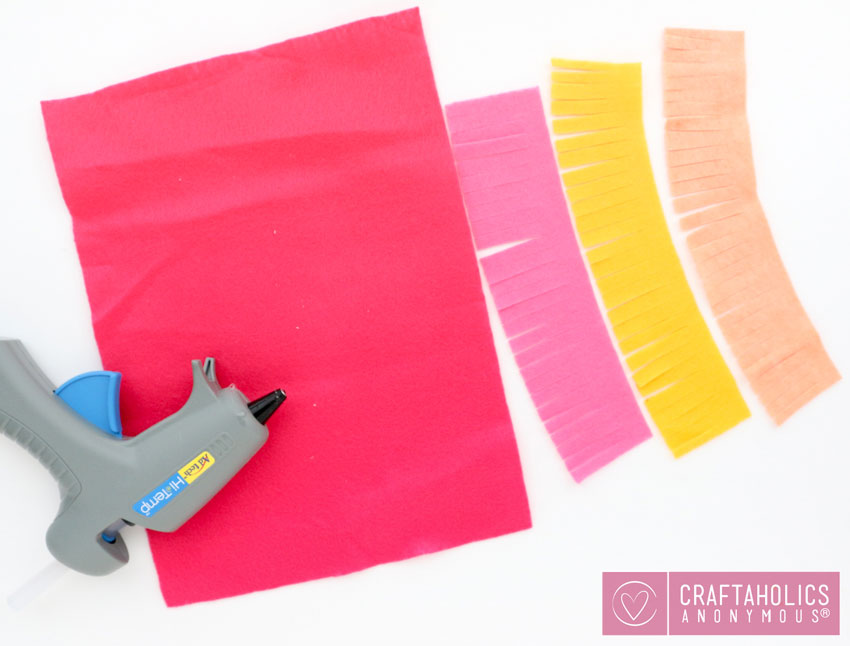 Then use your hot glue gun to attach them to the top flap of one of your full sheets of felt.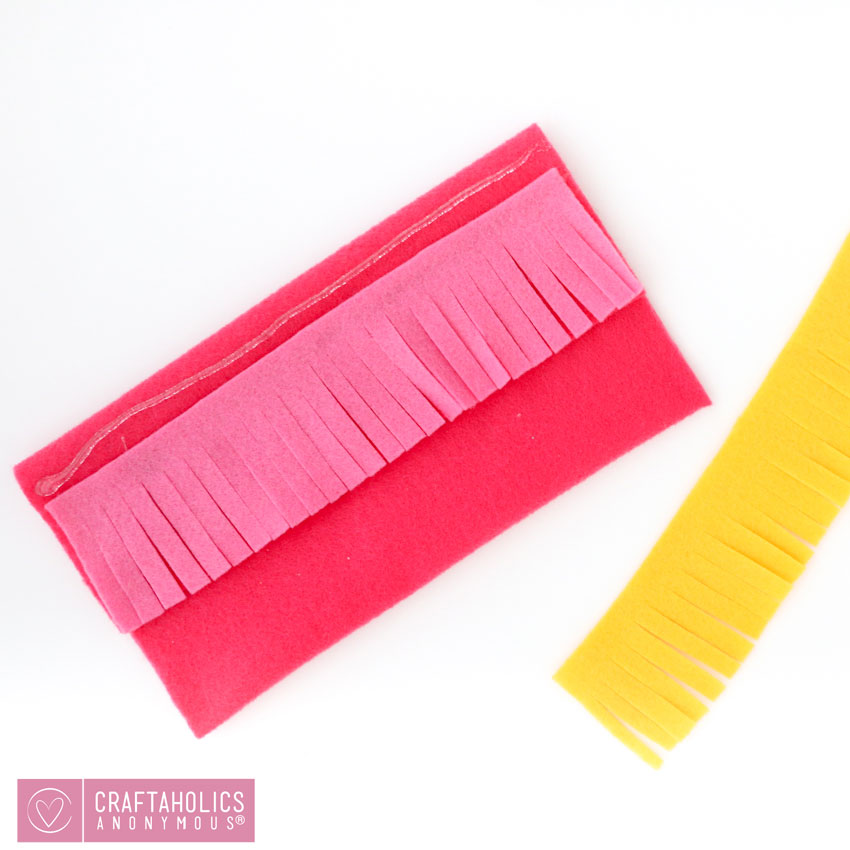 Feel free to also add a few accent pieces of metallic copper felt (I found mine on etsy).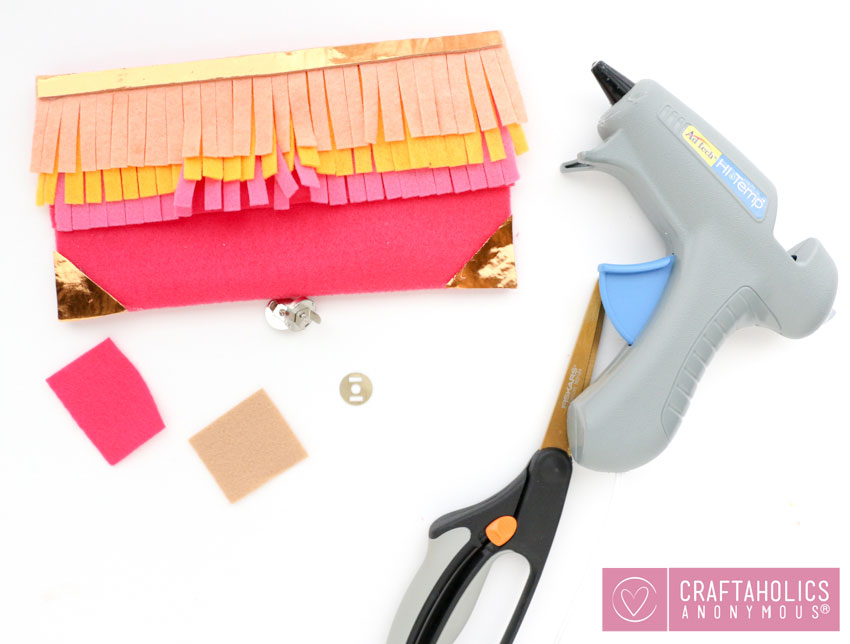 Once you have your felt trim added, it's time to figure out the placement of your snaps. To figure this out, place your two full sized felt sheets together (with the adorned sheet facing out on the bottom) and fold your clutch into an envelope shape. Mark the spot on the inside top flap and the outside bottom flap where you snaps should go. Cut two slits at these spots and add your snap pieces. You want to make sure that the bottom snap is only on the outer felt and the top snap is only on the inner felt. Now open your clutch back up and add hot glue around the backside of the snaps and the perimeter of the felt sheets and glue the two pieces of felt together.
The final step is to fold your clutch back into it's envelope shape and glue the side seams.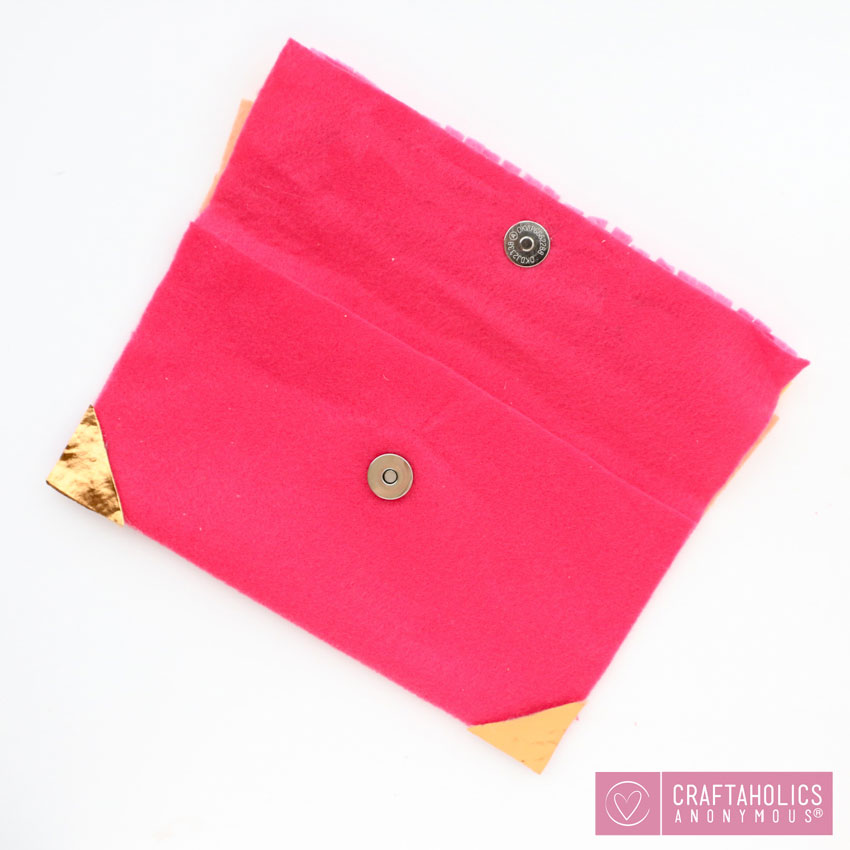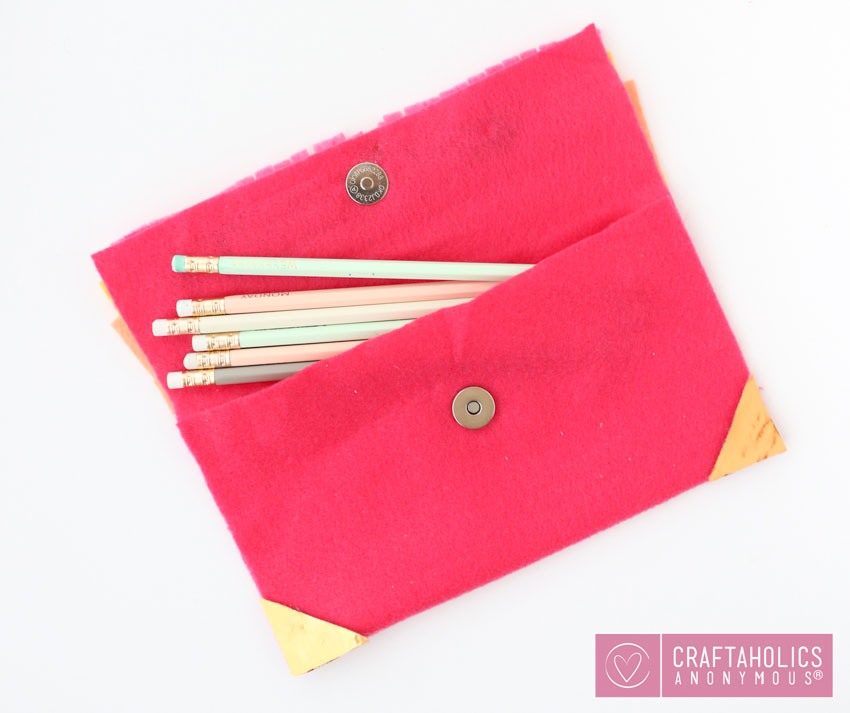 Once the glue has cooled, you can load your clutch with all your new supplies and brag to everyone about your new DIY no-sew fringe pencil case. Or give it to your kids and let them do the bragging. Better yet, if your kids are old enough, let them make their own!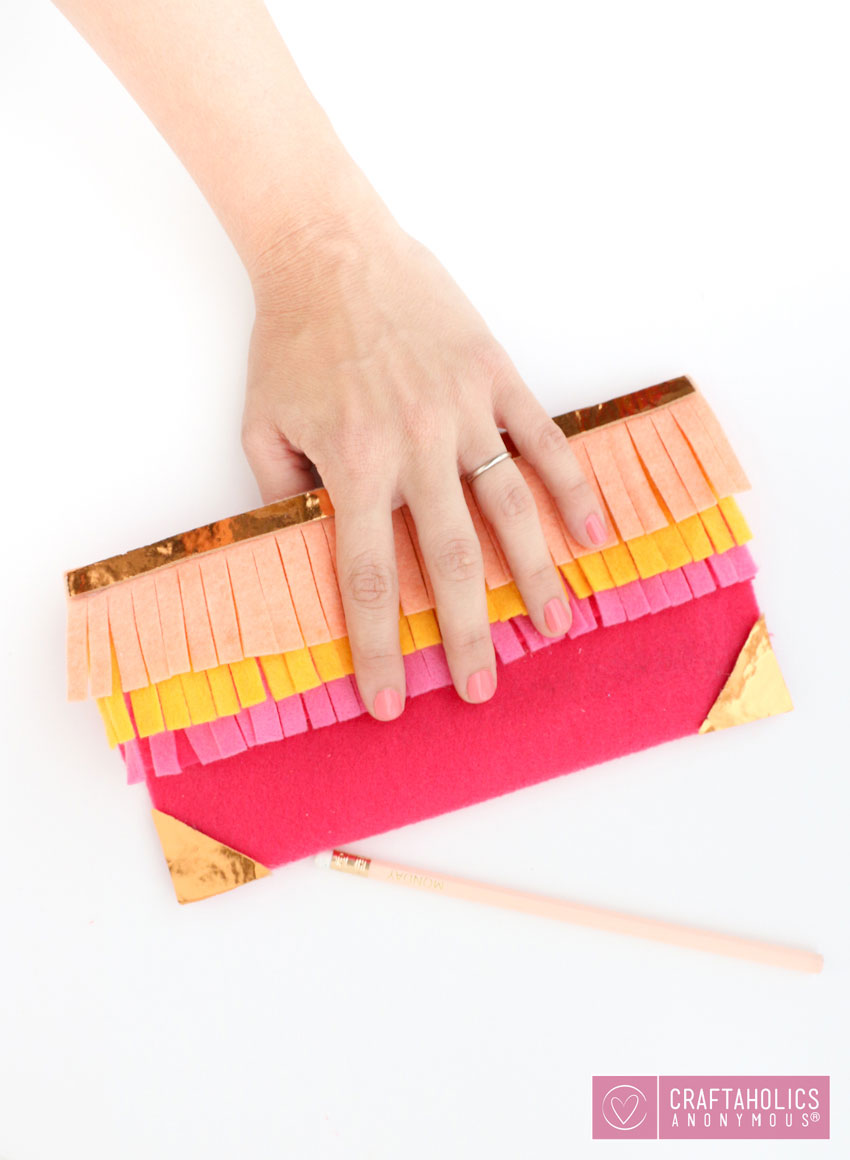 I hope you all enjoyed this tutorial for the cutest DIY no-sew fringe pencil case. Feel free to check out my blog, A Kailo Chic Life, for even more colorful DIY ideas.

Save
Save
Save
Save
Save
Save
Kara is the creative force behind A Kailo Chic Life where she blogs about all sorts of colorful crafts and home décor projects as well as a few fun recipes. She is a mom of two that resides in Austin, Texas with her family.
Latest posts by Kara Whitten (see all)