This post is brought in partnership with Krazy Glue. All opinions are mine.
The Modern Farmhouse trend is going strong for this Christmas season! Last week, I ran to Target to grab some supplies to whip up the cutest set of Farmhouse Christmas Signs for our home.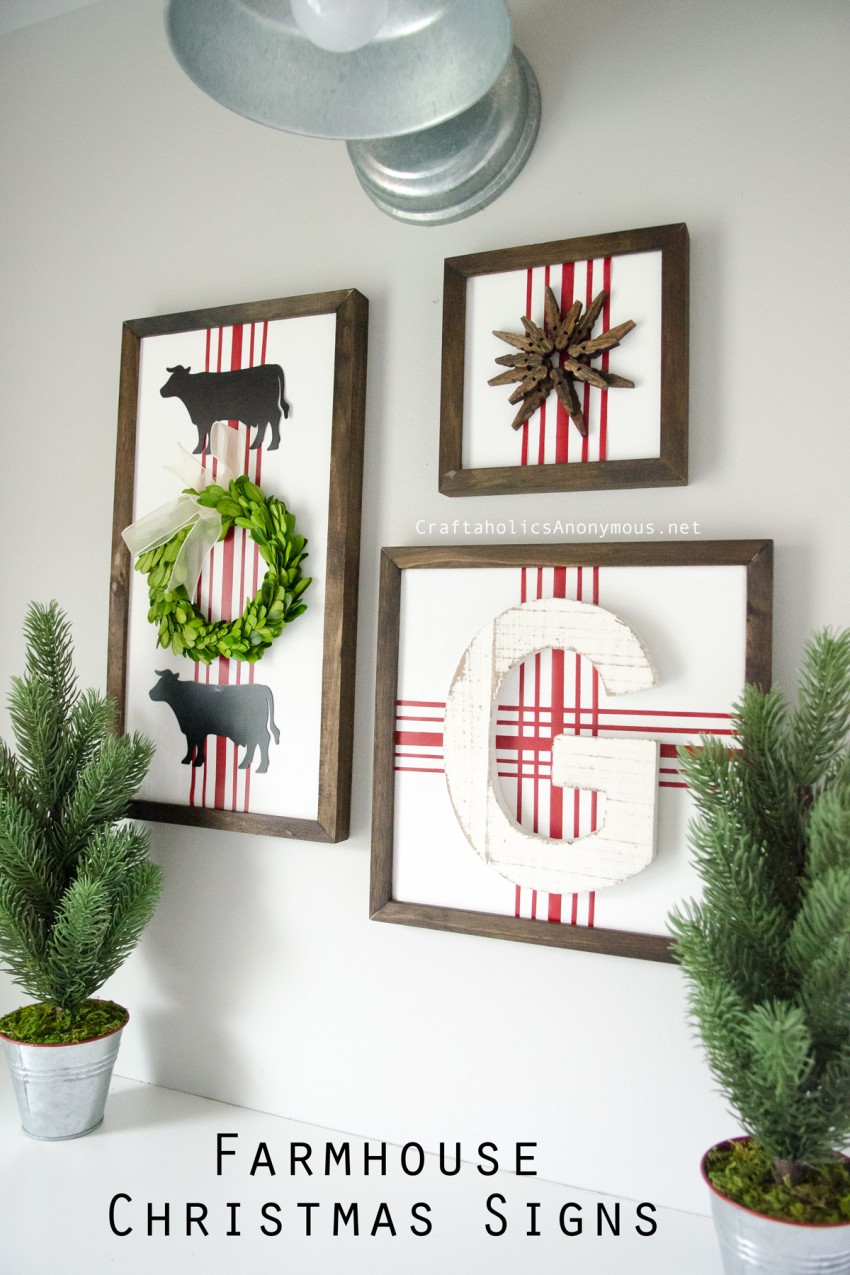 I went back and forth so many times on the design for these signs and I have to say, they turned out perfect. I love how the red plaid reminds me of feed sacks. Completely on point for the farmhouse look!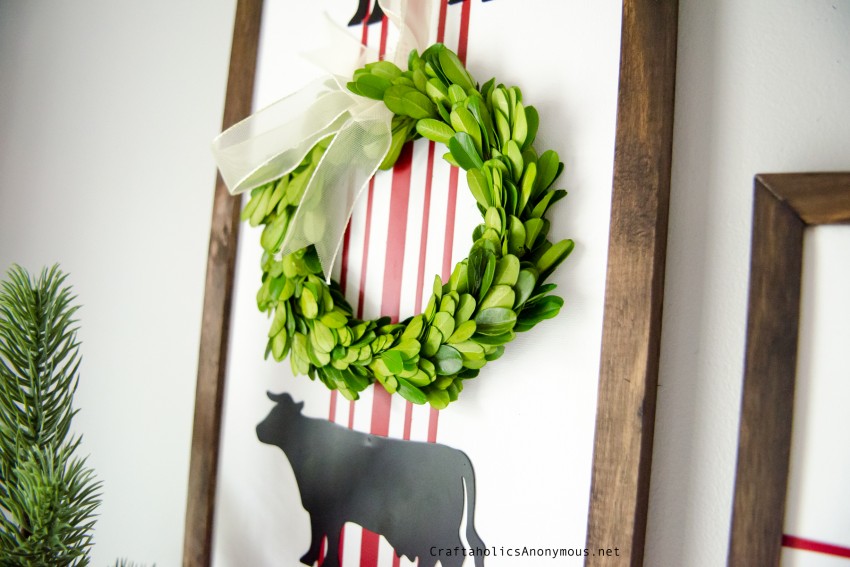 The red plaid with the boxwood is such a winning combo! Add in the stylish black and wood tones and it's a home run modern farmhouse styling.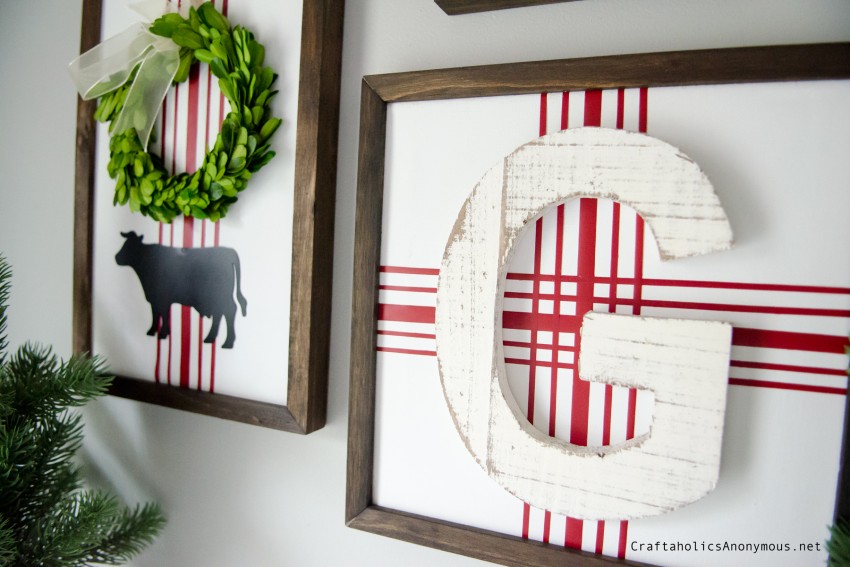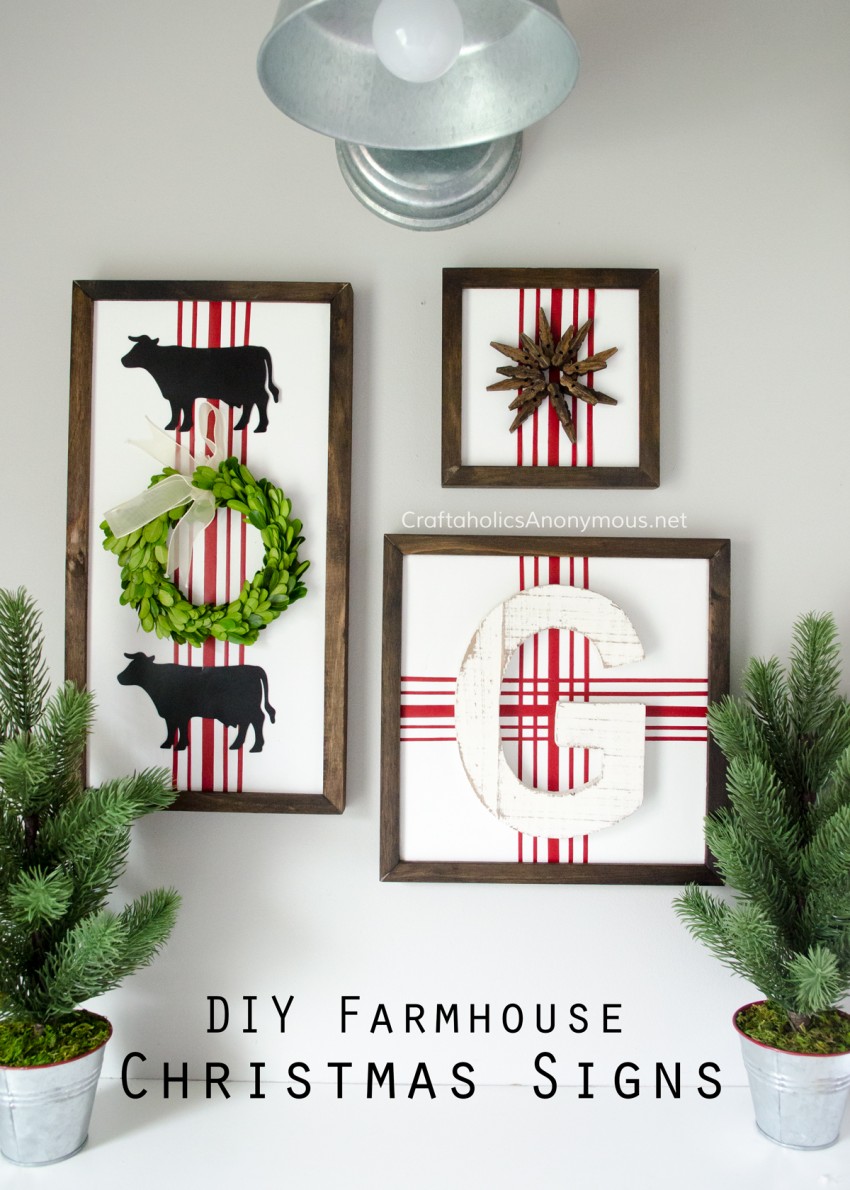 So excited to display this little Christmas vignette in our home!
DIY Farmhouse Christmas Signs Tutorial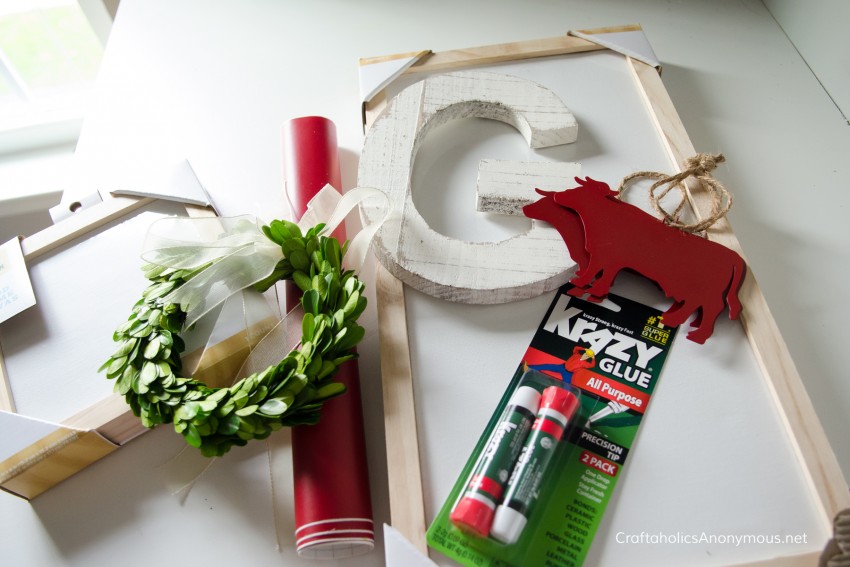 Supplies:
3 framed Art Canvases in sizes: 10×10, 15×8, 6×6 – Found in the Art section of Target
Krazy Glue All Purpose – found in the home and office supplies section at Target. There's a rebate for Krazy Glue on ibotta.
Metal Cow Ornaments – Christmas section of Target
Wood Stain – the stain color I used was Jacobean
Foam Brush
6″ mini Boxwood wreath
8 medium wood clothespins
8 mini wood clothespins
12″ wide Red Craft Vinyl
Rotary Cutter or Craft Knife
Wood Monogram
Paper Towels
Scissors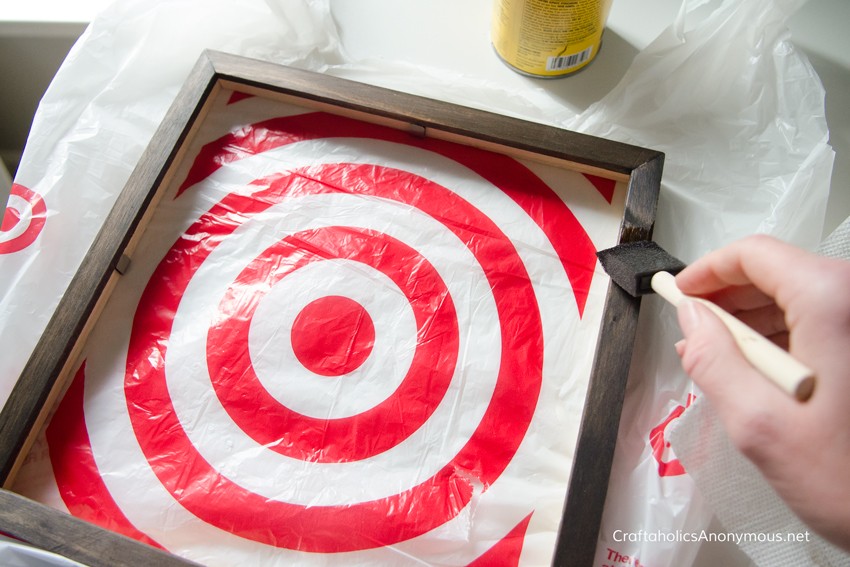 First separate the canvases from their wood frames. Then using a foam brush, apply wood stain to the wood frames. Wipe off excess stain with a paper towel. Remove the metal hinges on the clothespins and stain the wood clothespin pieces as well. Allow stain to dry completely.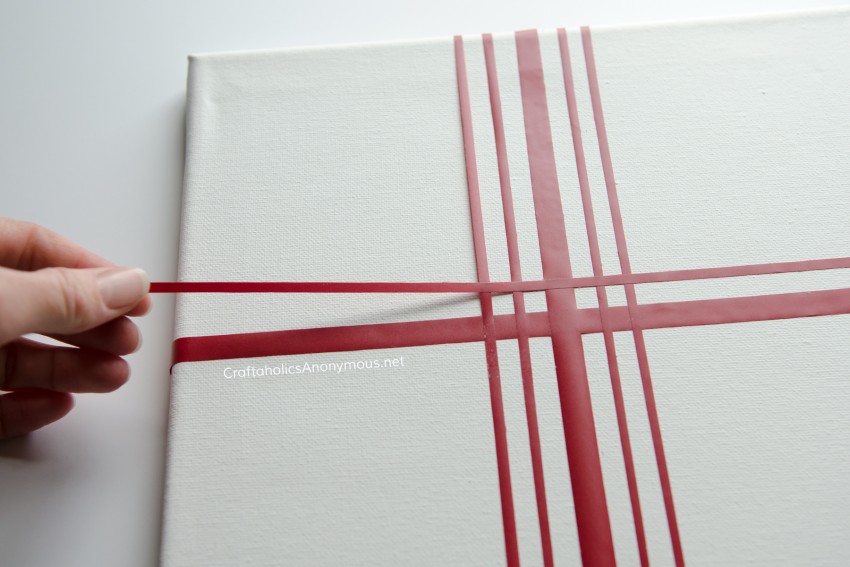 2. Using a rotary cutter (or craft knife) cut the red vinyl into thin strips. You'll need four strips of vinyl measuring 3/8″x 12″ and 16 strips of vinyl measuring 1/8″x 12″. Remove paper backing on the vinyl and apply the adhesive side of the vinyl to the appropriate canvases in a plaid design as shown. Wrap the ends of the vinyl around the sides of the canvases and trim excess length with scissors.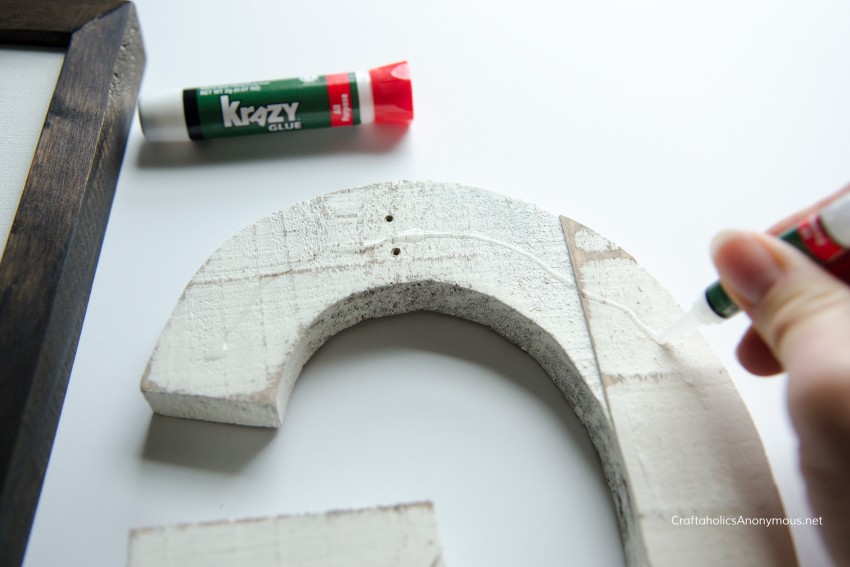 3. Apply a thin amount of Krazy Glue to the back of the wood monogram.
Look for Krazy Glue next time you're at the store!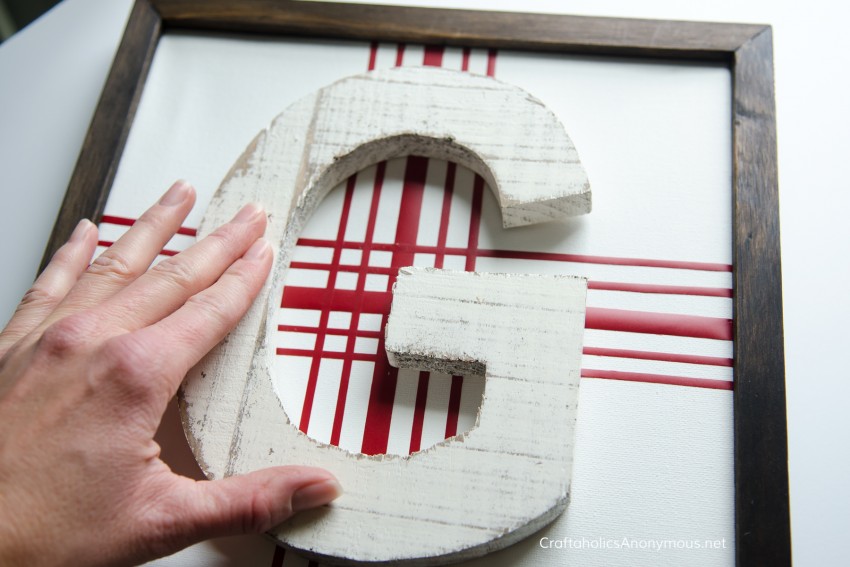 4. Then center the monogram on the prepared canvas and press the monogram to the canvas for about 30 seconds to secure. Krazy Glue works crazy fast and is crazy strong. I loved how quickly it dried. It was easy to use and worked great.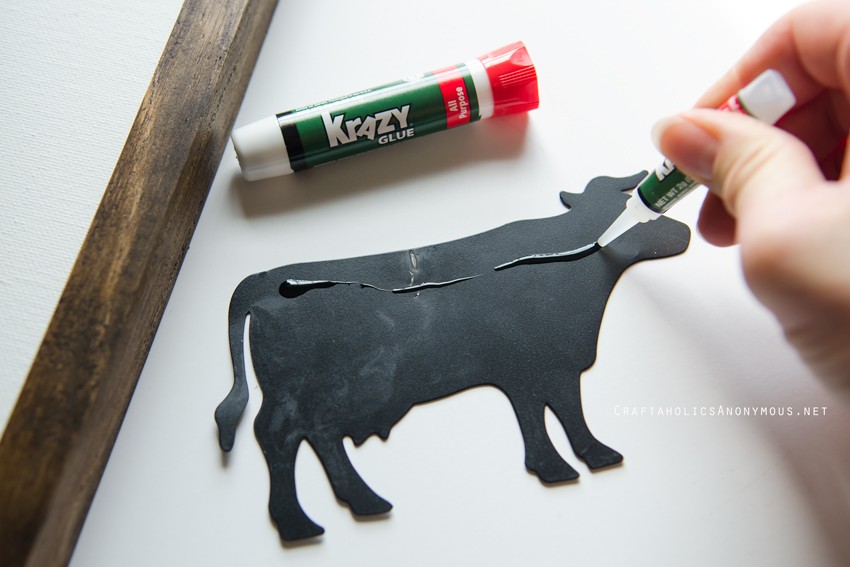 Krazy Glue works great on lots of surfaces, including the metal cows.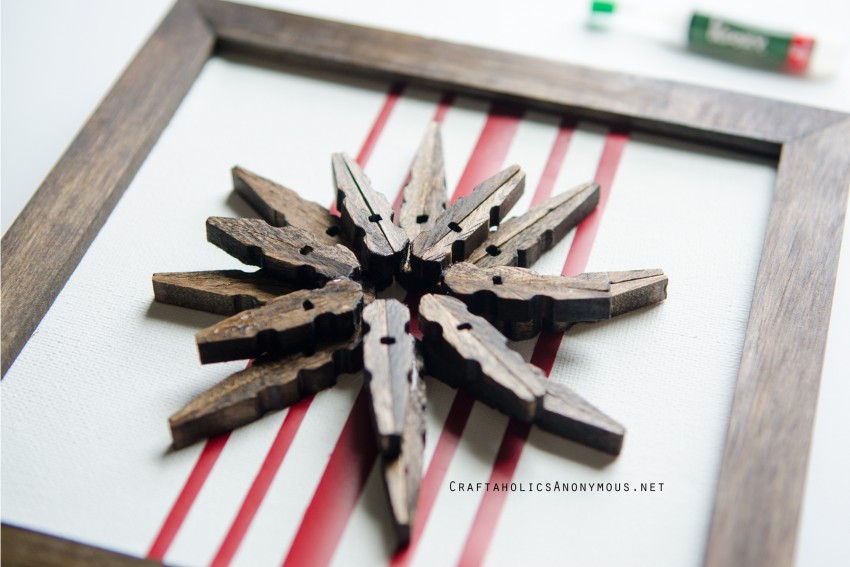 5. Use the stained clothespin pieces, create a snowflake shape by adhering them together with Krazy Glue. Then glue to the smallest canvas.

More Farmhouse Craft Ideas: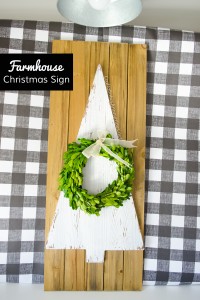 Simple Farmhouse Christmas Sign
Find me on Instagram! :)

Hi! I'm Linda, the craft addict behind Craftaholics Anonymous®, a craft blog. Crafting is cheaper than therapy, right? When I'm not DIYing something, I can be found taxiing around our 4 crazy kids or working out. Or shoe shopping... because you can never have too many shoes! Happy crafting! ♥