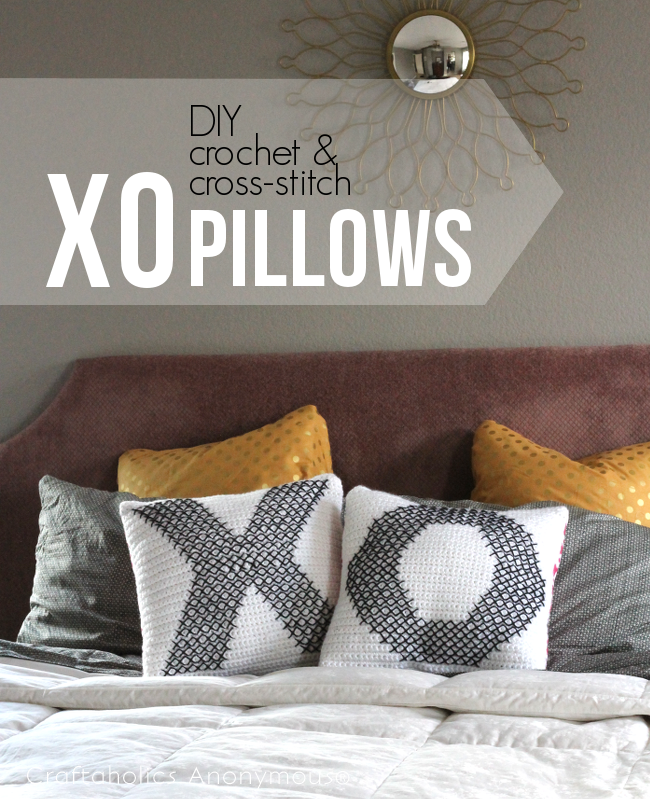 Crochet and Cross-Stitch Valentine Pillows
Today I'm sharing a little update to our Master Bedroom, which has kind of been bumming me out lately. When it comes to decor and design, our bedroom has definitely been one of the most neglected spaces in our home. I did put some effort into it a couple of years ago, but since then I've decided the neutral gray and white thing I was going for is less "simple" and more "boring." Time for an update!
I really love bedding that looks collected and unique, and I am trying to avoid the coordinated bed-in-a-bag look. Some interesting throw pillows were definitely in order!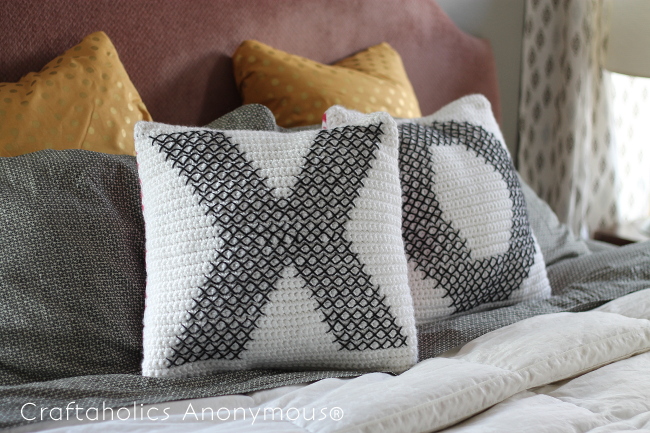 I've had Valentine's Day on the brain lately, and while these pillows grew out of that place, I think I will still love them once Valentine's Day is over. Here's how to make some for yourself:
How to Make Crochet and Cross-Stitch Valentine Pillows Tutorial
Start off by gathering your supplies. You will need:
Worsted Weight Yarn: I used 3 skeins of white Caron Simply Soft to crochet the fronts of my pillows and 1 skein of black for my cross-stitching.
Size K (6.50 mm) crochet hook
yarn needle
1 yard of fabric for the pillow back
16″ pillow forms
thread
sewing machine
Step 1: Crochet! The pillow fronts are simple sc squares. I wanted bigger stitches but couldn't find a while (not off-white) bulky yarn, so I decided to hold two strands of worsted weight yarn together and crochet them as one piece of yarn. To get a 17″ square I worked 58 rows of 50 sc. Here's the written pattern:
With K hook, and holding two strands of worsted weight yarn together:
Ch 51
Row 1: sc in second ch from hook, sc in each ch (50 sc), ch 1, turn.
Rows 2-57: sc in each st (50 sc), ch 1, turn.
Row 58: sc in each st (50 sc). Finish off. Weave in ends.
Step 2: Cross-Stitch!
The holes in crocheted fabric make it a really great cross-stitch surface. I made up charts for each letter that you can download at the links below. Each square on the chart represents one single crochet stitch; however, the X's cover 2×2 squares (or are worked over four single crochet stitches).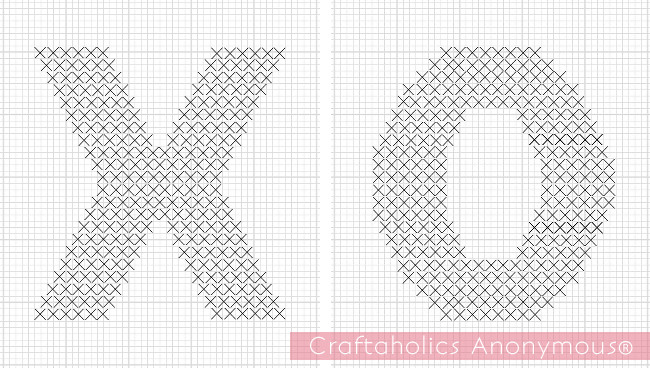 Download the X Chart  \\  Download the O Chart
Using black yarn and a yarn needle, follow the charts to create your "X" and "O." When working your cross-stitches, just skip one hole to ensure you are stitching into the right space.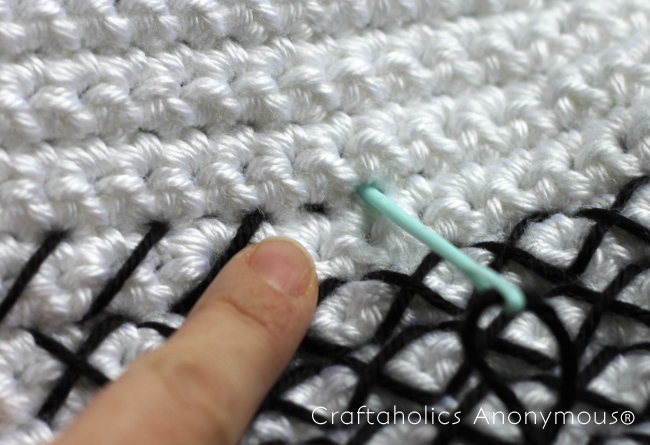 There are different techniques for working cross-stitch, but the way I have always done it is to work one half of each stitch across the whole line, and then to go back and cross all of your X's on that row.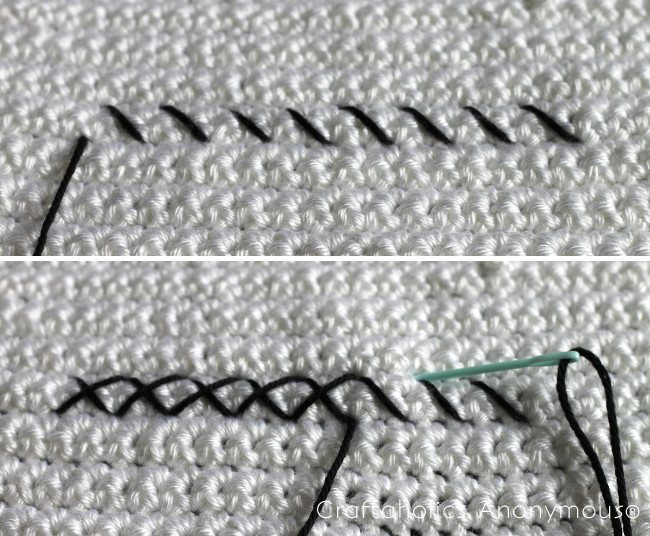 Just follow the chart, make all your little cross-stitches, and pretty soon, you will have your pillow fronts completed!
Step 3: Sew! When you have completed your cross-stitch "X" and "O," it's time to turn them into pillows. Yay! I made simple envelope back pillows because they are so easy, and it gave me the chance to pick a contrasting fabric for a pop of color on the pillow back.
The pillow fronts should be 17″ square. For each pillow back, you will need two pieces of fabric cut to 17″x13″.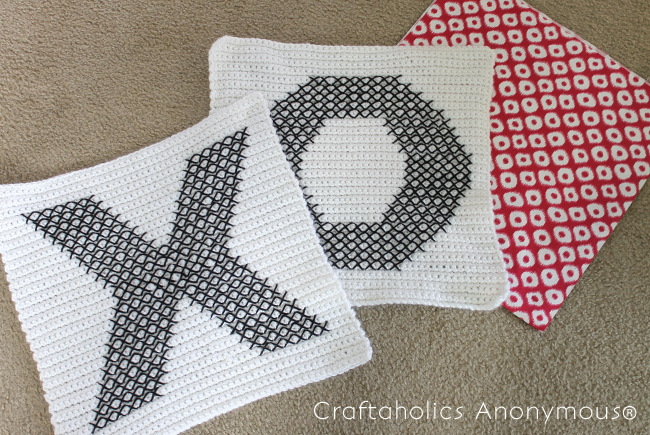 On each back piece, you will need to hem one 17″ side. Then pin the pillow front to the back pieces, with the right sides together. You may have to stretch the crocheted fabric a bit as you pin.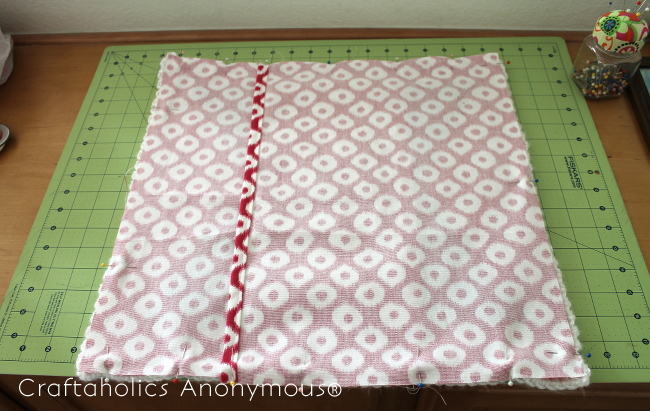 Sew the front and back of the pillow case together leaving a half inch seam allowance. (I found it was easier to run the pillow case through my sewing machine with fabric side facing down.) Flip the case right side out, and stuff your pillow form in.
Step 4: Enjoy!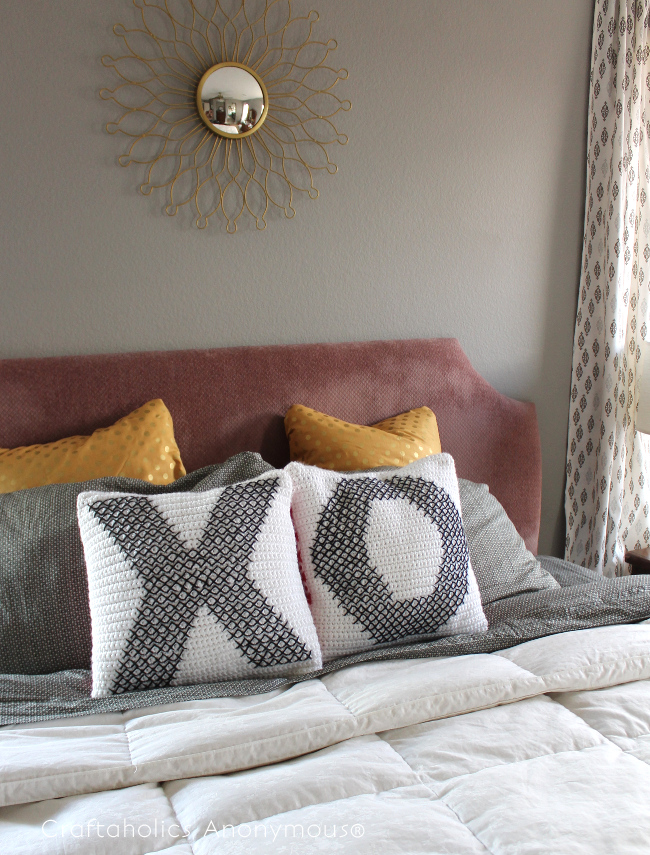 This bed still has a ways to go, but it is feeling a bit less boring to me with my new pillows. I love that they feel traditional and modern at the same time. And I'm really digging that little pop of pink on the back.
Don't you love a new pillow? These two little guys are definitely making me smile. If you like them, you may want to check out some of my past pillow projects over at Persia Lou. –Alexis
Do you like to Crochet or Cross-Stitch? Have you ever thought of combining the two crafts?
Enter to win a Silhouette CAMEO Giveaway!