Happy Friday, friends! Its been a long week for me, so I'm excited to hand the reins over to Amy to give us a tour of her gorgeous craft room! enjoy! -Linda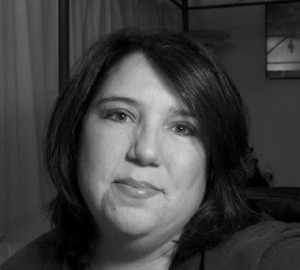 Hi Craftaholics! I'm Amy E. from Scrap This Save That and I'm so excited to be here to tell you all about my totally cool happy place. My blog is all about getting crafting items free or super cheap, so keeping in that spirit, last year I bartered with my incredible neighbors. I needed a craft room and they needed a dog/house sitter during their vacations. The result? A FABULOUS custom-built craft room of my own for only $22 out of my pocket…yes, $22!!
 Craft Room
My room went from this…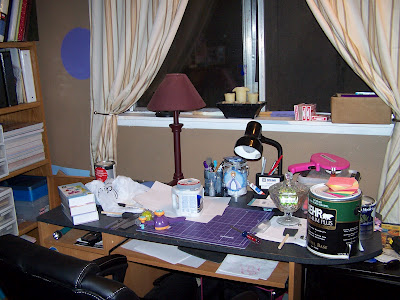 To this!!!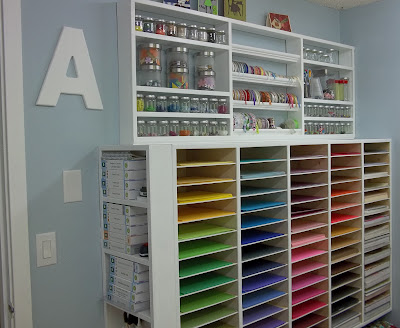 The flooring, electrical outlets, and lighting were replaced, and the walls were patched and painted. Above, my favorite part of the craft room, is a gorgeous shelf with paper storage on the bottom and ribbon and embellishment storage on the top. There's a little space on the side for some Cricut cartridges too.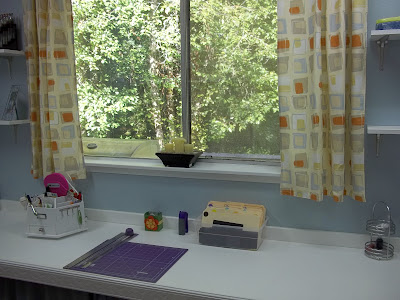 I have a built-in desk that goes from one end of the room to the other and then into an L-shape. Above is a photo of the center of the desk and my view while crafting. This is the same shot as taken in the "before" pic. It looks a little different!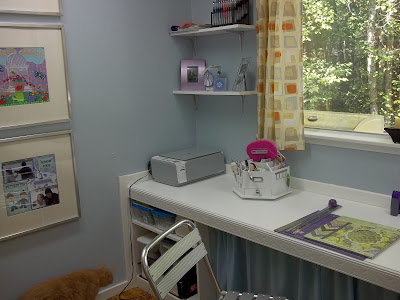 Here's the left side of the desk…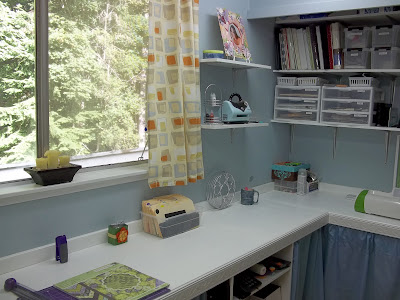 The right side of the desk…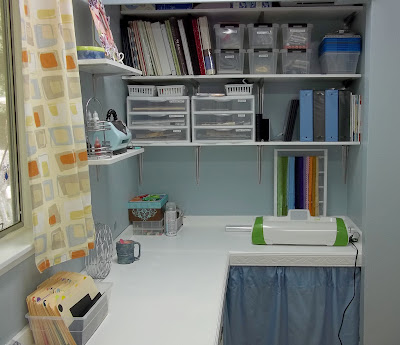 And the L portion that is built into what used to be a closet. It's the perfect place for a Cricut station now! All total, I have 14 linear feet of desk to work on…bliss!
I love the trim on the edge of the desk. I was going to color it in but decided there was enough color in the room. So the simplicity of the white works beautifully.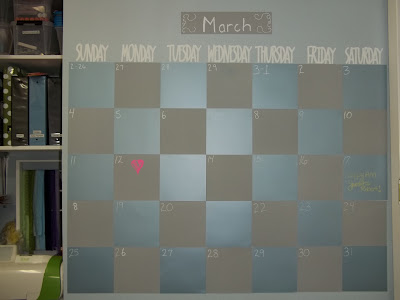 On the wall next to the end of the desk is a huge calendar I made from chalkboard paper. I can use it month after month; just erase it and start over again!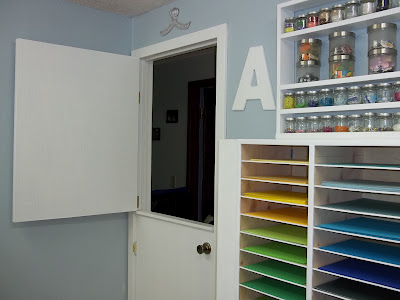 An awesome feature that was built for me was my door! They cut it in half, so that I could keep our pets (and their shedding hair) out but still have the door open if I choose.
Now, for some organization… some of these ideas have evolved since the original photos of the room were taken, so you may see a few details that look slightly different than in the pics above.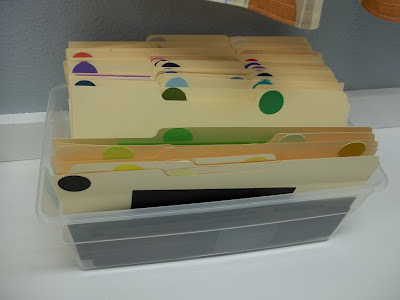 I decided to use a plastic shoe box for my paper scraps. I cut a small circle of each color and glued it to a manila divider. All of my solid color scraps are within reach, so I tend to use them before going for a full sheet of card stock.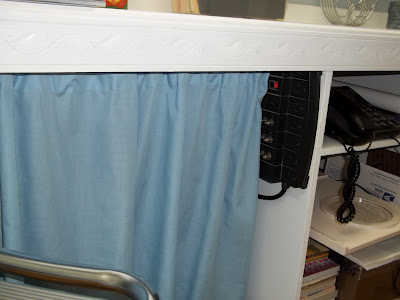 Under the desk, we mounted a surge protector to the side of one of the shelves. I can use it to plug in my laptop, glue gun, Gypsy, anything I need, without having to crawl under the desk to reach an outlet.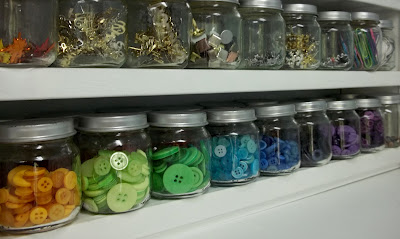 All of my buttons and bulky embellishments are stored in baby food jars that I begged my friends to save for me. Their lids were spray-painted silver and they fit on the shelves above the paper shelf perfectly.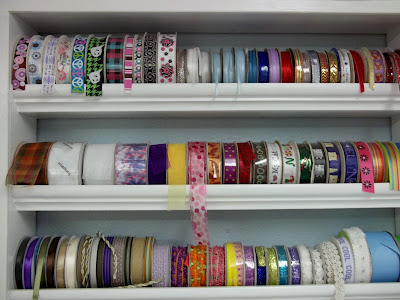 In the center of the embellishments are ribbon shelves made from upside down crown molding.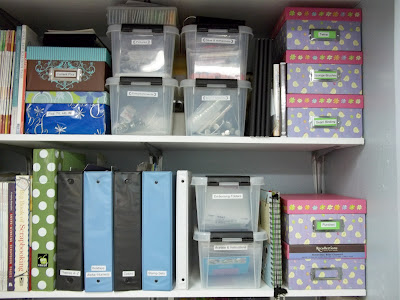 A favorite storage container of mine has become photo boxes. I have them in several different spots in my room housing anything from paper towels to bills and correspondence… anything that doesn't look pretty on display. I also use 3-ring binders with clear page protectors for flat embellishments such as sheets of bling or stickers.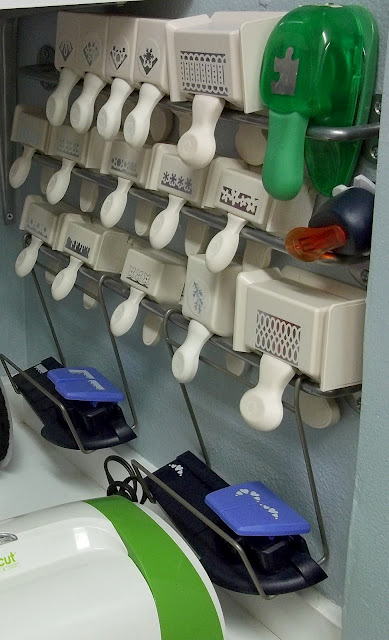 Kitchen towel rails from Ikea mounted on the wall, hold and display my punches perfectly.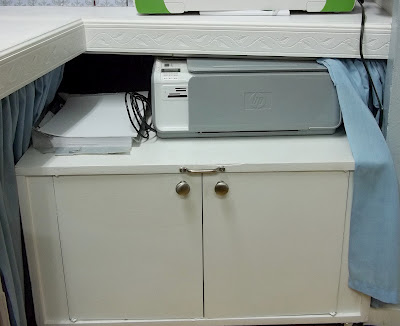 Because I hung curtains under the desk, it gave me LOTS of extra storage space. The photo above shows a $5 cabinet we got at Goodwill, which now houses my printer and paper on top, and cleaning supplies inside. The other areas behind the curtains also house my Cricut mats, mailing supplies, a garbage can, and a file cabinet. I say if you have the space, use it!
I want to thank you so much for checking things out! A special thanks to Linda for having me! If you have any questions or just want to say hi, please stop by the blog any time. I would love to chat!
You did an AMAZING job, Amy!! Thanks for sharing!

If you'd like to have your craft room featured at Craftaholics Anonymous, send an email to info@craftaholicsanonymous.net!

happy crafting,

Linda
Don't forget to sign up for the Gift Exchange!

Latest posts by Craftaholics Anonymous (see all)