Happy Friday! Today Mary is here to show off her lovely crafting space! Enjoy! -Linda
I can't begin to tell you how excited I am to be posting today for Linda and Craftaholics Anonymous! I have followed Linda's blog for ages and it was women, like her, that gave me the desire to create my own little space in which to be creative.
Hi! My name is Mary and my blog is Mary's Meanderings.
I am sort of ADD (they didn't diagnose things like that when I was growing up but my friends and family would agree totally) and so my blog is a lot like me, flitting from one love to another whether it be decorating, sewing, crafting, gardening, DIY projects etc.
I recently finished creating a little space of my own in one of our guestrooms in our home. We are in ministry and use all 3 rooms plus an office/guest room, so my creative space needed to flow within the space of a bedroom. It also had to be done on a very tiny budget so most everything including the fun sewing craft table was made from things we already had.
So let's take a look around and see some ways that I have organized my space.
The main craft sewing area is within the confines of a double-double closet (4 sliding doors).
Here my specially designed sewing/crafting table takes center stage with it's fun cubbies for storage and sewing machine that folds down inside table so I can use the table to cut fabric or have all my fun crafting things strewn about for easy access.
Below shows one of the cubbies in the table. It is full of laces and trims. I found old black index cards and used some wonderful graphics at the Graphic Fairy – Love having all those trims so that I can see them at a glance.
More little bits of trim are stored on this little rack made from what I think was an old tie rack. Old rulers are used to wrap the bits of lace around then they hand from the rack using curtain clips.
An old spice rack was painted and stores little bits of fun in jars.
More salt shakers and decanter tops to store my glitter.
I spray painted a lazy Susan black and placed it under the 3 tiered tray so that I could reach the glitters easily by simply turning it.
To the left of the table are shelves. This was a built in shoe rack. I took a saw and cut all the dowels off. Then had hubby cut pieces of shelf and install. This area houses all the not so pretty, but necessary supplies. I use a lace curtain on an old wood hanger to cover up this area when I am not working.
One of my favorite little idea, is this white wicker tray with handle that I picked up for pennies. It holds those things I use all the time- pin cushion with pins, tape measure, seam ripper (use that more then I wish to!) and most importantly, chocolate!!!
Spools are used to house more lace. A little dresser holds all my bits of jewelry making and an old frame that I backed with sheet metal and covered with a needlepoint serves as my inspiration board.
I have a ton of fabric and I found these great clear top plastic bins that fit perfectly under the guest bed to store it all. Instead of stacking the fabric on top of each other, I rolled it so that I could see each piece of fabric when I slide the boxes out from under the bed. Blues and blacks in one bin, reds together in another etc. Makes it so much easier then pulling out several boxes to find one piece.
Well, I don't wish to bore you so will stop with those few organizing ideas. If you would like to see more of this room or the tutorials I have written on several of the projects shown, click here.
I hope my little space has inspired you and that you will take some time to create a little space just for you!
Isn't her style so fun? A big thanks to Mary for sharing her crafting space with us today! Be sure to stop by her blog, Mary's Meanderings and check it out! Have a great weekend!

happy crafting,

Linda
PS Make sure you enter to win a $50 Gift Card to My Vinyl Direct!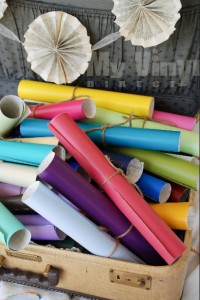 Hi! I'm Linda, the craft addict behind Craftaholics Anonymous®, a craft blog. Crafting is cheaper than therapy, right? When I'm not DIYing something, I can be found taxiing around our 4 crazy kids or working out. Or shoe shopping... because you can never have too many shoes! Happy crafting! ♥