Hello Craftaholics Anonymous friends!
I am Jaime from
&
I am thrilled to be here today & to have the chance to walk you through my crafty room!
Are you ready for picture overload?
I must warn you, it isn't perfect, it isn't crazy organized….
but I am working on it, and I am happy with what I have…
I mean I have to face it, until this point I have never had my very own crafting room—it is my little piece of heaven!
Here is a look at my craft room from the hall—I want to share how blessed I feel that my wonderful husband let me take over the first floor room as my craft room—it is a huge and well lit room and I am sure he would have been happy to use it for a million man things but instead gave me full reign!
p.s. my pups look thrilled about my finished craft room right?!
This is the project that has taken FOREVER to finish, but now that it is done I am super super excited!
I first bought this cubby from ikea at the beginning of dental school 4 years ago… it was stuffed FULL of notes and books and well all things school related… when I was down sizing my school stuff and moving on from my life as a student I was thrilled when I realized the cubby would be amazing for my future crafty room!
Now here is where the problem comes in, you see I think these cubbies are great when they are beautifully and sparsely decorated…
BUT I am not about decor I am about function when it comes to my craft room….sooooo I started planning for doors!
I am humiliated and a little blown away by how horribly unorganized my craft cubby is/was—please don't judge, but I think you need to see the before photo to appreciate the after! And to understand why doors were so necessary!
So initially I made plans and took trips to the hardware store trying to work out how to do the doors, but eventually my hubs kind of took over—-
I really didn't mind, he drilled and cut wood and I worked on other projects
***We did decide to keep spaces open for the baskets I had already purchased from ikea years ago—they are functional andddd they were about $15 dollar each so I just couldn't see not using them!
:o)
Anyways, when it came to the decor I was all about it!
I painted each door with duck egg blue (Annie Sloan Chalk Paint)
And since I am all about function I decided to decorate blank clip boards with scrap paper and then attach them to each door—-a simple way to organize contents of the cubbies, or bookmark inspiration!
So here is the final product…..much more functional and organized if you ask me!
And if you have ever spent some time at my blog, then you would know how in love I am with blue ball jars…soooo of course I use them as storage for small craft supplies all over my craft room!
I should also note that I had first purchased the card catalogue label holders months ago specifically for this project (I know I have since used them on a couple of furniture re-dos) but I got them from Van Dyke Restoration Online….just and FYI!
Aren't those doors just a life saver? I totally needed a way to hide my "stuff"!
Anyways on to the rest of the room!
I love to use my vintage typewriter for crafts and it is just too pretty to not display!
This is where things get a little busy and a little less pretty….
buttt they are still organized in my own way and I don't just want to show you the pretty parts of the room!
And plus I LOVE these wire baskets…! I think they are a great way to store fabric for sewing projects! I can see through the sides so it makes life easier when the fabric I am looking for is at the very bottom!
I did add a sheet of scrapbook paper to the front of two of the wire baskets just to add a little pretty detail as well!
I found a couple of cabinets this summer at garage sales and decided they are a great addition to my craft room—they are just sitting on top of my craft table—I added some scrapbook paper to the window-ed part so you can't see my mis-matching craft toys in there :o)
Ohh and I store ribbon and leftover fabrics in this fruit stand I picked up awhile back at TJ Maxx….
I just use clothes pin to keep them organized.
I even had fun with some of the little details of the room—-I don't have a million dollars to buy matching containers for my craft room so instead I added scrapbook paper to the base of most of them to kind of unify them in a fun way (I just mod podged them on).
I really think that work space is key…anddd a view is always a bonus….I am SO lucky to have both!
And it wouldn't be right if I forgot to show you my "dream machine's" little home—- I thought it was just right for storage!
(I found the container last week at a thrift shop and painted it right up to match the room!)
Okayyy and just a few more practical things I wanted to point out—-
All I did was stick a magnet to the board and then the container of pins literally just sticks right to it—no magnet on the pin case needed.
Anddd then there are my buttons—I love them in this blue ball jar, buttt….
I also like them pinned up on my cork board! The are super easy to see and get at this way!
So thank you for letting me show you around!
Would you like to come over and craft at my place?!
I just adore new blog friends!
~~~~~~~~~~~~~~~~~~~~~~~~~~~~~~~~~~~~~~~~~~~~~~~~~~~~~~~~~~~~~~~~~~~~~~~~~~~~~
stop by tomorrow for the kick off of the a new series with several fabulous bloggers: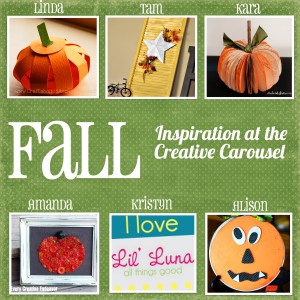 these are the awesome projects you can expect from everyone in the group.
the Creative Carousel which is sponsored in party by these fabulous shops: