Happy happy Friday!! Today Kendra is here to show off her great craft room makeover! enjoy! -Linda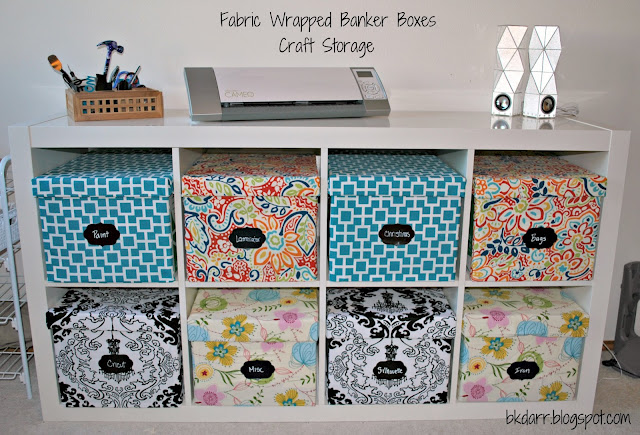 Hi! My name is Kendra and I blog over at Adventures of Brad & Kendra.
I'm so happy to be sharing my craft room with you today. I started this blog as a creative outlet for my very techy lifestyle. Brad and I have been married for 6 years, he owns a small tech support company in Seattle and I am an electrical engineer. I started getting my creative juices flowing after joining Pinterest last summer, and becoming instantly addicted.
My craft room is the spare bedroom that used to be the catch-all room. Every year, Christmas gifts and wrapping would explode in this room and it never quite seemed to get 100% cleaned up.
The Before
I spent a good amount of time clearing out the room of extra stuff and re-organizing it. The piece of furniture below is the Epxedit from Ikea (I'm pretty addicted to the Expedit series, I have 4 or 5 of them in my house). The boxes in each cube are simply banker boxes covered in fabric. I used the top for my Silhouette Cameo and miscellaneous tools. I cut out chalkboard labels for each of the boxes so that I can change what is in each box if needed.
Craft Room After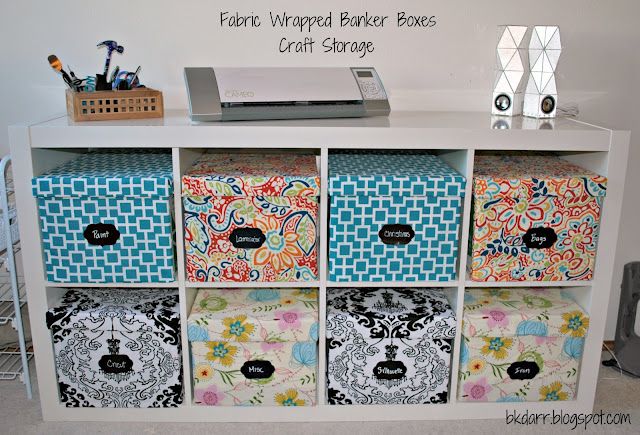 My dad built my desk a couple years ago as a Christmas gift. It is perfect for crafts and has lots of storage. I especially love the built in racks that can hold 12×12 paper, I use them to store projects that are in process. The chair and slipcover are from Pier 1. I love the pattern and think it ties in great with the fabric used on the banker boxes.
I replaced the closet doors with a couple curtains from Target. The closet doors were NOT practical since you could only see one half or the other but anything in the middle was hard to access. Inside the closet I have some gift wrap storage, gift stockpile and a few purses (I have a thing for purses and started moving them out of the craft room and into my bedroom on a coat rack that I re-purposed). All the cardboard boxes are cabinet doors that I bought at an Ikea garage sale for $1 each and have used for projects such as welcome signs and necklace holders.

Here is the final view of what I see when I walk into my new craft room. I hope you have all enjoyed the tour of my craft room.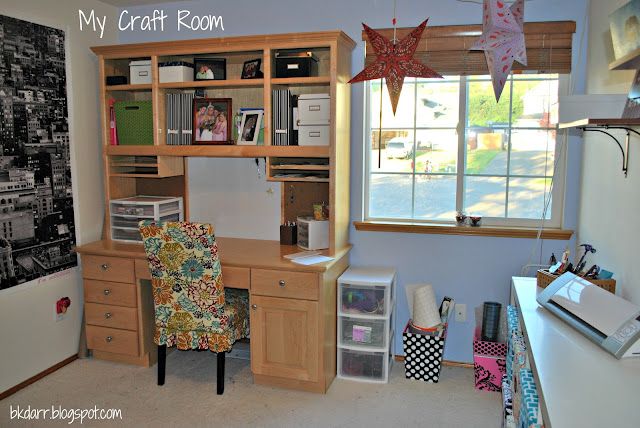 Thanks Kendra! You did a great job! Love your fabric covered bankers box idea. Thanks for sharing! You can visit Kendra's blog here.

happy crafting,

linda

PS have a craft room, craft nook, or craft closet that you'd like to show off? Send a picture or link to CraftaholicsAnon{at}gmail{dot}com
Share and Enjoy

Hi! I'm Linda, the craft addict behind Craftaholics Anonymous®, a craft blog. Crafting is cheaper than therapy, right? When I'm not DIYing something, I can be found taxiing around our 4 crazy kids or working out. Or shoe shopping... because you can never have too many shoes! Happy crafting! ♥