Lana is here to give us a tour of her craft room! She has some awesome ideas for storing craft supplies. Enjoy! -Linda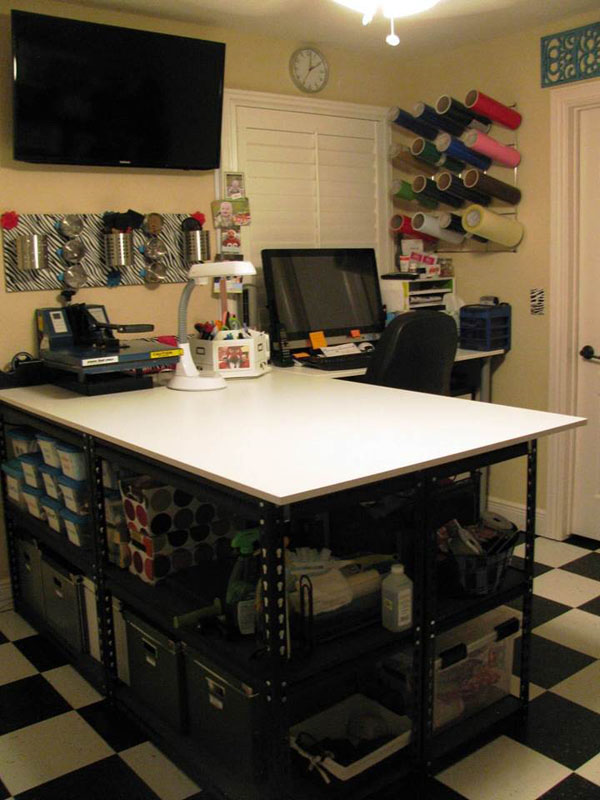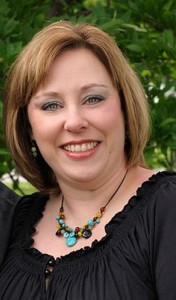 Hey there! I'm Lana Harris from Studio 73 Creations. I am really excited to share my craft room makeover with you.
I "retired" from the world of non-profit management a couple of years ago and now spend most of my time in my craft studio/office. I have always crafted just as a hobby, but recently opened a shop on Etsy. I make all kinds of custom items, but my favorite things are baby onesies & burlap art. My daughter and her husband just graduated from college and are moving to Georgia this month. My son just completed his freshman year of college studying for a Fire Science degree. He is a volunteer fireman, so please pray for him and all of our first responder heroes. My hubby is the VP for a large technology firm and recently began working from home. When I realized he would be home all day, I knew we could no longer share an office space and not kill each other so we turned one of our guest bedrooms into my office and craft studio.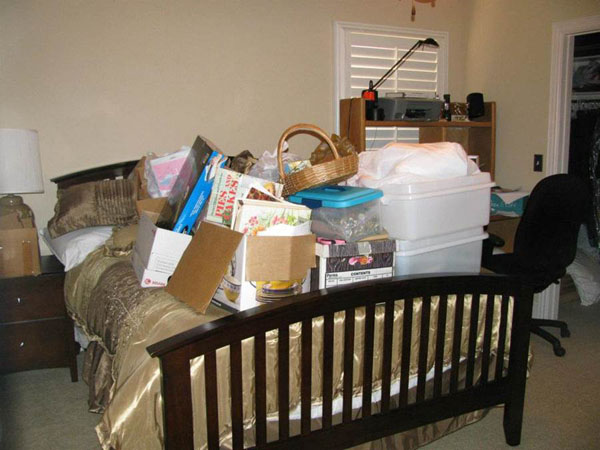 This is the before picture. We had begun cleaning out the closet and some of the shelves, so it's all piled on the bed. I'm really not that messy!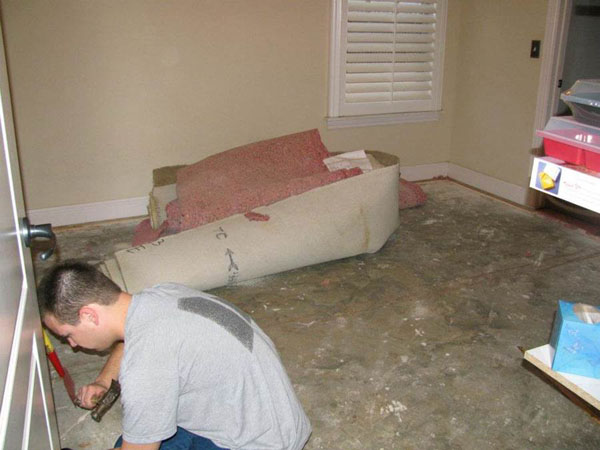 We ripped up all of the carpet. This is my son, Colten doing some of the dirty work. My husband, son & I ripped up all of the carpet and laid down black and white checkered vinyl composite tile. We purchased the tile at Lowe's and installed it ourselves. The experts said to start in the middle of the room when laying tile in order to make sure you don't have gaps. We thought it would be easier to start in the corner. Hmmm…guess the experts were right. We had a huge gap when we got to the middle of the floor. Luckily, my work table covers it up!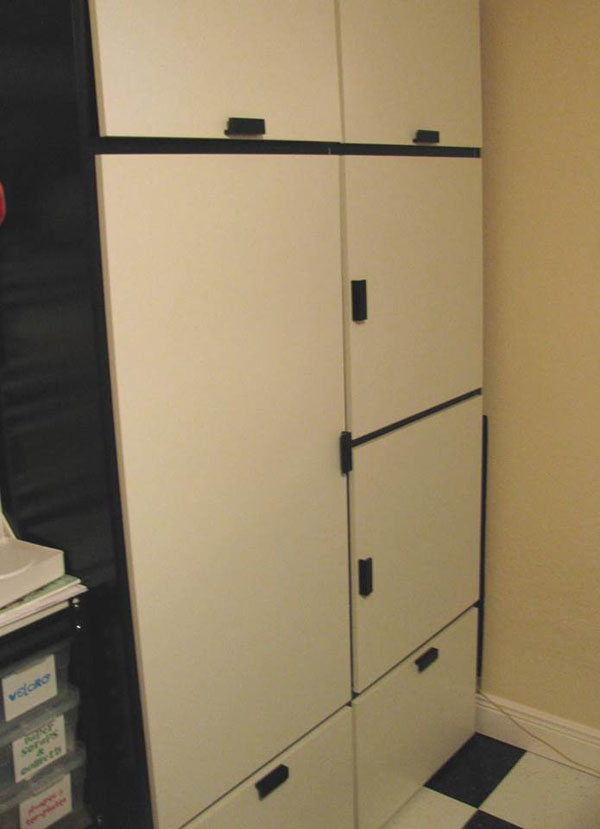 This is a wardrobe purchased at IKEA. It is PERFECT for a craft room. I removed the clothes bar from the tall side so I can store rolls of vinyl & paper. I put a piece of plastic gutter guard across the bottom to keep things from sliding out.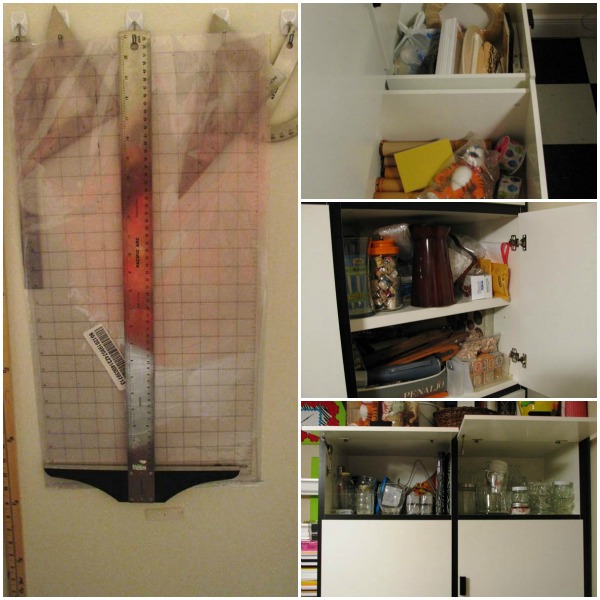 The wardrobe is perfect for storing my large rolls of vinyl and paper. I use Command hooks to hold my tools on the inside of the door. It keeps them neatly organized and out of the way. It has deep drawers that completely roll out. You can roll it all around the room if need be. Handy! I also use the wardrobe to store my fabric remnants and other fabric related supplies.
Everyone needs a junk cabinet! This is where I store all that miscellaneous stuff that doesn't seem to fit anywhere else. The top doors on the wardrobe open up to reveal deep storage that is great for all those Goodwill glass finds that I just know I'll find a use for some day!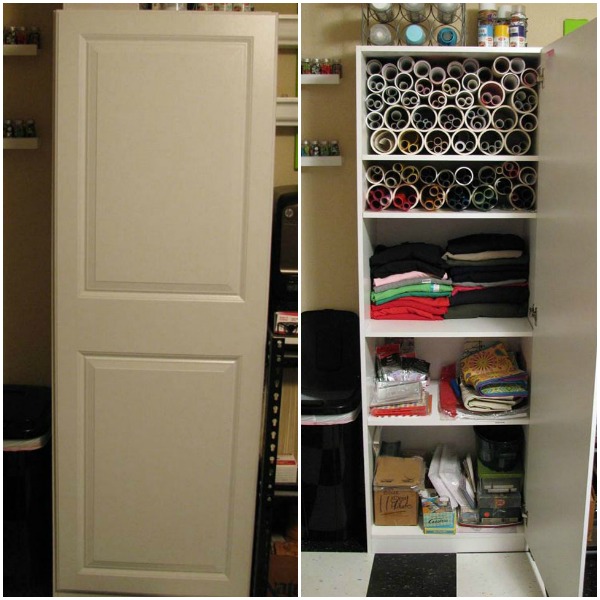 I purchased this cabinet at Lowe's and use it to store all of my vinyl and craft blanks. The top shelf holds the small rolls of my regular vinyl. The 2nd shelf holds the small rolls of my heat transfer vinyl. The 3rd shelf is where I store my blank t-shirts that I customize. The 4th shelf is various blanks/substrates including tote bags, frames, key chains, etc. The bottom shelf is kind of a catch-all for other blanks/substrates.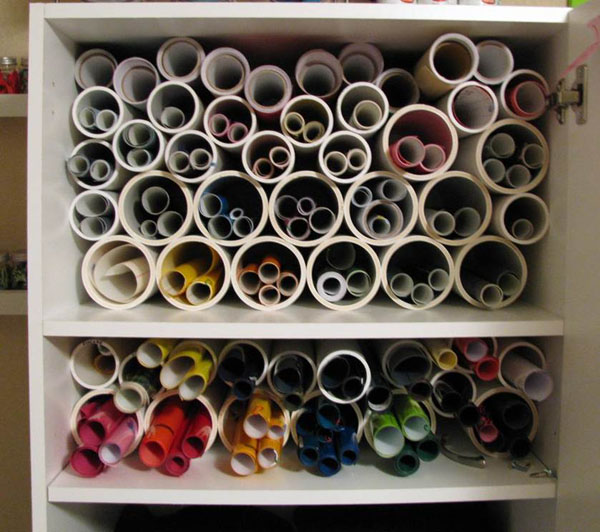 My husband cut PVC pipe to hold my vinyl rolls. This is a CHEAP and easy way to store vinyl to keep it from getting wrinkled or damaged. The larger pipes are 3" and the smaller pipes are 2". This is one of my favorite aspects of the entire room.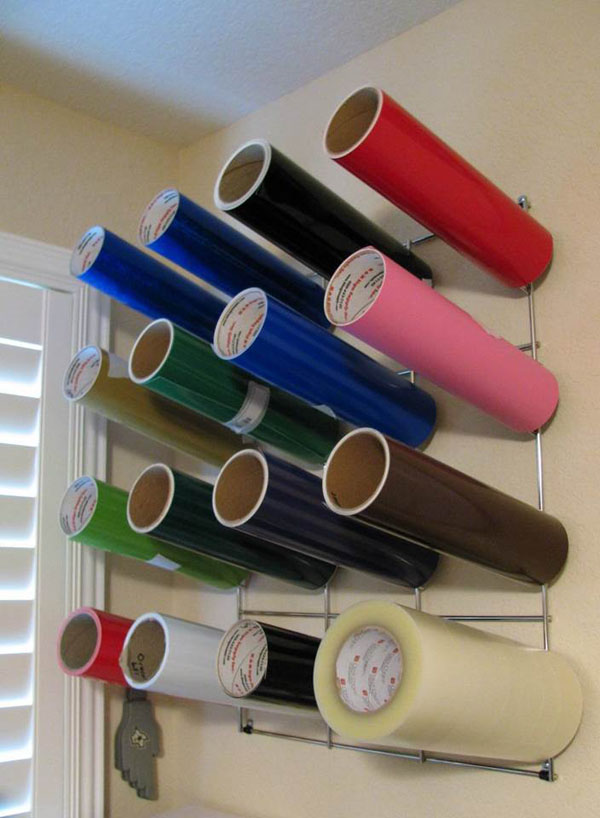 I purchased this wall rack from Sign Warehouse for $24. One of the best investments ever!!! It is made of heavy gauge wire which holds up to 16 rolls of materials.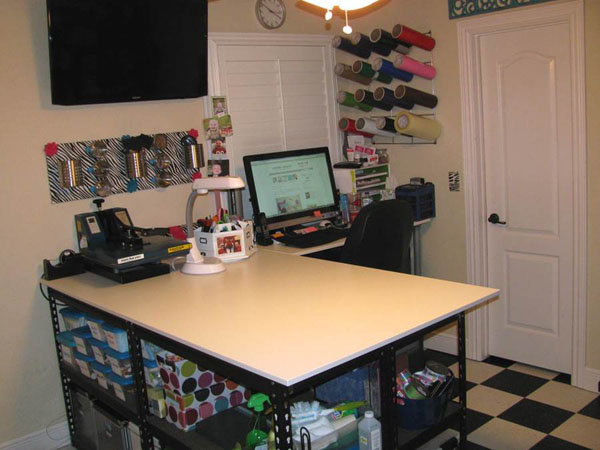 We purchased the work table top & matching desk top at IKEA. The table top is actually a conference table. I chose it because it has a place on top where you can drop cords. We installed a power strip directly under it so I can plug in multiple things without having to crawl under it. We also installed a 2nd power strip along the edge closest to my desk/computer area. Those 2 power strips have been the handiest things in the entire room!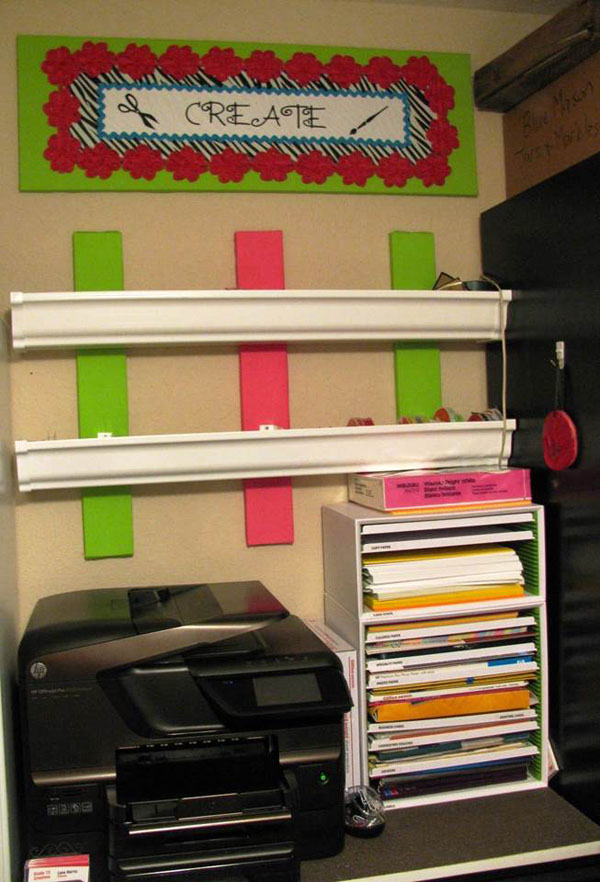 The white tubes are plastic gutters. They hold all of my spools of ribbon. The green & pink boards are fabric covered and we screwed the gutters into the boards to avoid giant holes in the wall. The paper storage to the right of the printer was purchased at The Container Store. It has movable dividers so you can adjust the compartments as needed.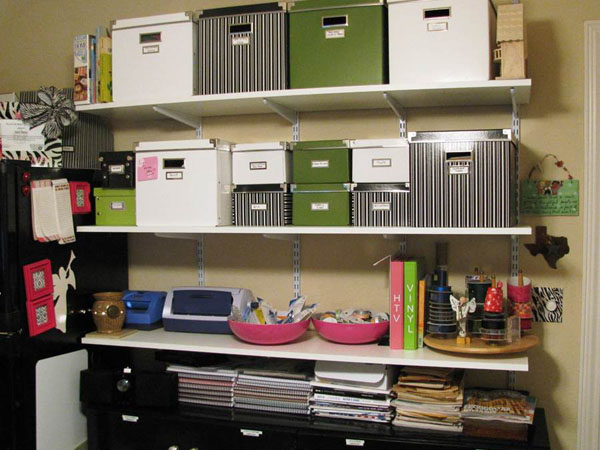 The white, green & black/white striped storage boxes were purchased at IKEA. They are super durable and hold a lot. The shelving was all purchased at Lowe's. One of the pink bowls holds sewing supplies and the other holds self-stick ribbon. The lazy Susan on the end holds my overflow ribbon. It is a lazy Susan purchased at IKEA with vintage spools glued onto it (E6000 glue). It makes a great ribbon organizer!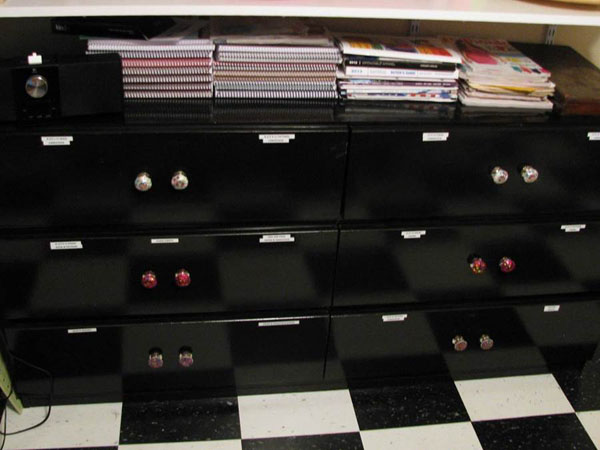 This black dresser was purchased from Craigslist. I put pretty glittery knobs on it to dress it up. The knobs were purchased at Hobby Lobby when they were on sale for 50% off. This dresser holds all of my scrapbook paper. I used my label maker to label the drawers. The paper is separated by paper or cardstock, plain or patterned, 8 ½ x 11 or 12 x 12. I store my graphics software books and my supply catalogs on top.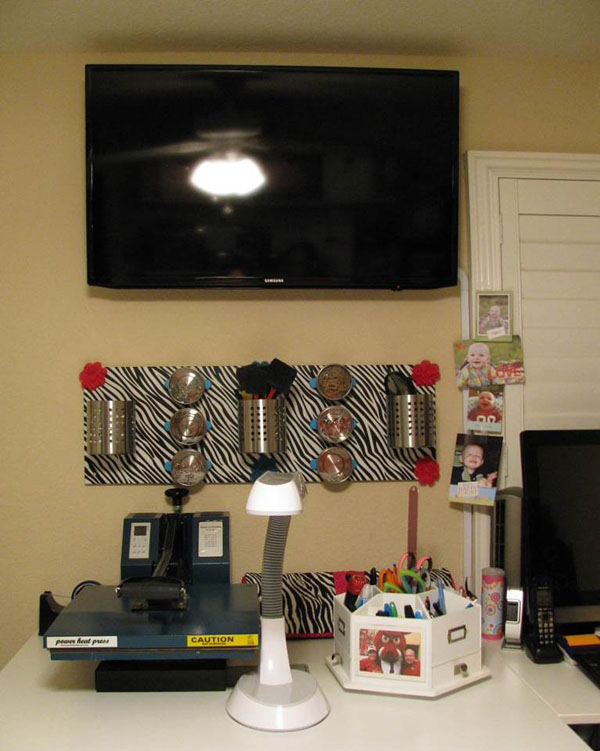 The zebra board is another left over shelf board. It is covered in thin upholstery material. It has 6 horizontal magnet bard and 3 vertical magnet bars. That's the turquoise bars you can barely see. The round tins hold round tip pins, rubber bands, push pins, safety pins, twist ties & bobby pins. The 3 cans hold Q-tips, paint brushes, and screwdrivers/tools.
I can just pull a tin or can off the magnet bar, get what I need and then slap it back up there. Another easy thing to make, but invaluable!!! You can also see my heat press sitting next to my zebra covered Silhouette Cameo. The round carousel organizer was purchased at Michael's. Of course, I must have my TV so I can watch NCIS marathons while crafting!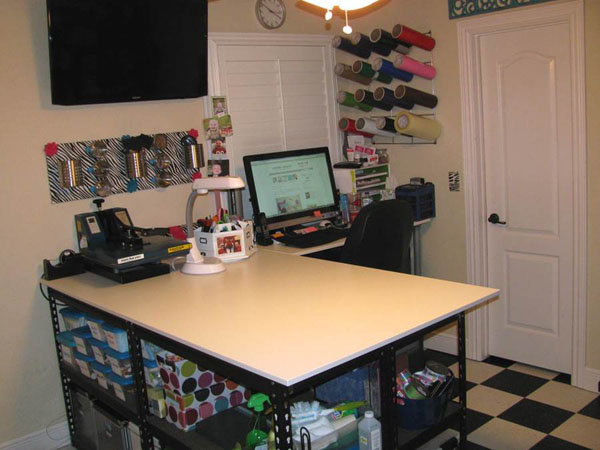 We all need a space where we can dream and create. I hope my little space will be an inspiration for you.
-Lana
Make sure to follow Craftaholics Anonymous® on Bloglovin for new crafts and on Pinterest for crafting inspiration from around the web!
Share and Enjoy
Latest posts by Craftaholics Anonymous (see all)