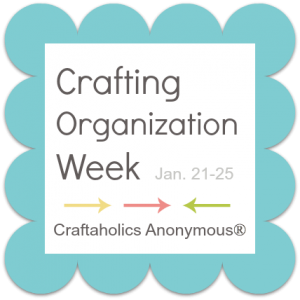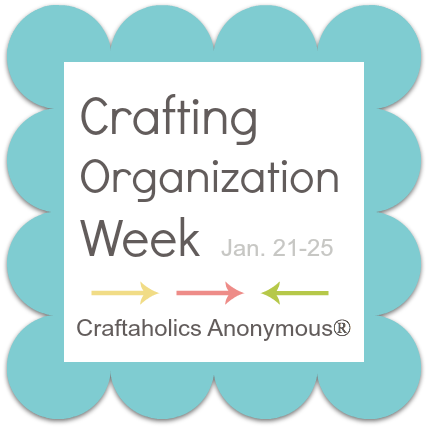 Hi friends! I hope you're enjoying the Craft Organization Week here on Craftaholics Anonymous®! I sure am! Today I am sharing YOUR tips, tricks, and suggestions for organizing crafting supplies. You guys always have such great ideas! This post is based on this recent thread on the Craftaholics Anonymous® Facebook page. {scroll down for a free organizational printable!} 
Craft Organization
"My crafting has taken over!! I have scrapbook supplies, vinyl and accessories for my Cameo, and now I've gotten into jewelry!! I have a good amount of closet space, and a spare bedroom (that has to stay a bedroom, however I can use it for crafting/storage), but am unsure how to organize it all!! I have big stuff and small…. HELP!!" – Beth
1. "I use the plastic see through dressers from Wal-mart. They work very well and come in many different sizes and are inexpensive." – Chris D
2. "Store like things together so that you can find them when you need them. Buy a blow up mattress and convert that awesome spare bedroom into the coolest craft room – you know you want to! (ha!)" – Tejae F.
3. "I've seen guest room closets used as craft storage. There is also something called a Scrapbox – it stores tons of stuff and closes completely. It also has a small desktop that folds in for storage." – Jamie H.
4. "The Original Scrapbox!" Lynn C.
5. "Rolling under-the-bed storage containers. They are big enough for the scrapbook paper and supplies." – Jan W.
6. "I moved from having a craft room to a tiny one bedroom apartment. I put all my craft stuff in a giant bookshelf from IKEA and a few small organizing bins. I have A LOT of stuff and its worked wonders!" – Melissa W.
7. "Think outside the box and hit the hardware store for storage ideas. And the plastic dressers are cheap but you can't put anything on the top if they are plastic. I have one with a "wood" top and they are better for putting stuff on top of." – Rebecca C.
8. "I store a lot of supplies under the beds in my house!" – Jennifer W.
9. "Convert the closet to craft organizing with shelves, cubes and paper storage boxes. Use the under bed rolling storage for larger items, or put smaller plastic organizers in the larger rolling bins to help keep like-crafts together. Make/buy a cute cover for your cutter so you can keep it on the desk when company is there. I'd also make the decorations for the bedroom/craft room yourself so you can tie the two together." – Kris B.
10. "I have the same problem, but only having company maybe once a year, I am going to get rid of the queen size bed, replace it with a futon, and make it a craft room. I'm tired of all my stuff being in the dining room! I like the armoire idea too. A friend has all her quilting fabrics stored in one. I want to do that for all my cross stitch and craft stuff. Since DH (darling husband) has the basement area as his 'man cave', I get the second bedroom for crafts!!!" – Valerie V.
11. "I just bought several Sterilite storage containers from Wal-mart. The 3 or 6 drawer for scrapbook paper, slightly smaller for 8 1/2×11 paper and the 5 drawer mini's for smaller stuff. I also use the decorative photo boxes like from Michaels. My craft room was always such an eye sore. No organization at all. I'm not done with it but it already looks so much better because of having uniform storage. Good luck!" – Dianna S.
12. "I have the plastic drawers and keep them in a guest closet. I have a different drawer for each type of craft. I also have smaller clear bins with handles that are stackable for current projects. I have a quilt and ornaments going right now and want to make the supplies easy to work with." – Karen I.
13. "I have an armoire that I use to hold most of my crafting supplies in our spare bedroom. Maybe that would work?" – Navasha O.
14. "We turned the closet in my office into another workspace. Hubby installed cabinets, a counter top, our old computer with the monitor mounted on the wall (to keep the counter totally open), and an amazing LED recessed light to make it nice and bright. The cabinets are dedicated to all of my crafting supplies and some overflow of office supplies. What's nice is that I have a full counter top to work on things, and if I'm mid project I can just close the bi-fold doors. No mess in sight!" – Jessica P.
15. "I have a BIG (but super cute) storage cabinet/shelf from IKEA that I've had for years and it works great. Inside of that shelf I organize everything by category, paper, cardstock ,adhesives, stamps, ink pads, tools, etc, etc. I use cute open bins from Target & IKEA inside of the shelf to hold those things. And then I have some closed little bins within the cabinet to organize it all too. I also have 2 other shelving units (smaller) in my room, that also have bins, and closed storage within them to organize by category, fabric, party supplies, project life supplies, will now add my new vinyl stuff, etc." – Shannon A.
16. "Check out The The Original Scrapbox. I love my EZ View desk." – Christina D.
17. "Group them together by craft and by project. I read a blog about container organization where each plastic container holds one projects necessary tools. When you sew you pull out that container. When you want to make jewelry you pull out that container. Its worth it (buy multiple scissors or tools!) so you aren't spending craft time looking for items you need. You can get right to it!" – Amandalynn S.
18. "I just recently found some smaller locking lid bins at Wal-mart on clearance, that sounds like a great way to use some of them!" – Beth H.
19. "I love the paper containers you can get a Hobby Lobby and Michaels to keep all your paper in one place. I also have small plastic storage containers for markers, pencils, etc. they stack so well on shelves." – Jillian K.
20. "For the little stuff I have my craft room lined with peg board." – Becca F.
21. "I was going crazy over the fact that every time I sat down to craft I spend more time cleaning up than crafting. I took a trip to IKEA. They have awesome containers real cheap. In my closet is their sliding drawer system where I store all my fabric. Take your craft list with you and go on a hunt. I'm telling you, you solve all your issues with one trip to IKEA and everything is so cute!" – Summer D.
22. "Scrapbox!!!!!" – Nancy P.
23. "I'm in the same boat with you! I'm converting the guest room closet into a half closet/half craft storage. I bought cute fabric jewelry holders that hang in the closet and I use them to sort my small embellishments and a small rolling cart for my tools. Also, check out the customizable Elfa system from the The Container Store. That is what I'm working on to finish my organization." – Leslie B.
24. "I am finding that organizing UP instead of OUT! For example…I have 122 cricut cartridge boxes using up only 11″ of floor space because I have 2 rotating dvd racks on top of each other." – Barb M.
25. "I bought three large plastic shelves that I keep in my spare bedroom. One wall is all craft items. I also have an old entertainment center I use for sewing projects." – Susan S.
Free Printable
Need a cute printable to help you get your organization on with all those crafting goodies?!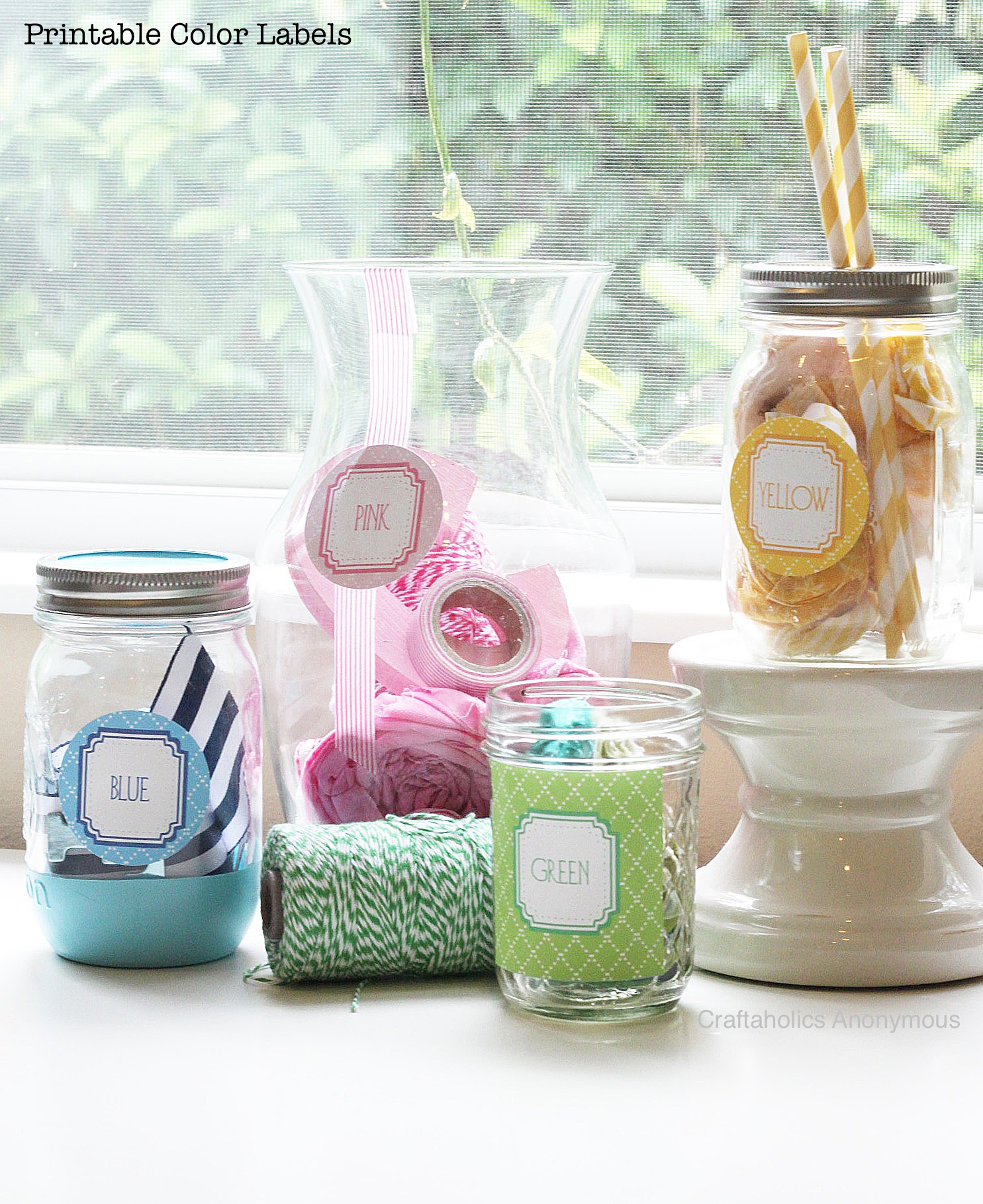 These labels are perfect for organizing, thread, buttons, ribbon, crayons, markers, paper, washi tape, etc. So many uses for these cuties! Plus you can use a circle hole punch to make them round, OR leave them square!
Click here for your free color labels! 
Did you learn something new about Craft Organization? Did you get some new ideas? 
I'm so glad you stopped by today! I hope to see you again tomorrow!
happy crafting,
Linda
Latest posts by Craftaholics Anonymous (see all)