This is a quick and fun project for the holidays. Our family has a Christmas cookie exchange each year and this year I decided to package my cookies in these little cookie bags.
I really like to work with burlap fabric because it gives such a "home and family" touch to any project and the holidays are all about home and family. Canvas Corp Brands has some great burlap goodies from bags and tags to flowers. For this project, I used the CCB Saggy Baggy burlap bag, which is the perfect size for cookies. To add a little color, I added a red Burlap Flower to the mix and fussy cut two Farmhouse Christmas Tags.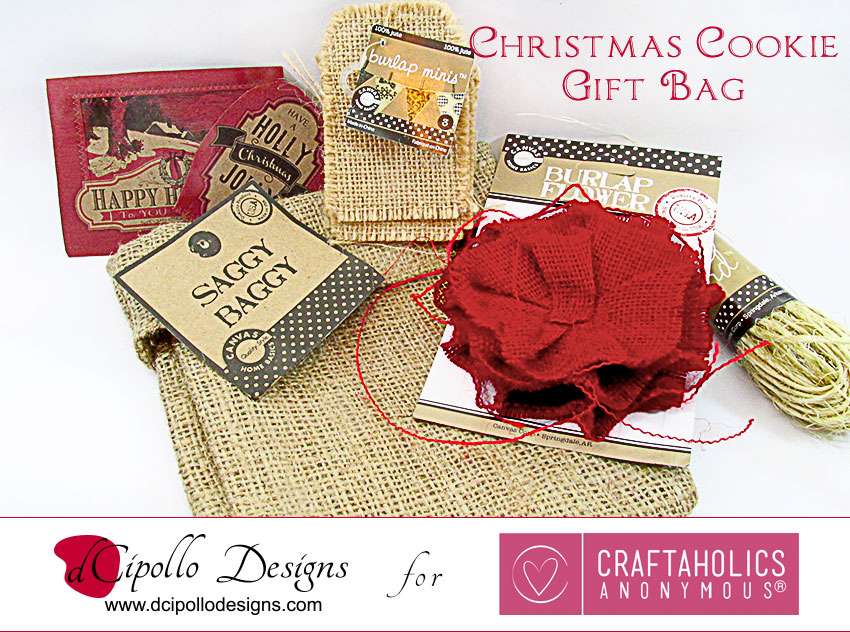 Supplies:
Red Burlap Flower Canvas Corp Brands
Burlap Mini Shape – Tag Canvas Corp Brands
Saggy Baggy- Burlap Bag Canvas Corp Brands
Sisal Rope Light Natural 45′ Canvas Corp Brands
Farmhouse Christmas: Better Not Pout Tags on Kraft card stock Canvas Corp Brands
Gingham fabric
Miscellaneous Christmas trims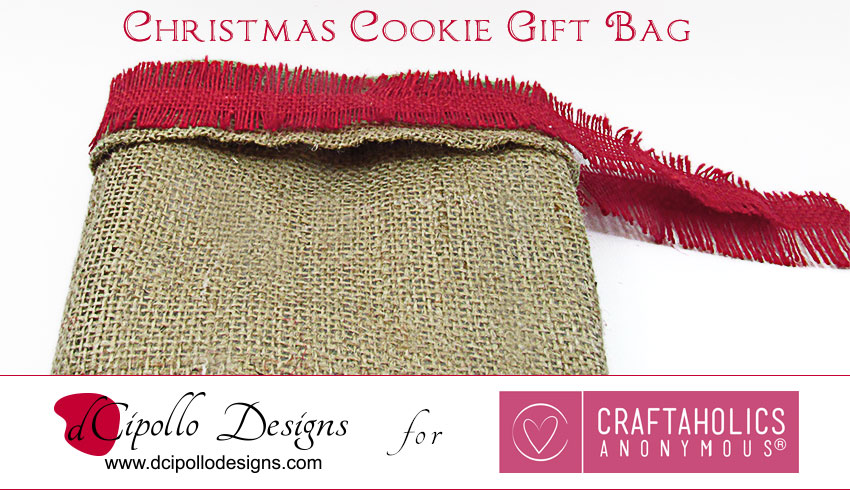 ASSEMBLE THE BAG
Disassemble the burlap flower and pull a few threads from the long edges of the fabric to make a fringe.
Glue the red burlap strip along the center of the top of the bag. Tie the ends together on the right side of the bag.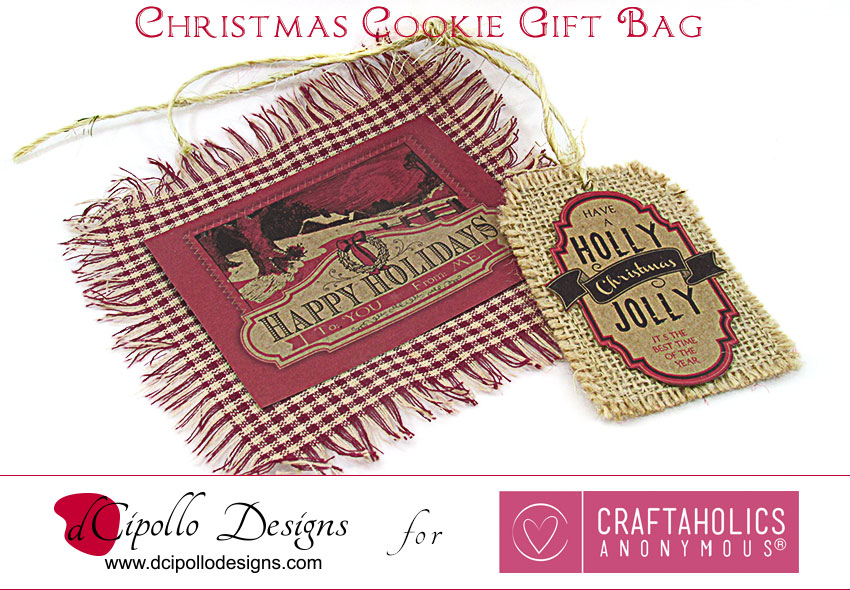 Fussy cut the Holly Jolly tag and one other tag from the Farmhouse Christmas: Better Not Pout Tags on Kraft card stock.
Cut a piece of Gingham fabric about one inch wider on all sides of the second Farmhouse tag.
Pull a few threads of the fabric along all four edges to make a fringe.
Glue the tag to the center of the Gingham square.
Center and glue the Holly Jolly tag to the burlap Mini Tag.
Cut a piece of Sisal cord. Poke a hole at the top of the Mini Tag and thread the cord through the hole. Knot the loose ends of the cord.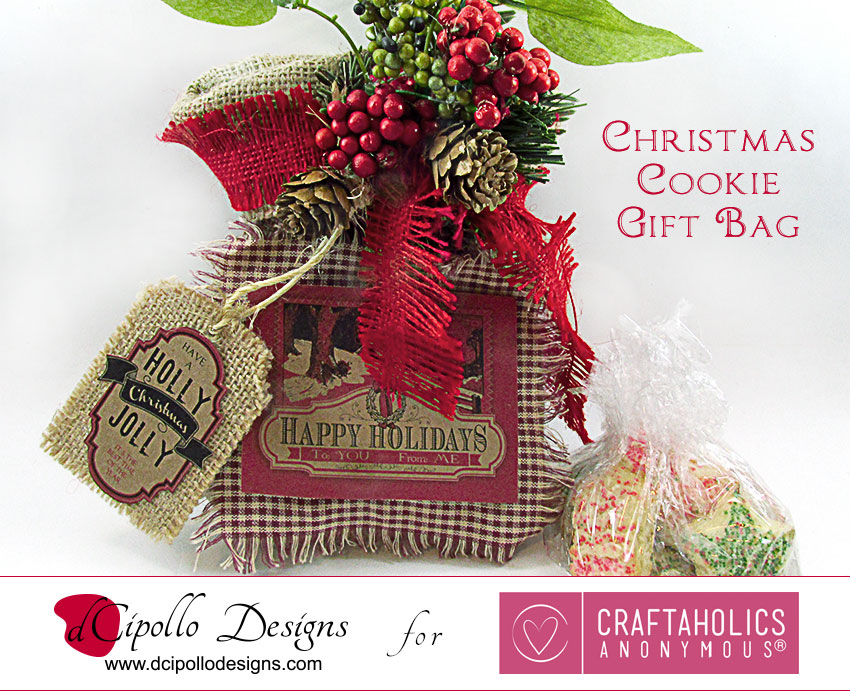 Glue the Gingham fabric and tag to the front of the bag.
Glue the Sisal cord tie for the Mini Tag next to the knotted red trim.
Glue your choice of Christmas trims over the right side of the bag, hiding the knots in the red trim and the Sisal cord.
Cut a second piece of Sisal cord and use it to tie the bag closed, after adding the Christmas goodies inside.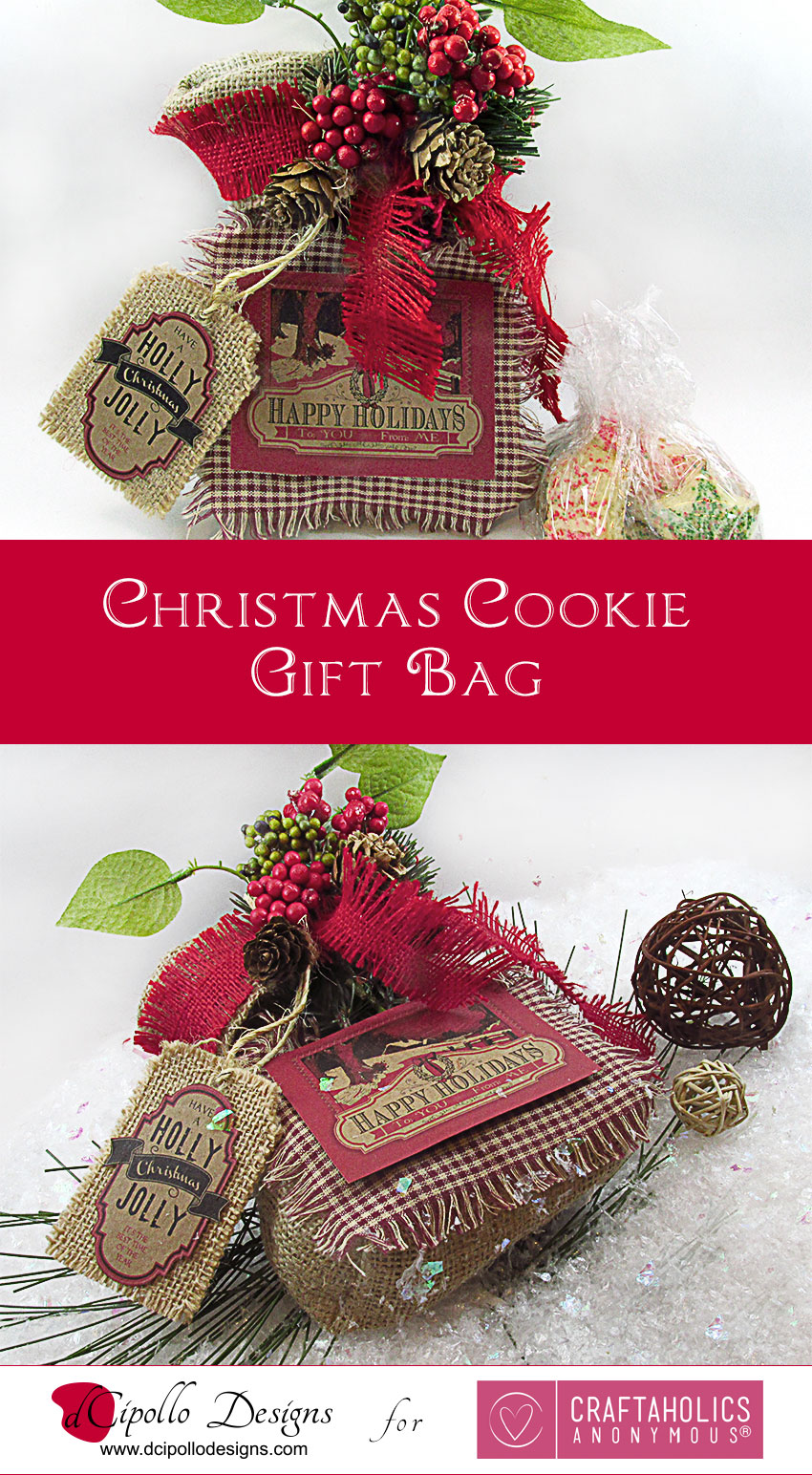 Of course, once the cookies are eaten, you can use the bag in a tablescape.
Hope that you enjoyed the project. Come back soon!
More Farmhouse Christmas Collection papers and burlap products available at Canvas Corp Brands and more SVG cut designs available at dcipollodesigns.com.
Here are some of my favorite cookie recipes to fill your Christmas cookie gift bag with!
Peanut Butter Oatmeal Chocolate Chip Cookies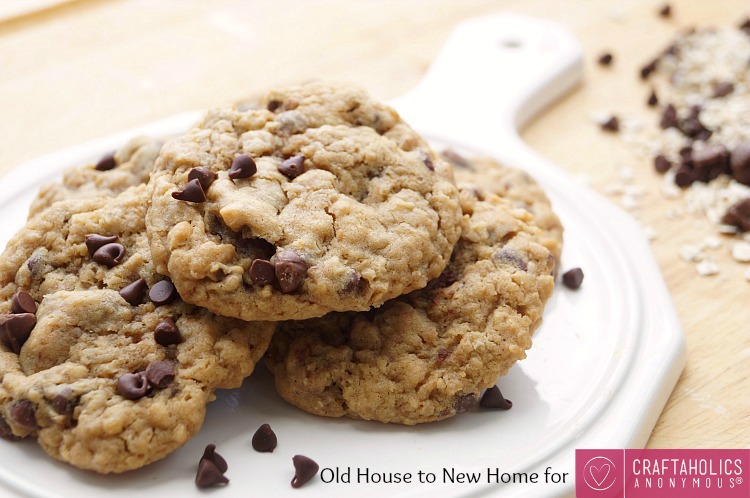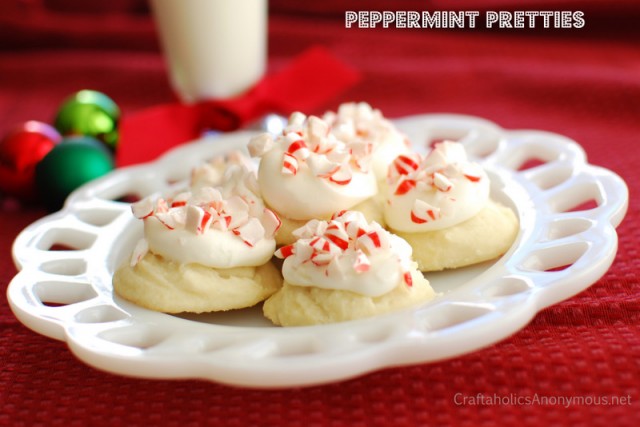 Save