It's the time of year for presents, egg nog, candy canes…and holiday parties! If you're hosting a holiday party, I'm excited to share some fun and easy DIY ideas to help you add a personal touch to your holiday gathering.
Small details make such a difference at a party. Time is so precious at this time of year, so I'm going to share some touches I've used in the past, that come together in a snap, even at the last minute.

DIY Tiered Serving Tray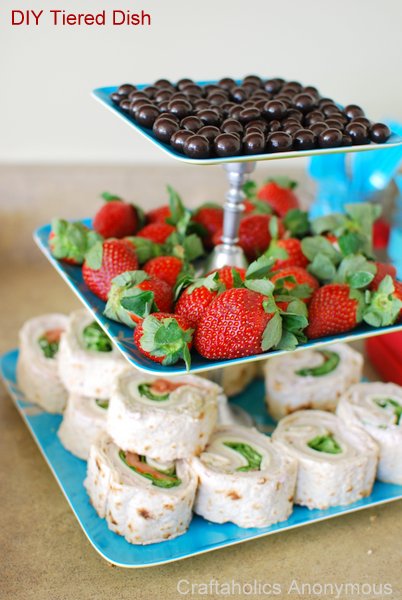 Tiered trays are a true life saver when putting out a holiday spread, and you can whip one up in minutes. I don't know about you, but space can be an issue at my house with all those dishes, trays, and decorations. Having some vertical space to display food is always helpful, and you can make this tray at a fraction of the cost you would pay for one in a store.
This tray also makes an excellent conversation piece. Yep, go ahead and brag a little to your guests that you got your craft on and made that serving tray! They will be impressed.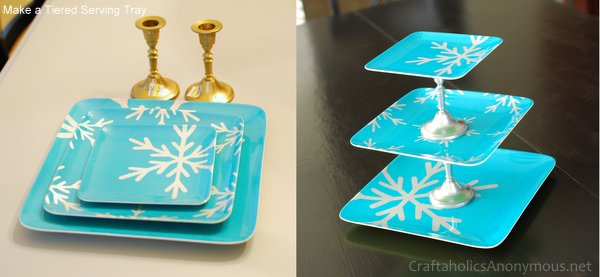 How to Make:
All you need is three plates (I found mine at Target), two candle sticks (I snagged mine at the thrift store for pennies), chrome spray paint, and a little E6000 (or super glue.) First, spray paint the candle sticks. Once they are dry, put a small line of glue around the top and bottom of one candle stick and center it between two plates. Repeat with the second candle stick. Allow 3-4 hours to dry. After each use, hand wash only with warm, soapy water.
Christmas Kisses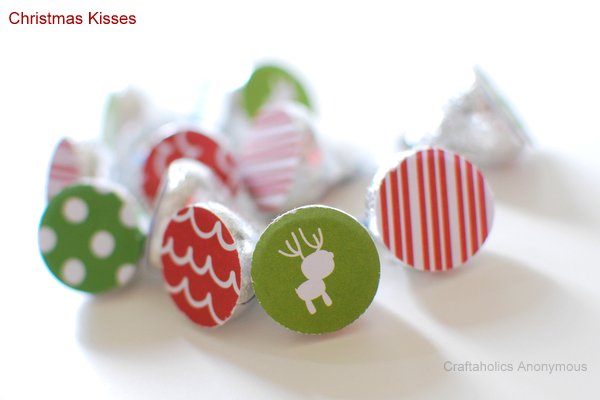 Small touches make such a difference! Add some pizzazz to your chocolate kisses by gluing circles of festive scrapbooking paper to the bottoms, which also makes a perfect use for scraps from other projects. So easy and so cute! Put these in a small bowl at the entrance of your party so guests can grab them on their way in, then again for the ride home.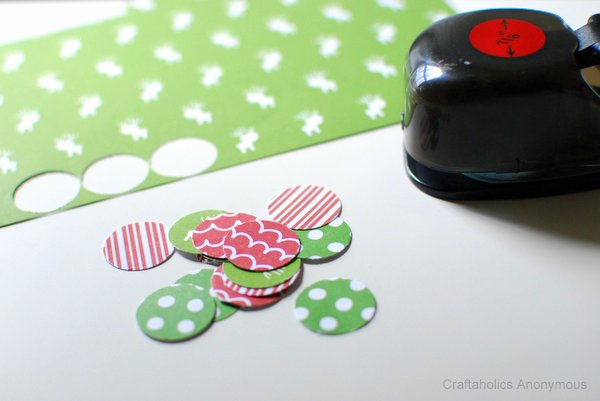 How to Make:
Use a 7/8″ circle hole punch to cut circles out of scrapbook paper. Use a glue stick, hot glue gun, or circle glue dot to adhere the paper circles to the bottom of each chocolate kiss. It takes only seconds to add a little impact to your small chocolate treat!
Mason Jars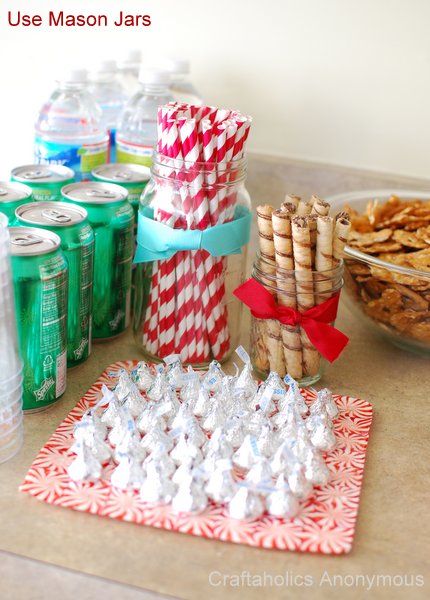 Need more small containers to hold party supplies? Use mason jars! Mason jars are super trendy this year and so stinkin' cute! You can find inexpensive options thrift stores, or at most grocery stories in the canning section. Add a little ribbon to the jars, and they are fantastic for holding paper straws, utensils, treats, and other holiday party favors. Use different sizes and heights for added depth to your party spread.
I hope this inspires you to add some easy DIY elements to your holiday party this year! Small, easy, handmade touches make such a difference in any celebration.
This post is part of BlogHer's Holiday Parties editorial series, made possible by Cracker Barrel.
Share and Enjoy

Hi! I'm Linda, the craft addict behind Craftaholics Anonymous®, a craft blog. Crafting is cheaper than therapy, right? When I'm not DIYing something, I can be found taxiing around our 4 crazy kids or working out. Or shoe shopping... because you can never have too many shoes! Happy crafting! ♥