Looking for a 4th of July Dessert idea? You will love these patriotic 4th of July Cupcakes from Amber! Do yourself a favor and make these for the 4th! They look and taste amazing! Enjoy! linda
4th of July Cupcakes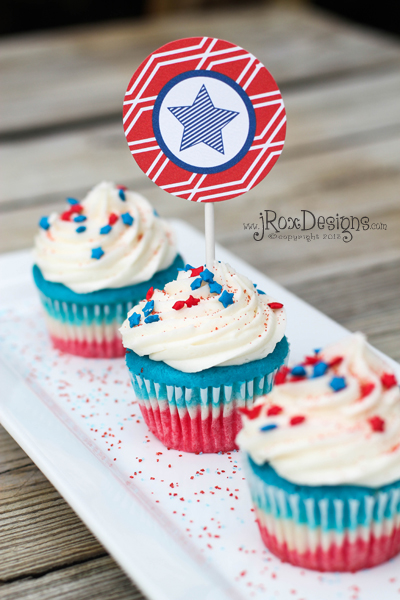 I don't know about you all but I love to celebrate our beautiful country's birthday just like we celebrate our family's birthdays…with cupcakes!!  This fun patriotic twist works well with just about any white cupcake mix! They are so fun and easy to make, even the kids will be begging to help make them.  For this batch I decided to go with a wedding cake recipe because let's face it, I don't know anyone who can say no to wedding cake!  Paired with a simple buttercream frosting these sweet treats are sure to fly at your 4th of July cookout.  Don't forget to dress them up with cake toppers by Kori from the Creative Team's free 4th of July Printable as a sure way to impress all of your friends!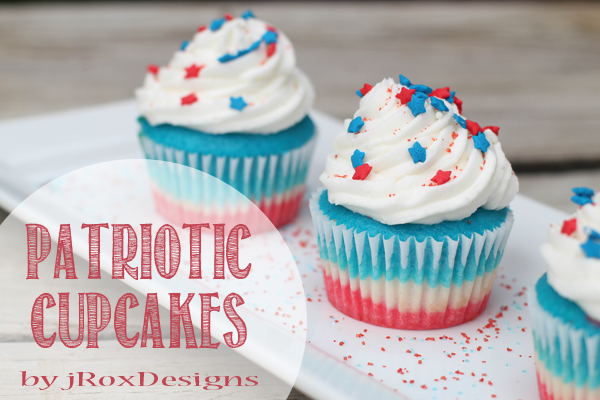 Wedding Cake Cupcakes

Yield: 2 dozen | Prep Time: 15 minutes | Cook Time: 20 minutes
INGREDIENTS:
1 16.25 ounce box white cake mix
1 cup all purpose flour
1 cup granulated sugar
3/4 teaspoon salt
1 1/3 cup water
2 tablespoons vegetable oil
1 teaspoon vanilla extract (you may use almond if you would like)
1 cup sour cream
4 large egg whites
INSTRUCTIONS:
1. Preheat your oven to 325 degrees.  Line your muffin tins with cupcake liners and set aside.
2. In a large bowl bowl whisk together cake mix, flour sugar and salt.  Add remaining ingredients and mix well until all ingredients are well blended, approximately 2 minutes.
3. Scoop batter into your lined muffin tin about 3/4 of the way full.
4. Bake 18-20 minutes or until a toothpick inserted into the center of the cupcake comes out clean.  Cool in tins for 5 minutes and then transfer to a cooling rack to cool completely.
Recipe from Recipe Girl
Classic Buttercream Frosting
Yield: approximately 4 1/2 cups 
3/4 cups unsalted butter, at room temperature
2lbs powdered sugar (approximately 8 cups)
1/3 cup milk
2 teaspoons vanilla extract (You can also substitute almond extract)
2-4 tablespoons milk
INSTRUCTIONS:
1. Allow butter to stand at room temperature for 30 minutes.
2. In a very large mixing bowl beat butter with an electric mixer on medium speed until smooth.
3. Gradually add 2 cups of the powered sugar beating well.  Slowly add in the 1/3 cup milk and vanilla.  Gradually beat in the remaining powdered sugar.  Beat in additional milk until frosting reaches spreading consistency.
Recipe from BHG Cupcake Magazine
Patriotic Variation: 4th of July Cupcakes
You can make almost any flavored cupcake as a base for this fun twist but I chose a clean white base so that I had as close to a true "red, white and blue" color scheme as possible.
1.  Follow recipe instructions until your batter is completely mixed and then seperate the batter equally into three bowls.  For the wedding cake recipe above each bowl had approximately 1 3/4 cup of batter.
2.  Put one bowl aside untouched to be your white layer.  Add red and blue food coloring to the other two bowls until you achieve the desired shade you are would like.  Tip: For recipes where I'm worried the extra liquid may dilute the recipe I love to use gel food colors.  Especially when you are trying to use red food coloring and in order to get more of a red rather than pink I think they are very helpful.  Give them a try!
3. Spoon each color into lined muffin tins in your desired order.  For this recipe I spooned about a tablespoon of each color into the tin (*Remember the tins should only be filled 3/4 of the way full!)  After each addition try your best to smooth out each layer so they completely cover the previous layer.  This will help to give you distinct layers that will not run together while baking.  Bake as according to recipe directions, pipe with a tasty frosting, add fun sprinkles and be sure to mix it up with cute free 4th of July cupcakes toppers!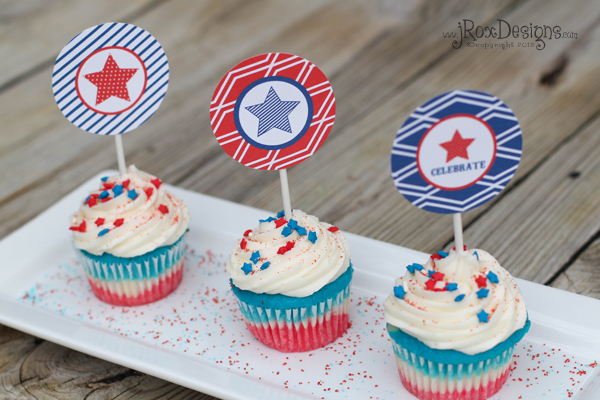 What foods do you like to make for the 4th of July?
Happy baking!
Amber
More 4th of July desserts
***
Don't forget the Silhouette Promotion going on right now!