Do you have loads of coffee cans sitting around? Looking for ways to reuse all those coffee cans? Here are 29 creative Coffee Can crafts and ways to reuse them!
This post is complied from this Craftaholics Anonymous® Facebook thread.
Gayle has a Q: "I would like some ideas for what to do with some empty coffee cans. The only thing I found so far (on Craftgawker) is to wrap rope around it to make a vase. I was thinking I could make some kind of useful gift for my coworkers or friends, maybe a gift can, or… I don't really have any ideas. I don't have kids, so nothing kid-related please. I would appreciate some new ideas! Thank you!"
Coffee Can Crafts
1. "Cut a hole in the top and make a pendant light." – Tracie S.
2. "Homemade candle lanterns! If the cans are metal punch tiny holes in them to form objects then place tea candle in bottom!" – Mo H.
3. "Use outdoor/waterproof spray paint in bright/fun colors, drill a hole/holes in the bottom and use them as planters for a deck railing or patio. Could be fun for a little herb garden." – Melissa L.
4. "We use the 1# cans as camp stoves. Fill 1# coffee can with bath tissue soaked in 90% alcohol use larger coffee can with vent hole cut in it over the top as a grill. It's great for camping!" – Misty S.
5. "Spray paint them and decorate them for desk organizers, to hold craft parts like beads, bathroom accessories like hair clips, pony tail holders, make flower pots, holders to hold scissors, etc." – Sylvia T.
6. "Not really a crafting idea, but we get the biggest ones we can buy in our little store here for our office. Every spring there is just about a fight over them when they are empty as many of my fellow employees cut the bottom out and put them in the ground around their cucumber plants. They say it helps stabilize when they are bigger and protect them when they are smaller. Good luck!" – Christine S.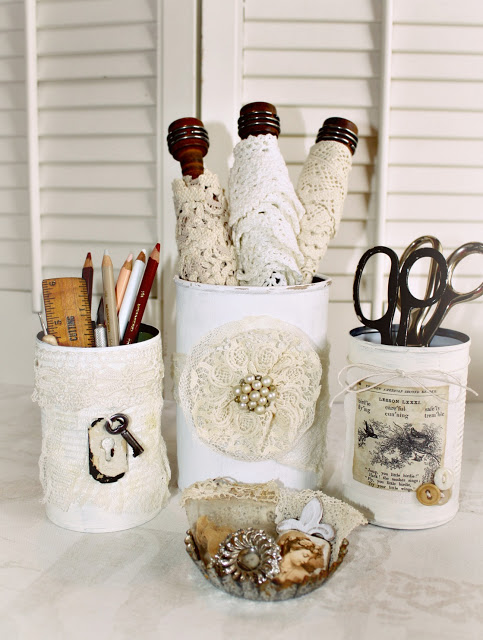 Image from Timewashed
7. "I covered mine with white copy paper then listed all my new markers colors and names of each color on the paper. Makes a tidy spot for the fine point and wide point markers in each can. When I need a color I can scan down the lists for a match." – Debra V.
8. "Decorate with washi tape." – Valeria V.
9. "I saw some on Pinterest that they covered with rock mosaics and grout for an out door planter. Or fill with water and freeze, then using a nail punch to punch out a shape, thaw, dry and paint for a fun outdoor luminary!" – Kate S.
10. "I saw some that were painted or wrapped with paper and filled with manicure or pedicure items: separators, polish, files, clippers, etc. You can also fill with hair items, skin or beauty products, or other pampering items and give them as gifts!" – Diana R.
11. "Spray paint with chalk paint and use as canisters." – Judy R.
12. "Cut out both ends, squish one end so it looks like a pocket, paint it add flowers and someway to hang it.
13. "Cover them with wallpaper scraps and seal with Mod Podge to wipe clean, stand upright or on their side (pyramid style) either glued together or screwed together for storage. In the kitchen it's great for all kinds of things or bathrooms for combs, brushes, etc." – Sandi P.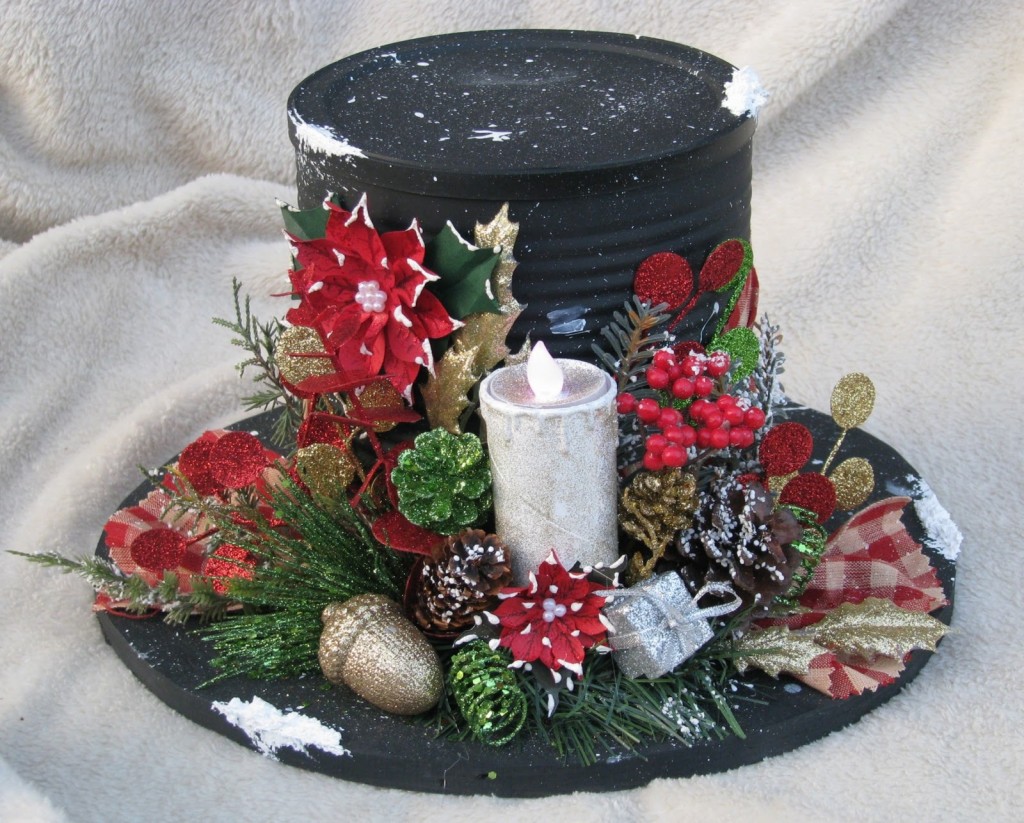 Image from Stars 'n Sparkles, Blooms 'n Bling
14. "I made little trash cans for the kitchen sink, bathrooms and office desk, I covered them with a nice skirt and I also covered the lid with the same fabric with a little ball on top (twisted and sewn) as a handle for the lid. They are really cute and useful. You can also add a ribbon matching the color of the room you are using it for." – Mariana A.
15. "Cover or paint as you please, cut a hole in the top, great dispenser for plastic grocery bags or trash bags like a tissue box." – Christine L.
16. "They make wonderful personalized gift boxes by decorating with scrapbook paper and embellishments. Ex. Get well kit, honeymoon/anniversary kit, birthday kit or birthday in a box, college going away kit, etc." – Annette L.
More coffee can crafts…
17. "Cookie tins!" – Renae R.
18. "Old metal and plastic Folgers containers can be recycled into flowerpots for those with a green thumb. Make sure to rinse out the cans thoroughly to remove any coffee residue and remove any labels with soap and water. Paint the outside of the cans with acrylic latex paints to match the décor in or outside your home or in any design your like. Allow the paint to dry thoroughly. Put whatever small houseplant or flower you like and enjoy." – Mary K.
19. "I'm turning the plastic ones into bird houses. I'm cutting an opening in the lid for the entry way and using a cut up chop stick as a short perch. Instead of cutting holes in it to hang, I'm wrapping the string around it to hang it." – Gayle H.
20. "Take almost any size can and put a wide elastic or two or three around the can. Then, insert new, sharpened pencils all around the can inside of the elastics. You'll end up with a can fully covered in in bright pencils, sharpened side up, all the same size. Next cover the elastics with pretty ribbons tied in a bow and any other decor you want. Fill with water and flowers and you have a lovely teacher's gift. They can reuse it as a vase or storage canister or remove the pencils to use them and throw the can away." – Maryellen O.
21. "You could glue them on their sides so you've created art and storage screwed to a wall. Items like paint brushes, tubes of paint, markers, scissors fit side ways." – Dale K.
22. "Decoupage fabric or scrapbook paper on them, fill with goodies for your co workers. Also if you can find a store that has wall paper sample books, you can get them to give to you when they get new styles in and you can use these to cover the cans." – Mindy G.
23. "Many years ago we used to make foot stools from several cans bunched together and then covered with batting and fabric." – Bonnie B.
24. "Spray paint them, drill holes in the tops and add a piece of wood (like a handle) to the center of the cans and use as caddy's for pencils, other office supplies or for outdoor gardening supplies!" – Chacoy A.
25. "My husband and father-in-law use them for different sized screws, nuts and bolts." – Linda B.
26. "Wrap layers of lace or ruffled fabric around the can, make a fabric lid, fill the can with a friend's favorite treats or silk flowers with the lid attached to the rim. Use dog or cat patterned fabric and fill with doggie/kitty treats for a pet lover." – Gayle L.
27. "Mod Podge pretty napkins on it." – Karen N.
28. "Here's a practical use: Do you use a charcoal grill? Make a charcoal starting chimney. You can cut two vents on one end of a can (use a tin snip and cut up about 1 1/2 inches–fold the flap inward). Set it on your grill grate and stuff loosely with wadded up newspaper (1-2 sheets); pile your charcoal on top. Light the newspaper from underneath by putting the match or lighter through the vent. When the coals are glowing, use a tongs to remove the can. Grill." – Stehanie N.
29. "I remember growing up visiting my grandma's house, she had connected (using tape maybe?) 3-4 large coffee cans together (tops & bottoms removed), then wrapped with patterned contact paper around it and used it in the bathroom to keep extra rolls of toilet paper handy yet protected." – Rebekah G.
Ready to grab an empty coffee can and get crafting?? Do it! Coffee can crafts are so fun!
How do you reuse your coffee cans? We'd love to hear!
Hope you have a wonderful day! Thanks for stopping by!
happy crafting,
Linda
PS don't forget to follow Craftaholics Anonymous® on Facebook for exclusive crafting support! 

Hi! I'm Linda, the craft addict behind Craftaholics Anonymous®, a craft blog. Crafting is cheaper than therapy, right? When I'm not DIYing something, I can be found taxiing around our 4 crazy kids or working out. Or shoe shopping... because you can never have too many shoes! Happy crafting! ♥