Happy Tuesday! Are you looking for ideas on how to organize and store craft supplies? Well, here's a list of 25 tips to organize your small crafting supplies from a recent discussion on Craftaholics Anonymous Facebook page.
How to Store Craft Supplies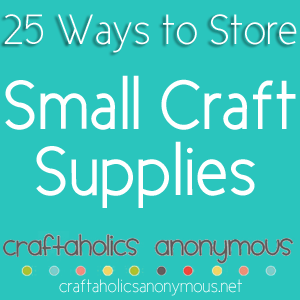 1. "Do you have an Ikea near you? They have a ton of jars in different styles and sizes that are really cheap." – Bridget L.
2. "Tackle boxes, also look at local discount stores, Dollar General and Big Lots." – Rebecca O.
3. "I use ice cube trays to store my beads, they stack really well and you can get them cheap at the dollar stores" – Susan V.
4. "I have little plastic boxes with lids I got at the Dollar Tree. They're about 2 by 2 I suppose. A dollar for a 6 pack. I'll see if I can find a link. That's how I store brads and other little odds and ends." – Melissa L.
5. "Container Store has some small compartment clear plastic boxes that open one way then you flip it over then it opens the same way. $2-3 each. They were hidden on the top shelf!" – Marcy O.
6. "I love using mason jars. They come in all different sizes and shapes." – Penny H.
7. "Baby food jars…look on Craigslist or post an ad. Or freecycle if you have one in your area." – Melissa L.
8. "Check out Walmart or 99c store. Get the clear glass salt and pepper shakers!" – Brandie P.
9. "You can use spice jars. Bed bath beyond sells them for .99 cents each. Depending on how many you get, you can use their $5 off coupon." – Keri H.
10. "How about those clear containers that are "floss organizers for cross stitch" that you can get at any craft store" – Jen G.
11. "have you checked the Dollar Section of Target or your Dollar Store….I got really cute containers from Target's Dollar Spot" – Dedi W.
12. "I use the clear tackle boxes for buttons, brads, eyelets, and for my Cricut items. I got them from Walmart for about $5 I think." – Jenn M.
13. "Target! I bought stackable divided 3 tray snap lid containers for 75 cents!" – Christine W.
14. "Crystal light containers, wipes boxes, Pringles cans, cookie tins" – Jodi D.
15. "Watch Michaels, they often have craft storage on sale, or beading storage, and lately there have been a lot of 20% off sale prices as well, in fact I think there is one coming up next week? They have inexpensive ones for 1.99, they are a good size. I have like 4 and I probably paid less than 5$ for all of them." – Ashlee H.
16. "The dollar tree has clear, small square or round plastic containers with snap lids. I think there are 10 in a pack for $1. I use them all the time for jewelry findings and beads. They stack nicely as well. Look for them in the kitchen utensil section." – Amy B.
17. "Go to the tool section of any store, and they will have those things with the drawers for the work shop that are made to hold all your nuts and bolts and nails and such. They work perfect. I searched for a picture for one, and this is the first one that came up….they are much cheaper than this in store and come in multiple sizes!"
18. "I use tic tac containers!" – Christine H.
19. "You may not have baby food, but what about mayo, salsa or jelly jars?? We use the Cascadian farms jelly and the jars are a perfect size! Next time you are grocery shopping, before you pick up your regular mustard, check out out what else is around. I've found my self buying brands/things I may not normally because they have a cool jar! :)" – Beth H.
20. "Egg cartons! My mom saved up a bunch of the thick clear ones for me and they are perfect! I also use a pretty tool box type purple case from Walmart that is travel ready!" – Stacey L.
21. "I found some awesome ones (circle and rectangles) that resemble small tupperware containers at my Dollar Tree. Came in a package of 8 or 10. I use those to sort everything small. Attach magnets to the back and then adhere to a pizza pan on the wall…great storage!" – Cheryl S.
22. "pringles tubes, couple of layers of paper wrapped around the tube and painted/decoupaged for decoration, laid on their sides with lids pointing toward you with either the word written on of an item stuck to the lid(i.e. button, bead ) free and funky looking storage" – Jacqueline L.
23. "Pill organizers……those daily ones! I use them for just that." – Johnna B.
24. "I use Bare Minerals make-up and they come in the best containers! There are a few different sizes. I put brads, beads, and small buttons in them. I don't know if you are familiar with FreeCycle, but you can post that you are looking for baby food jars or small clear containers. If someone has some, they will let you know…best part…it's free!" – Chris C.
25. "A restaurant supply store like Cash n Carry, get ketchup containers with lids 100 for around $3……they also have sample cups and 8oz-32oz cups etc….basically any size ya want" – ARAartistic Creations
You can find the complete thread that these responses are taken from on Craftaholics Anonymous's Facebook page. I hope you'll join our active community on Facebook! We're always talking crafts!
happy crafting,
linda


Hi! I'm Linda, the craft addict behind Craftaholics Anonymous®, a craft blog. Crafting is cheaper than therapy, right? When I'm not DIYing something, I can be found taxiing around our 4 crazy kids or working out. Or shoe shopping... because you can never have too many shoes! Happy crafting! ♥